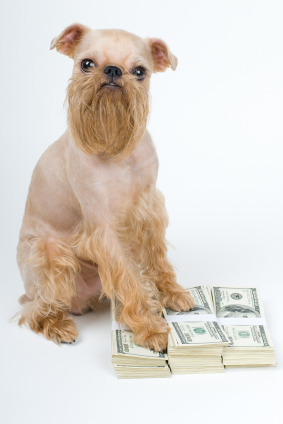 We expect rich people to live high on the hog, but there are some animals that enjoy independent wealth as well. Many pets live plush lifestyles due to inheritances left to them by their owners (and they're likely to have comprehensive pet health insurance policies). Indeed, you may be surprised at some of pets that have more money than you do. Here are some of the world's 12 independently wealth pets:
1. Gunther IV When Carlotta Liebenstein, a German countess, died, she left a fortune to her dog, Gunther III. This dog had a son, Gunther IV. Thanks to shrewd investments on his behalf, Gunther IV's inheritance has grown quite a bit, to $372 million by some estimates. There are even reports that Gunther IV owns a home that once belonged to Madonna.
2. Toby Rimes When New York heiress Ella Wendel died in the first half of the 20th Century, she left $30 million to her poodle. That fortune has been passed down through the years to the descendants of the original poodle. Additionally, the fortune has grown over time, thanks to masterful handling of the dog's legacy. The current inheritor, Toby Rimes, is one rich poodle, reportedly worth close to $92 million.
3. Kalu Australian Patricia O'Neill rescued a chimpanzee in 1985 and named her Kalu. The wife of the swimming star Frank O'Neill didn't stop at just rescuing the chimp. Patricia changed her will so that her estate near Cape Town, South Africa, will go to Kalu. (Rumors are that husband Frank is not very fond of Kalu.) She also set aside money so that Kalu will be properly cared for. Kalu will also have to share some of her estate with other rescued animals.
4. Gigoo When many people think of pets, they don't usually think of chickens. But British publishing giant Miles Blackwell sure loved his hen. (He was also interested in raising rare breeds of pigs.) As a result, Blackwell left his hen, Gigoo, millions of pounds for his care. Blackwell altered his will to include the chicken after his wife, Briony, died. Blackwell didn't long survive his wife, but Gigoo survived with plenty of money.
5. Oprah's dogs You expect Oprah to take good care of her animals – and she does. Oprah's dogs stand to inherit a fortune upon her death. Indeed, the animals will, reportedly get $30 million after Oprah dies. The dogs may not inherit her entire fortune, but $30 million is still pretty good. And, of course, they get the best care right now, while Oprah is still among the living.
6. Flossie Drew Barrymore's dog will have its own house. Barrymore's pooch, Flossie, saved the actress and then-boyfriend Tom Green by waking them up during a fire. To show her gratitude, Barrymore decided to leave Flossie a home valued at $3 million. Clearly, this is one dog that will always have a nice place to live.
7. Tinker One of the richest felines in the world is Tinker, a tomcat. He has been granted a house, and a trust fund. Not bad for a stray cat with no prospects only a few years ago. Tinker was a stray who frequented a rich widow's house. Margaret Layne became so enamored with the black cat that she provided him a $226,000 trust fund in addition to ownership of a home worth close to $800,000. However, the inheritance comes with strings attached. If Tinker decides to return to his stray cat ways, he loses ownership.
8. Red Another cat that found a fortune is Red. When Canadian bachelor David Harper died without any other heirs, he left something for his beloved tabby cat. Indeed, Harper's entire $1.1 million estate was left to Red. Obviously, Red can't manage all that money on his own. The United Church of Canada is in charge of taking care of Red – and seeing that his fortune lasts.
9. Tina and Kate Recluse Nora Hardwell left her two dogs a fortune of £450,000 upon her death. The secretary had no surviving family, and considered Tina and Kate as family members. Hardwell also owned a home near Bath, and Tina and Kate will have free run of the home and its five acres. Hardwell's gardener is caring for the dogs, as well as continuing to care for the grounds. The dogs will be cared for until they die.
10. Trouble A Maltese terrier named Trouble caused enough of it upon the death of its owner, Leona Helmsley. Know as the "Queen of Mean," Helmsley notoriously cut many of her children out of her will in favor of Trouble, who was to receive $12 million. However, instead of receiving that full amount, a judge ruled that Trouble would only get $2 million for a trust fund meant to help the dog live well. While not as much as some expected the dog to end up with, Trouble probably doesn't even realize the inheritance has been reduced.
11. Moose While many animals are bequeathed their riches, some of them actually work for their fortunes. One of the most successful animal workers was Moose, the Jack Russell terrier who played "Eddie" on the TV show "Frasier." Indeed, reports are that Moose received more fan mail than his counterparts. Moose was paid about $10,000 for each episode. Upon his death in 2006, Moose was estimated to be worth right around $3.6 million.
12. Bubbles Michael Jackson left his chimp, Bubbles, $1 million to ensure its continued care. During Jackson's lifetime, Bubbles lived in the lap of luxury with the pop star. (He was sent to live in a care facility when he became too difficult to care for.) However, Bubbles may end up disinherited. Jackson left his affairs dreadfully involved, and Bubbles has yet to see a penny of his money.