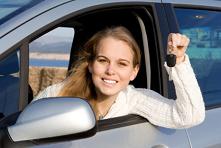 The fine details of insurance policy language can make all the difference in the world. If you're the policyholder, you can give someone permission to drive your car and he or she would be covered under your car insurance policy in the event of an accident. But let's say your teenager – who is insured under your policy – gives someone else permission to drive, without your knowledge. Are they covered?
An Oregon court recently ruled that there's a difference between being "insured" and being a "policyholder." The case (Laird v. Allstate Insurance Company) involved a teenage girl who gave her boyfriend permission to drive her family's car. When the boyfriend was deemed too intoxicated to drive, he gave permission to another friend to drive the car. That friend later caused an accident and killed someone. A wrongful death lawsuit was brought against the boyfriend, the driver of the insured car and later against the insurance company because it refused coverage.
The court eventually ruled in favor of the car insurance company, saying that the insured's policy language did not authorize the teenager to give anyone permission to use the car because she was not the "policyholder" – though she was insured under the policy. The policy in this case used the word "policyholder" as opposed to an "insured" in its language about giving permission to drive the covered auto. But if the policy language did not differentiate between the two words, it's possible that coverage would have applied.
Do you know what your policy says?