Business Insurance Quotes
Small businesses receive big benefits through PEOs
Good employee benefits boost worker satisfaction in any company, and the ability of a small business to offer a competitive benefits package lets them compete more effectively for talent. A professional employer organization (PEO) is one way to get there.
PEOs are companies that contract with small- to mid-sized businesses to manage their human resources and personnel functions. Handling benefits is only one function when it comes to the responsibilities of a PEO. Although it varies by contract, typical duties include: paying wages; reporting, collecting, and depositing employment taxes with state and federal authorities; handling claims management for workers compensation and unemployment insurance; ensuring safety and nondiscriminatory regulatory compliance; and supplying employee handbooks and other policies.
In contrast, a small-business purchasing alliance, which is another means for small businesses to offer affordable health insurance, negotiates the purchase of health insurance for employers. Even so, working with a purchasing alliance only provides businesses with access to health insurance. It does not provide access to other human resources services.
"In order for a small business to survive in a tough economy they have to meet new HR challenges," explains Milan Yager, executive vice president of the National Association of Professional Employer Organizations (NAPEO). "The HR aspect that a PEO brings to the table is a very helpful component of the business, especially when you own a small company."
Today, according to Yager, the 400 member companies of the NAPEO generate 90 percent of a booming $68 billion PEO industry.
" When you seek to hire the very best talent, that talent always demands a good benefits package. A significant number of business clients entering a PEO arrangement upgrade their total employee-benefits packages after a year," says Yager.
Tips for choosing a PEO
The National Federation of Independent Businesses (NFIB), whose member companies average 10 or more employees, looks to PEOs as a way of making affordable insurance more readily available. Fifty-eight percent of their member companies currently offer health insurance.
The NAPEO offers these guidelines for choosing a PEO:
PEOs at a glance
Number of Americans co-employed by a PEO: 2 million to 3 million

Average number of employees per PEO client: 19

Average gross pay per employee: Just over $31,000

Number of PEOs in the U.S: About 700

Average length of PEO contract: 1 year

Number of states that require PEOs to be licensed: 31
Source: National Association of Professional Employer Organizations
Know your needs. Ask yourself if this PEO is right for your business. Do you want to hire a PEO with a wide benefits offering and human resources expertise? Small businesses with a number of worker risks, like construction, might want to hire a PEO with an extensive risk-management department.
Make sure the PEO is capable of meeting your goals. Meet the people who will be serving you.
Check the PEO's financial background through public filings or annual reports and other information supplied by the company, and get banking and credit references. Check whether the PEO's financial statements are independently audited by a CPA, whether their risk-management practices have been independently certified by the Certification Institute, or if their operational, financial and ethical practices have been independently accredited by the Employer Services Assurance Corporation (ESAC).

Ask the PEO to demonstrate that payroll taxes and insurance premiums have been paid. Ask for professional references. For more information about PEO certification, go to The Certification Institute.

Find out if the management staff are "certified professional employer specialists," a designation bestowed by NAPEO. To check NAPEO's member directory of certified, licensed PEOs, go to the National Association of Professional Employer Organizations.
Ask how the employee benefits are funded, whether they are fully insured or partially self-funded. Find out who the third-party administrator or carrier is and if it's licensed by the state in which it operates, if necessary.
Understand how the employee benefits are tailored. Determine if they fit the needs of your employees.
Review the PEO's service agreement carefully to make sure the responsibilities and liabilities are clearly spelled out. Pay close attention to what guarantees are provided and what provisions there are for either side to cancel the contract.
If your state requires the PEO to be licensed, make sure it meets all requirements.
The trade-off
When small businesses contract with a professional employer organization, the PEO becomes an employer of that company's employees. And the owner of the business and the PEO share or allocate employer responsibilities. This frees up work for the employer, who can focus on the daily operations of running the business, while the PEO focuses on employment-related issues.
"The owner retains 100 percent control of the business when it comes to what products to sell and how to service customers," says Yager. "The PEO reserves the right to hire, fire and reassign employees."
A PEO would also handle the risk management and any situation that could potentially become a violation of state or federal law.
"If we are made aware that a supervisor is harassing an employee, we will carry out an investigation. If we find that it's true, we would recommend that the owner terminate the supervisor. We would say because the actions of the supervisor are in violation of Federal law, we want to exercise our right to terminate them," Yager explains.
Even so, a PEO would only take such an action if there was a serious breach of federal law.
"The average cost to settle a workplace harassment lawsuit out of court is more than $90,000. Most business owners will not risk their reputation or take a serious financial hit because an allegation wasn't taken seriously," he says.
Occasionally, the business owner may disagree and threaten to terminate the contract if the PEO fires an employee. However, Yager notes that in reality this rarely happens.
"I would say 95 percent of the time the client is so glad we brought this to their attention that they are happy we stood our ground," says Yager.
Increase your buying power
The PEO industry has grown exponentially in the past several years as access to health insurance has worsened and nearly every state has eased up on a key regulation affecting PEOs: In the past, a PEO could purchase benefits only for each of its client companies individually. Now they can purchase as a larger group to save money.
In addition, a PEO can help multi-state employers comply with state insurance laws.
"It is an absolute nightmare for multi-state businesses to figure out if they are complying with all those state laws," notes Yager.
Because of their economies of scale, PEOs can offer customized health insurance plans that meet the needs of every business type. For example, a Florida PEO offers an HMO, a point of service plan (POS) through Blue Cross and Blue Shield and a preferred provider plan (PPO), with separate dental and vision plans also available.
The benefit of benefits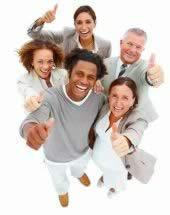 Small businesses with PEO arrangements are also more likely to offer workers a 401(k) retirement-savings program even when access to these programs is rare for small-business workers, according to the U.S. Small Business Administration (SBA). One reason is the cost barrier. Without a PEO, a business faces a cost of more than $7,000 to establish a 401(k) program, and over 70 percent of small businesses do not offer 401(k)s, according to recent NAPEO reports. A business client of a PEO can avoid this expensive set-up fee by having its workers participate in the PEO's plan.
"A lot of PEOs today sponsor cafeteria plans and flex-spending plans," says Yager. "PEOs can provide these plans at no additional cost because we have economies of scale. Rich benefits do not mean expensive benefits and the people who want to work on Main Street should have the same benefits as those working on Wall Street."
Who joins a PEO?
NAPEO reports that PEO clients include businesses ranging from accounting firms to high-tech companies and small manufacturers. Doctors, retailers, mechanics, engineers and plumbers also benefit from PEO services, as well as entrepreneurs.
By signing on for PEO services, the average member company has grown 20 to 30 percent per year in each of the past five years, NAPEO reports.
Because the average client of NAPEO's member PEOs has only 19 worksite employees, without the PEO relationship these workers would not be eligible for protections under the Consolidated Omnibus Budget Reconciliation Act (COBRA), the Age Discrimination in Employment Act (ADA) or the federal Family and Medical Leave Act (FMLA).
Potential advantages of a PEO

For the business

For the employee

Controls costs

Access to benefits

Saves time and paperwork hassles

Accurate, on-time payroll

Provides professional compliance

Professional assistance with employment-related problems

Attracts better employees

Efficient claims processing

Provides professional human resource services

Portable benefits that go with you if you change job sites

Potential disadvantages of a PEO

For the business

For the employee

Loss of independence

Fears about non-local control

Benefit packages unnecessarily rich

Would rather not pay health insurance premiums

May be told by the PEO to buy new equipment or revise procedures

Can be fired or re-assigned by the PEO

Potential liability for discrimination or safety violations

Perception of less loyalty from the PEO

Small companies may become subject to laws covering large employers

May find themselves subject to new employment policies, such as drug tests
Ready to get a quote?
Get free business insurance quotes