Business Insurance Quotes
"Hole-in-one" insurance: For contests that will break the bank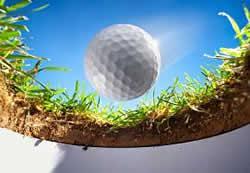 Contests that send winners to exotic destinations, huge sporting events or to the bank with a truckload of cash are very a popular way to get people excited about a competition. But where do these super prizes come from? Sometimes they come from generous sponsors. However, contest sponsors often turn to specialty insurance companies for something called hole-in-one insurance to ensure they don't lose their shirts if someone actually wins the big prize.
If you can dream it up, it can likely be insured, says Greg Esterhai, co-owner of US Hole In One, a specialty insurance provider that's been in business since 1998.
"We had one a few months ago where [the sponsor] wanted to do a contest to award a million dollars if you could get a photo of Bigfoot. People come up with all kinds of crazy contests," says Esterhai.
Hole-in-one insurance officially came into being more than 24 years ago and was originally used as indemnity for prizes given away in golf shoot-outs. However, once insurance companies realized there was untapped profit in these contests, hole-in-one insurance expanded, and that has allowed multinational corporations and small-town high schools alike to give away great prizes for the accomplishment of near-impossible feats.
If you're interested in holding a contest where the grand prize is of substantial monetary value, or if you're thinking about donating a big prize, think about getting hole-in-one insurance. Here are a few things to consider before holding a contest or when donating a prize.
Name your game
If your contest involves a participant to perform a certain task successfully to win, an insurance company will want to know the odds of that happening. What is the probability that a contestant will sink the shot, kick the goal, or drain the putt? For example, the odds of someone hitting hole in one are about 1- in-12,500 for an amateur golfer, Eserhai says. But that doesn't mean it won't happen.
Esterhai says probability is often determined by historical data. For instance, if someone wanted to host a contest where, if the Phillies won the World Series, then everyone in the stands were to get a prize, the likelihood could be partially determined by the Phillies' game history. Probability can also be determined using the old-fashioned trial and error method.
"Recently, we had employees in a parking lot trying to throw a flower bouquet over their shoulder into a bucket. A wedding planner wanted to do this contest, so we had to figure out the odds," Esterhai says.
If you're rating your risk based on certain parameters, make sure those parameters are accurate. For example, you don't want to donate a prize for a sporting contest in which you think the probability of someone winning is rather low, and then find out that the contest is actually a blind drawing — a contest in which the probability of a win is as high as it can get. Not only will you give your prize away, but your hole-in-one insurance company might refuse to pay your claim for not disclosing the actual format of the contest.
Examples of hole-in-one coverage:
Sporting contests
Sweepstakes
Gaming jackpots
Fishing tournaments
Radio promotions
Something else to ponder is whether you really want to part with the prize. If not, don't sponsor a contest that is easily won.
The premium is going to be based on the odds of that particular contest, plus the value of the prize and the typical number of attempts allowed to win that prize. If it's a half-court shot at a basketball game, and only one person is going to get the chance, the premium will be fairly low. If 50 people get to try the shot, the odds of success increase, and so do insurance prices.
Have the prize you are donating appraised. If you are donating cash, the value is obvious. New cars, too, are easy to put a monetary value on. However, there are some prizes out there, like trips to Disney World or tickets to the NCAA finals, that are harder to valuate. This, like the probability of winning, is extremely important to know, because it affects how high your hole-in-one insurance premium will be.
Assess your business situation. This falls outside of insurance considerations, but is important nonetheless. Many hole-in-one insurance policies are purchased by smaller-market entities, like local car dealerships.
One last thing to keep in mind: If you think your idea for a contest is good, but you're not sure if you can afford to part with your prize, check it out with a hole-in-one insurer. Chances are, it can make the contest possible with its coverage, and in the process improve your image in your community.
Ready to get a quote?
Get free business insurance quotes