Car insurance customers feeling dissatisfied
Most drivers are none too happy with their car insurance companies these days.
The latest survey by J.D. Power and Associates shows a significant drop in customer satisfaction ratings: The average score for car insurance companies on the 2010 survey was 777 on a 1,000-point scale -- a 10-point drop from the 2009 survey results. (See results below.)
The J.D. Power survey measured policyholders' satisfaction in five areas: interaction, policy offerings, billing and payment, auto insurance rates and claims. The results were calculated from more than 25,000 responses. Policyholders were contacted between February and March.
Amica Mutual Insurance earns top spot again
Bucking the trend is Amica Mutual Insurance Co., based in Lincoln, Rhode Island. For the 11th consecutive year, it ranked highest in customer satisfaction. Amica earned top scores in all areas that were measured, for an average of 849.
James Bussiere, senior vice president and superintendent of sales and client services for Amica, credits his company's customer-focused philosophy.
"Amica never makes a change anywhere in the organization without asking, 'How will this impact our customers? How will they be affected by this change?' That truly drives the Amica experience," Bussiere says. "When you call Amica, you're speaking with an Amica employee."
Satisfaction drops as car insurance rates increase
J.D. Power analysts attributed the decline in overall customer satisfaction in 2010 to a decline in satisfaction with car insurance rates. Twenty-two percent of customers reported an increase in premiums compared to 17 percent in 2009. In addition, 60 percent of policyholders said they weren't given advance notice of price changes from their insurers.
Bussiere says that Amica routinely calls customers on the telephone before a renewal notice with a significant premium increase lands in their mailbox: "We don't wait for them to call us," he explains. While Amica doesn't have the lowest car insurance rates, Bussiere asserts that customers feel the company gives the best value due to its customer service.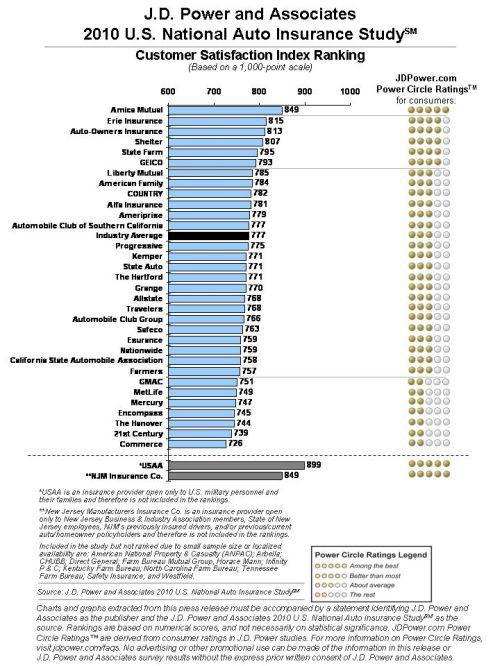 More from Beth Orenstein here
Ready to get a quote?
Get quick and easy auto insurance quotes