Scrutinize extended car warranties before buying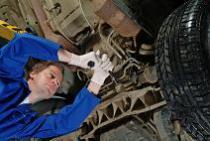 Your new car's sticker price — not to mention tax, title and registration fees — unquestionably makes your vehicle a big investment. Car insurance can cover your car in case of a collision, theft or fire, but if your car needs repairs that turn it into a money pit, you're on your own. This is when a warranty can help.
Most car dealers and some car insurance companies offer extended warranties (a.k.a. service contracts) to pay for mechanical and electrical breakdowns. You can purchase extended warranties up to 100,000 miles. While warranties can make good buys for some people, it's always prudent to scrutinize the contract. You may not need the extended coverage. Also, it may not be all that extensive, or the warranty's high deductible could make the contract prohibitively expensive.
Extended warranties do not replace auto insurance coverage. If you're in an accident, your car insurance will generally cover repairs. In addition, car insurance provides necessary liability coverage for damage you do to others in an accident. Auto extended warranties are for repairs that have nothing to do with collisions.
Up-front costs
When considering the purchase of an extended warranty, take a hard look at how much coverage you'll receive. These service contracts can give you as little as three months and 3,000 miles' worth of coverage or as much as seven years or 100,000 miles.
Where to find automobile "extended warranty" quotes on the Internet

Your car insurance company may also offer "mechanical breakdown" coverage, but remember that using it will go on your record as a claim.
Short-term policies are often offered by dealerships and cover only repairs in their shop. Price can vary considerably, but an extended warranty generally costs between $400 and $2,500 up-front, depending on your coverage, your vehicle and your deductible. A warranty for a used diesel-powered four-wheel-drive pickup can easily cost more than $5,000. So, just what are you getting for your money?
Start with what's actually covered by your warranty. Mechanical breakdown of engine, transmission, drive train, steering, antilock brakes, regular brakes, cooling system, air conditioning, electrical system, gaskets, fuel system, turbo and suspension parts and labor is typically covered on bumper-to-bumper extended warranties for new cars. Antilock brake system (ABS) components are sometimes excluded, so if your car has ABS make sure they are covered. Wear-and-tear damages will be covered by the broader warranties, too.
More comprehensive warranties will also give you some "on-the-road" coverage for towing, roadside assistance and locksmith service in case you lock yourself out of your car. Many warranties offer or include rental car reimbursement while your car is in the shop for a covered repair. Some warranties offer trip-interruption coverage if you are stranded far from home. Trip interruption covers limited lodging and meal expenses.
Low-end warranties will typically pay for repairs and parts for your engine, transmission and drive train, but you won't get any of the "on-the-road" perks with a bare-bones contract. What's more, some of the less robust warranties will cover you only in case of mechanical breakdown, not wear-and-tear damage. If your policy covers only mechanical breakdown, there will have to be a failure of workmanship or materials in order for a repair to be covered. With wear-and-tear coverage, a part that simply wears out from use will be covered. For example, if your alternator quits because the bearings failed, and it can be shown that the failure was premature and due to a poor-quality bearing, it would be covered in both policies. If the failure was simply due to regular and expected wear from use, a strict mechanical breakdown policy would not pay for the repair.
Another factor to keep in mind is the waiting period imposed by some extended warranties. The waiting period is to keep people from buying a warranty after the car has broken down, and is common language in most warranties. For example, some require you to wait for 30 days or 1,000 miles from the date of purchase before your warranty is in force. In this situation, the coverage won't kick in if, on day 15, your engine blows a head gasket.
Look twice at that deductible
Most warranties come with a deductible, so find out when that deductible applies. Some warranties charge you a deductible on a "per component" basis, meaning you'll pay your deductible for each of the covered "part groups." One part group would be your engine and its parts, and another part group would be the cooling system, which includes the radiator. So, with a "per component" service contract, you'll end up paying your deductible three times if your car needs a new head gasket, a new radiator and air-conditioning system work, even if the repairs are performed at the same time.
Some service contracts offer you a "per occurrence" deductible, so no matter how many parts on your car fail, you'll pay the deductible only once each time you bring it to the repair facility. What's more, some extended warranties will waive the deductible on parts that have to be fixed more than once.
By the way, you could choose a warranty with no deductible to avoid any future hassles, but be ready to shell out more cash at purchase time.
New cars can probably wait
Most shiny, brand-new automobiles (including leased vehicles) come with a manufacturer's warranty of three years or 36,000 miles, whichever comes first. That means the auto maker is going to guarantee the performance of certain parts on your car for the first three years or the first 36,000 miles of the life of that car. In addition, under most states' lemon laws, a new car's performance is guaranteed for at least one year or 12,000 miles. (Lemon laws don't protect owners of used cars, even if they are less than one year old and have less than 12,000 miles.)
Do you plan on driving your car past the manufacturer's warranty? If not, why buy an extended service contract?
The end of the road
Generally, you'll be shelling out for double coverage if you buy an extended warranty while your car is under the original warranty. However, if you're at the end of the manufacturer's warranty period and you want extra protection, an extended warranty may be worthwhile coverage. The longer you wait, the more expensive the warranty will become, and the price normally jumps considerably once the factory warranty has expired.
Ready to get a quote?
Get quick and easy auto insurance quotes