Insurance companies put the "reject" stamp on some emergency response fees
Four years ago, Jay Middleton and his daughter, Jillian, were driving in separate cars through Radnor, Penn., heading home to New Jersey after her college finals, when she accidentally rear-ended his vehicle. They filed a police report and a claim for the minor fender-bender with their insurance company, and considered the case closed.
But six weeks later a bill arrived in Jillian's name from CostRecovery Corp. for $276.08.
"I thought, 'What in the name of God is this?'" Jay Middleton recalls.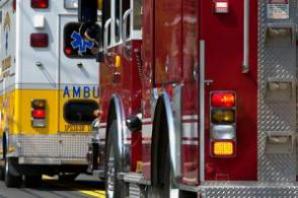 The bill was for an emergency response fee – a strategy that a growing number of cities and counties are using to recoup costs for providing police and fire services.
Usually the fees are charged for non-residents who cause accidents, as was the case with Middleton's daughter. Some cities and counties have also instituted fees for firefighter response to emergencies at homes.
Emergency response fees gain momentum
The emergency response fee trend started in the middle of the country about 10 years ago and spread in all directions as cash-strapped local governments searched for ways to fill coffers.
"As of the beginning of August, fees have been proposed in 34 states," says Mary Bonelli, spokesperson for the Ohio Insurance Institute.
A cottage industry of collection companies has driven the trend, says Peter Moraga of the Insurance Information Network of California (IINC). Collectors such as Cost Recovery Corp. in Dayton, Ohio, and Fire Recovery USA in Roseville, Calif., market the concept of emergency response fees to cities and counties, even supplying sample language for ordinances allowing the jurisdictions to charge the fees. The companies then collect the fees for the local governments and take a percentage cut.
The fee-collection companies advise consumers to send the bills to their insurance companies, but insurers don't always pay them.
"You are responsible for this bill, which reflects the Safety Services costs incurred from your accident. We filed the claim to your insurance company as a courtesy," stated the letter from CostRecovery Corp. to Jay Middleton's daughter. "Your insurance company has either overlooked the bill or has taken exception to paying it, even though many other insurance companies are paying it in full. Before we take further action against you for payment of this delinquent bill, it may be appropriate for you to contact your insurance agent and inform them that many of their competitors are paying these bills in full."
Fees spread like wildfire
In California, the practice of charging accident response fees spread like wildfire around the state in the last two years. Fifty-four California jurisdictions had enacted emergency response fees and 18 had proposed them as of Aug. 20, according to the latest count by the IINC. The fees range from $450 to $2,500, Moraga says, depending on the amount of equipment and emergency personnel that respond to an accident.
According to a recent poll commissioned by the IINC, 50 percent of Californians oppose the concept of emergency response fees for traffic accidents, while 21 percent support the idea. Another 26 percent are undecided.
Yet residents accept the fees when they understand the purpose, says the International Association of Police Chiefs, which notes that cost-recovery efforts like this are a viable option when city and county budgets are shrinking.
Targeting the fees to non-residents who cause accidents makes the ordinances more palatable to local residents. Opponents, though, argue that emergency response fees could hit local businesses hard by driving away customers.
Home and car insurance coverage for emergency response fees
So what happens when you get hit with an emergency response fee and try to send the bill to your insurer? That depends on your insurance company.
State Farm, for instance, doesn't cover the fees charged for emergency services to come to the scene of a car accident with injuries, although it does cover the cost of extrication if emergency responders have to cut someone out of a vehicle, says State Farm spokesperson Bob Lapinski.
If a fire department charges an emergency response fee to extinguish a fire, State Farm covers up to $500 under its home insurance policies.
The most extensive data on insurance coverage for accident response fees comes from Ohio, where the Dayton-headquartered CostRecovery Corp. launched its billing services for local jurisdictions in 1999. In that state, 85 percent of car insurance companies don't cover accident response fees for non-medical services, such as cleanup after a car accident, because the coverage is not part of the car insurance policy, according to a March 2009 survey by the Ohio Insurance Institute (OII).
Among Ohio home insurers, 41.4 percent (based on market share) don't provide coverage for response fees for fire departments, an April 2009 OII survey found. Insurers that do provide some coverage for response fees typically cap reimbursement at $500 and limit coverage for fees related to perils outlined in the home insurance policy, the institute says.
In some areas, homeowners are required to pay an emergency response fee if they want to receive certain emergency services. In Tennessee, firefighters watched a house burned down because the homeowner hadn't paid a $75 fire fee.
Banning emergency response fees
While some towns are rejoicing in the extra revenue from emergency response fees, 10 states have banned them in some form -- Alabama, Arkansas, Florida, Georgia, Indiana, Louisiana, Oklahoma, Missouri, Pennsylvania and Tennessee. In some of those states, such as Pennsylvania, the ban applies only to fees for police response, not firefighting.
In states like Ohio, which has many home-rule taxing bodies, it's difficult to ban accident fees statewide. Bonelli advises consumers who don't want to pay the fees to ask if the collection company practices "soft billing." That means the unpaid bill will not be sent to a collection agency and it won't appear as a black mark on your credit report.
Middleton, a professional lobbyist, refused to pay the accident response fee for his daughter. Instead, he called a Pennsylvania legislator and a lobbyist with his insurance company, which sparked the drive to get emergency response fees for police services banned in Pennsylvania.
More from Barbara Marquand here
Ready to get a quote?
Get quick and easy auto insurance quotes