Where to find your car keys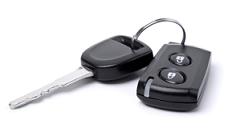 You'll probably spend 16 days searching for lost car keys during your lifetime – and you may find them in the most unlikely places.
The average person spends one minute and 15 seconds each day searching for their car keys, according to a recent study by Swinton Insurance, an insurer based in the U.K., which surveyed roughly 2,000 of its policyholders.
Men find their keys faster than women – maybe because they don't have to dig through a giant purse. The ladies spent an extra seven minutes and 21 seconds each week looking for their keys compared to men, according to Swinton Insurance's findings.
The top places to find your keys are:
The back of the sofa
Your coat pocket
Your bag or handbag
In the kitchen drawer
In your car
Other places to look
We surveyed our friends and colleagues about where they've found their car keys in the past. Based on their experience, you should look in your refrigerator (possibly the butter case) or freezer. If the keys aren't there, try these spots:
In your hand
In the dog food
In the trash can – thrown out with your garbage bag
In your kids' playhouse
In an elevator shaft
On the fireplace mantle
In the bra you're wearing (true story)
Are you a chronic key-loser? Maybe technology can help. A variety of companies sell "electronic locators" that can be used for finding anything from your car keys to prescription medicine to your TV remote control. But you have to be able to find your electronic locator in the first place.
If you have roadside assistance included in your car insurance policy, you likely have coverage for lost-key replacement and lock-out service.
Tell us where you've found your car keys and we'll add a list of reader responses.
Ready to get a quote?
Get quick and easy auto insurance quotes