Divorce insurance makes it easier to kick your spouse to the curb
When John Logan was going through a divorce, his friends dubbed it "War of the Logans." That was nine years ago.
"It was world-class ugly. I ended up broke. I lost my house. My whole life was turned upside down," he recalls. "After the dust settled, I thought, 'I can't be the only schmuck who this has happened to. Why isn't there insurance for this?'"
And thus the idea for Wedlock Divorce Insurance was born.
Now as you contemplate china patterns and honeymoon destinations, you can also hedge your bets by buying divorce insurance, just in case things don't work out.
This first-of-its-kind product is now offered through Safeguard Guaranty Corp., a startup in Kernersville, N.C., and underwritten by Prime Insurance Co.
"If necessity is the mother of invention, then this is the poster child," says Logan, Safeguard's chairman and CEO.
Divorce insurance is similar to life insurance, but instead of collecting a check when your spouse dies, you make an insurance claim after you kick him to the curb (or vice versa). You can buy as much protection as you think you'll need. Each unit of protection is sold for $15.99 a month and equals $1,250 in cash of initial coverage. So if you buy 10 units, you have $12,500 worth of coverage. In addition, the cash value increases over time.
Marriage already on the rocks? Sorry, you're too late. While you can buy a policy no matter how long you've been married, you can't collect until four years after you buy it, unless you purchase a rider to shorten the waiting period to three years.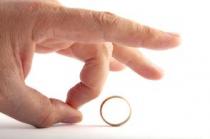 But what blushing bride with fairytale dreams wants to buy divorce insurance? Logan admits it might be a tough sell for first-time newlyweds.
"I'm an Irish Catholic guy. I had 13 uncles, and only one uncle was divorced, and we never saw him again afterward," he says. "If someone would have approached me about this before I got married, I would have punched him in the nose."
But people who have already gone through a painful divorce and plan on getting married for a second or third time -- or who have watched close friends or family members suffer through divorces -- could be an easier market to crack.
Safeguard is marketing divorce insurance online and will also sell it through insurance agencies. Logan also hopes to market it as an employee benefit through workplaces.
More from Barbara Marquand here
Ready to get a quote?
Get quick and easy insurance quotes