Auction security and the lap of luxury
Today in London, a Faberge egg was auctioned for the record price of $18.5 million. The total was almost double the previous Faberge record of $9.6 million. It also broke the record for most expensive timepiece ever sold, an achievement made possible by the unusual inclusion of a clock on the front of the egg.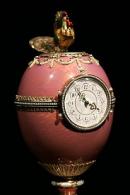 The auction was operated by Christie's of London, the largest and most prodigious auction house in the world. In the first half of 2007 alone, Christie's totaled $3.25 billion in auction sales worldwide.
The piece was the Rothschild Faberge egg, crafted in 1902, one of the few Faberge eggs that were not created specially for the Czar. It was made for Beatrice Ephrussi de Rothschild, who gave it to her future brother-in-law as an engagement present.
Fifty-four of the sixty-eight eggs were made for Czars Alexander III and Nicholas II, from 1885 to 1917 as an annual imperial ostentation. One of these you might remember: five years before the Rothschild was created, Faberge crafted the Coronation egg, which the heroes of the 2004 release Ocean's Twelve are supposed to steal. (As a matter of fact, the replica created for the movie still cost a hefty $4,000.)
Auctions at Christie's are often in the news simply for going off without a hitch. The sheer volume of high-profile items and the exorbitant price tags are perennial attention-grabbers.
The same cannot be said for most auctions. Most auctions only make news if something goes wrong. And unlike Christie's auctions, which are buttressed with expensive security measures, small-time auctions across this country suffer from accidents and fraud all too often.
The most common auctions are car auctions, which you can read about here. Fortunately, law enforcement has cracked down on title fraud and check fraud, the two of which accounted for most auction losses.
For the few issues and potential problems that remain, auction houses can purchase auction insurance that covers losses from check and title fraud. Various agencies, such as Auction Insurance Agency in Alabama, sell auction insurance products.
So in general, you can feel secure buying at auctions. Online auction houses such as eBay have reliable insurance for loss of their own. As long as you check the auction house out beforehand to make sure it is insured, it's becoming a safer and safer way to buy.
Ready to get a quote?
Get quick and easy insurance quotes