What happens when you're sued
If somebody is injured on your property or you cause a major car accident, you could find yourself facing a lawsuit. That's why it's important to know the details of your home and car insurance policies and the proper steps to take when contacting your insurer.
What you have to do
Following any serious accident, you should call your insurance company — after contacting the police and/or calling for medical assistance. Your insurance agent should walk you through the steps of the claims process. Be prepared to discuss what, when, where and how the accident occurred.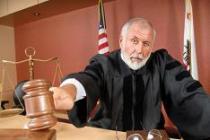 Your agent will pass your information to the claims department and an investigation will begin.
Next, find out what your insurance company will do for you in case you're sued. In other words, read your policy. For example, a sample car insurance policy states: "We will defend any lawsuit brought against the insured [that's you] for" any damages sought by other parties. The policy also states that the insurance company will cover the damages for which you're liable up to the limits of your policy. Liability policies for home insurance read much the same way.
If you think the legalese in your policy looks like a contract, you're right. Ask your insurance agent for help in dissecting the information because the wording spells out your insurer's legal obligation to you. In most cases, the insurance company will appoint an attorney for you. However, check your policy language.
In addition, if you violate the insurance contract, you might find yourself denied a defense from your insurance company, which means you'll have to find your own lawyer and pay out of your own pocket.
Their legal obligation to you
You may be denied a defense if your conduct is deemed reckless or willfully and wantonly destructive. Insurance companies generally will not defend you in cases involving damage or injuries caused by your excessive speeding or driving under the influence of alcohol or drugs. These rules are not across-the-board, and each case is judged on its merits.
Every state has different rules, and even some jurisdictions within those states have specific rules. Check your policy and talk to your insurance agent or company to clarify these issues.
Also, your insurance company will not defend you (or pay claims) for criminal conduct.
Waiting in the courthouse
If your case makes it to the courtroom, expect the process to take at least a couple of weeks, if not more. The case's length depends on the particular litigation system you're in, your judge and how interested he is in moving his docket.
Cooperation and patience are key
A common complaint from people who are sued is how much time they have to spend in court.
In order to get the best defense available, you must work with your insurance company. Cooperate with the company's investigation and its defense of you. If you violate the provisions of the contract, the insurer can refuse to pay for your defense.
Be prepared for litigation to be time-consuming. A common complaint from policyholders is the amount of time they must spend in court, either to help with the investigation or to testify. But realize that if you're to receive a proper defense, you will have to be patient.
Ready to get a quote?
Get quick and easy insurance quotes