Find your hidden savings: Are you overinsuring?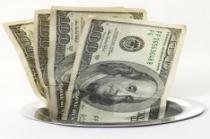 When it comes to buying insurance, make sure you have adequate coverage. At the same time, don't throw your money down the drain by buying overlapping or redundant insurance.
Banks, credit card companies, credit unions and even furniture stores offer insurance. Therefore, it's easy to get confused and buy coverage for something that may already be insured. It's also possible that your needs have changed and you no longer have use for certain types of insurance. You can uncover money savings by finding areas where you may be overinsured.
Your car
If you have car that's at least 5 years old, it may not make financial sense to continue paying for comprehensive and collision coverage. If your car is totaled in an accident, you will receive the actual cash value of the car. Although insurance companies use their own criteria to determine fair market value for vehicles, you can get a ballpark estimate from NADA Guides.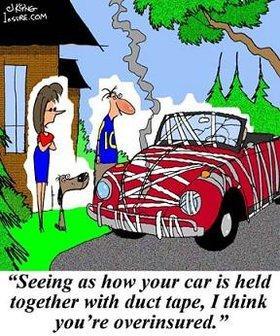 As a general rule, the Insurance Information Institute recommends dropping comprehensive and collision coverage for a car worth less than $1,000. Less conservative experts recommend dropping it when its value reaches $2,000 to $4,000.
If you need to rent a car but already have comprehensive and collision coverage included in your car insurance policy, you probably don't need to buy the insurance sold at car-rental counters. Your regular car insurance usually applies to rental cars as well. If you cause an accident, your liability insurance will pay for the damages you cause to someone else, plus any medical expenses that arise from your negligence. Collision coverage will pay for damage you cause to any car that you're driving. Your comprehensive coverage will pay for damage from fire, theft, vandalism and animal collisions. To learn more, read the basics of rental car insurance.
Your home
If you're insuring your home for its "market value," you're probably overinsuring. You want to insure your home for what it would cost to rebuild in the event of a disaster. Many of us know what our home is worth on the real estate market, but we don't know what it would cost to rebuild it. Since construction costs fluctuate, experts recommend reevaluating your policy every one to three years.
Don't include the value of your land when deciding how much home insurance to buy.
Also, don't include the value of your land when deciding how much home insurance to buy. While your home and its contents are at risk from fire, theft, windstorms and other perils, the ground your home sits on is not. Your agent can help you determine the right coverage level.
Additionally, it's a good idea to review your home insurance policy every year. You want it to reflect the value of your home and belongings. If, for example, you recently sold artwork or antiques that were covered under home insurance endorsements, you should remember to drop the unnecessary coverage.
Your demise
If you're carrying a life insurance policy worth tens of thousands of dollars in order to pay only for a funeral, you could be overinsuring — unless you are planning an extravagant send-off.
The average funeral costs about $6,000, according to the Federal Trade Commission, and add-ons like flowers and limos can push the total to $10,000. So if you have a $25,000 life insurance policy you've earmarked just for funeral expenses, you're paying for more than you need.
Here are tips for buying pre-need and final expense insurance.
Other insurance
Mortgage insurance: This insurance is designed to pay your mortgage balance in the event of your death or if you suffer a disability and cannot work. However, if you already have a term or permanent life insurance policy, and your coverage amount is sufficient, you don't need mortgage insurance.
On the other hand, if you're having difficulty securing an affordable rate on life insurance due to your health or other factors, mortgage insurance can fill a coverage gap. In most cases, you won't be required to take a medical exam to purchase mortgage protection. Read how mortgage protection insurance can save a house and more.
Cancer insurance: While it's always important to have health insurance, there are some forms of specialized insurance that are not likely to pay off. As the name implies, cancer insurance provides benefits only if you are diagnosed with cancer. Annual premiums can range from $200 to $3,000, according to Consumer Reports. Your health insurance will cover many expenses associated with cancer. However – if you're worried about not having enough coverage — you can often add critical illness insurance onto your health insurance policy and it will cover a variety of illnesses in addition to cancer. A group plan purchased through work can cost $4 to $5 a month, depending on your age. Here are the basics of critical illness insurance.
Credit life insurance: This is most commonly offered through a bank, credit union or vendor such as a car dealer or furniture store, although you may be able to buy an individual policy. According to Bankrate.com, the average fee is 50 cents for every $100 of your loan, but many credit card companies charge nearly double that. If you have $7,000 on your card, you'd be paying $35 a month for credit life insurance (or $420 a year). Again, if you have a sufficient life insurance policy, you don't need to purchase credit life.
Ready to get a quote?
Get quick and easy insurance quotes