How to get the most out of your doctor visit
The quality of care a doctor provides to his patients hinges on the doctor-patient relationship. According to a study by Virginia Commonwealth University, empathy is essential to the relationship, especially when it comes to listening, understanding and honesty. To that end, the university launched a theater-training program in 2007 for medical students in order to promote empathy in the doctor's office. After launching the program, students showed an improved bedside manner.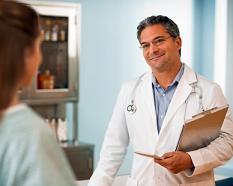 "Improved empathy skills for doctors will mean that patients have better interactions with their doctors and are more satisfied with their care," says study co-author Dr. Alan Dow, associate director of residency training and assistant professor of internal medicine at the VCU Medical Center.
With this in mind, here are some tips for the next time you visit a doctor:
Be organized. Think about what to tell your doctor before the appointment. Bring a list of your concerns, symptoms and changes in health and when they began. Keep in mind that if you have a long list, you may need to request more time with your doctor than a standard 15-minute appointment.
If you are seeing a physician for the first time, make sure the doctor has copies of your medical records.
Bring your health insurance card and understand your coverage limits.
Provide as many details as possible and the doctor will decide if the information is important.
Bring prescription medications you are taking. This way, the doctor can make a better judgment about what to prescribe.
Get the facts and ask questions. Ask the doctor to speak slowly and use layman's terms. Take notes so you can recall what was said.
Bring a trusted friend who can help you recall the doctor's advice.
Understand your tests. If the doctor recommends a diagnostic test, understand what will occur and what the test involves. Find out why the doctor is requesting the test and if it's covered by your medical insurance.
Understand your test results. Ask when you'll receive the results. If you do not receive the results as promised, contact the doctor's office.
Understand your treatment and ask about its costs. Ask about lifestyle changes you need to make and learn about the medications prescribed. Check whether your health insurance will cover the treatment.
Find out what your options are. If the doctor refers you to a specialist or hospital, make sure it is covered by your insurance plan. If you have an HMO, you may need prior approval from your insurance company for specialists and certain lab tests. Make sure to receive that approval before providing a sample. Some health insurance companies may not pay for lab tests without prior approval.
If you do not understand your prescription instructions, have the doctor explain it more clearly and write it down for you. If the doctor isn't available to do this, ask the nurse. If you can't remember something regarding your dosage, call the doctor's office. Most doctors now can be contacted through e-mail, too.
Schedule a follow-up visit if needed. Find out what to do in an emergency and what hours the office is open and the doctor is available.
Alert your doctor to any significant changes in your condition.
Ready to get a quote?
Get quick and easy health insurance quotes