New home insurance policy promises precise pricing

A new type of home insurance policy will have you paying according to the specific types of catastrophes your home is likely to encounter.
The American Association of Insurance Services (AAIS), which designs insurance policy forms and rating information used by more than 600 property/casualty insurance companies in the United States, says its new "by-peril" rating system allows home insurance companies to offer more precise prices that reflect the actual dangers facing homes in different regions of the country. The new policy will be introduced to state insurance commissioners around the country this summer.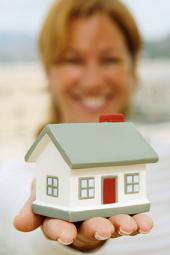 Presently, standard home insurance policies are priced on a standard list of risks, or "perils," such as fire, explosions and so forth. The new AAIS policy ratings will provide a more precise snapshot of the perils facing a particular property.
"Ratings right now are heavily dependent on the threat of fire, which is by far the cause of losses [of homes] in most regions of the country," says Joseph S. Harrington, director of corporate communications for AAIS. "But enormous windstorm losses in the last two decades have forced us to take another look at that [approach]. This system takes it another step. Each risk will be more refined to each level of peril that a home presents. Each homeowner insurance policy will better reflect the constellation of hazards a home faces."
The old-school method
The terms of standard homeowner insurance policies don't vary much from insurer to insurer, although the prices do. Home insurance policies provide property-damage and liability coverage, and range from common policies that cover 16 perils (HO-2) to broader policies that will cover everything except problems that are specifically excluded (HO-3). Find out more about home insurance basics.
Your home's age, construction materials, size, and proximity to fire hydrants also go into determining your home insurance rate.
A new approach
AAIS's by-peril rating system, which it says is the first standardized plan for rating home insurance by individual hazards, is the result of several months of intense data analysis by the company's actuarial experts.
The company analyzed a variety of potential variables to find the ones that most often lead to property losses. It found that three out of 35 weather variables and two out of five crime variables are the biggest culprits for property loss. Further, the new AAIS system will take into account the likelihood that these variables will damage a house in any particular part of the country.
Harrington declined to name the five primary conditions identified by his company's analysis for competitive reasons.
AAIS chief actuary Greg Jaynes says additional rating factors include the age of a structure, number of stories and damage-mitigation features that have been added to older homes.
What it means to you
Whenever insurance companies figure out how to price their policies better based on an individual's risk, there will be winners and losers among customers. So if your location and property have been identified as particularly risky, and your insurance company uses one of these new AAIS policies, you could see your premium go up.
The point, Harrington says, is that the policy price will more precisely reflect the dangers posed in a specific neighborhood or region of the country. Californians, for instance, face more exposure to wildfires but rarely experience hurricanes.
"In laymen's terms, what it means is that each risk will be more refined to each level of peril a home presents," says Harrington.
Although AAIS's new home insurance system will be rolled out to states this summer, there's no telling when insurance companies might start implementing it -- or if they will choose to use the rating system at all. Harrington notes that insurance companies have expressed "a lot of interest" in the new system.
AAIS will also continue to offer a "traditional consolidated rating plan" for home insurance.
"The adoption of any new rating plan is a complicated matter," Harrington explains. "It's like a business taking on a new computer system. It's a matter of learning how to run everything through your automation and have your agents be familiar with it. We will give them an approach that can be customized to their system."
Ready to get a quote?
Get quick and easy home insurance quotes