Firefighters refuse to fight fires -- and insurers could pass the buck
On Sept. 29, an everyday incident -- a house fire -- sent shivers down the spines of insurance companies. As the fire consumed the home in northwestern Tennessee, firefighters stood outside and watched it burn to the ground. They made no effort to extinguish it. The reason?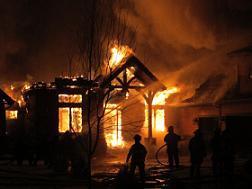 The homeowner had failed to pay a $75 fee to the nearby city of South Fulton for fire protection, according to TV station WPSD in Paducah, Ky.
He fought the blaze on his own with a garden hose while the South Fulton fire department watched. According to news reports, the firefighters ignored his offer to pay whatever it cost, ignored his grandmother's plea and only stepped in when a neighboring property, whose owner had paid the fire-fighting fee, was threatened.
The mayor of South Fulton was unsympathetic. "It's a service we offer," he told WPSD. "Either they accept it or they don't."
Ill advised and unsafe
The Washington, D.C.-based International Association of Fire Fighters, which represents nearly 300,000 firefighters, condemned South Fulton's policy as "ill-advised" and "unsafe."
"Firefighters shouldn't be forced to check a list … to see which homeowners have paid up," said the IAFF in a statement. "They get in their trucks and go."
Insurers were also outraged -- and fearful. While the fire department wasn't required to do anything, the property insurer of the burned home had to pay for the damage, a member of the family told WPSD later. Even more disturbing to insurers, though, is a growing trend by local governments to make someone else – either the homeowner or the insurer – pay for services that were once paid for with taxes.
Victims of the recession
Recession-ridden state and local governments are facing budget deficits and searching to raise money. The rural county where this fire took place is no exception. Its per capita income is $17,400, $4,000 less than the national average.
But others are also looking at ways to make firefighting a revenue enhancer for their towns. Many municipalities are now mulling what they like to call "emergency response fees." Last December, Passaic, N.J., mayor Alex Blanco suggested charging the home insurance carrier whenever fire trucks roll up to a building covered by the insurer. The price tag: $500 for a residential home and $25,000 for a commercial building.
And many cash-strapped California towns are considering adopting "crash tax" fees to cover municipal workers who show up at accidents. "These fees are a new attempt to raise revenues without directly raising taxes," complains the Property Casualty Insurers Association of America on its Web site.
But property insurers aren't about to roll over. Their first option will be to protect themselves by adding a clause to a home insurance policy stating that if the policyholder ignores a fire fee or lets it lapse the insurer won't pay if the house burns down.
Most don't do it yet because "fees like this are very rare," says Dick Luedke, spokesperson for the country's largest home insurer, State Farm. "But in cases where they exist, we make paying the fee a prerequisite for writing a homeowners' policy." However, once a policy is written, a homeowner who lets it lapse accidently will likely get insurance coverage anyway, Luedke says.
O'Leary's cow in today's market
If other municipalities follow suit and allow houses to burn down, insurers could use a second option: Raise the home insurance rates for the entire area to make up for potential losses. When Mrs. O'Leary's cow kicked over the lantern (or so the story goes), it didn't just burn down her house -- it started the Great Chicago Fire of 1871. So the mayor of South Fulton could see his own home insurance hiked because he let a neighbor's house burn down.
Municipalities may be at risk if they ignore fires, particularly if they self-insure, says Loretta Worters, a spokesperson for the Insurance Information Institute. "What if someone dies in a fire because the firefighters didn't show up?" she asks. "That's a guaranteed lawsuit against the city."
DIY firefighting
A third option for home insurance companies is to form their own private firefighting crews. High-end property insurer Chubb Corp., for example, provides a Wildfire Defense Service to clients residing in 14 Western states.
Chubb employees don't fight the fire; that's the job of the regular municipal department. But if a fire burns within three miles of a customer's home, Chubb dispatches a crew to clear brush, set up perimeter sprinklers and spray fire-retardant gel on the house. And the crew comes back afterward to clear up burning embers that could reignite a blaze.
"We want to assist the municipal firefighters," says Scott Spencer, a Chubb loss-control manager.
This assistance saved at least seven Colorado properties during a recent wildfire that was the most expensive in the state's history. But, like those South Fulton firefighters, Chubb's crew doesn't work for everyone. "It sets up a have and have-not kind of feeling," complained one Colorado resident to the Boulder Daily Camera.
A great leap backwards
A "pay to spray" policy harkens back to the era of "fire marks." In the 1800s, insurance companies funded many fire-fighting brigades. When insuring homes, offices and factories, they placed a metal plate or "fire mark" high up on the front of the building, indicating that if it caught fire, the first fire company to put out the blaze would be rewarded by the insurer.
But this proved counterproductive. Every fire company within miles would rush to the scene -- racing past blazing buildings that didn't have fire marks to reach the one that did. Then the competing crews would get into a fist fight with each other over who should put out the flames and get the reward.
More from Ed Leefeldt here
Ready to get a quote?
Get quick and easy home insurance quotes