Taking your grievance public: Insurance for complainers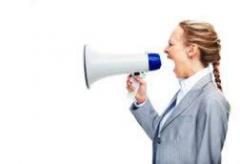 After a painful visit to a San Francisco dentist in 2008, Jennifer Batoon did what a growing number of customers do these days when they're unhappy -- she took her complaints to the Web. "DON'T GO HERE. MOST PAINFUL DENTIST EVER. unless u like mouth torture," she wrote in an approximately 800-word review on Yelp.com, detailing her treatment and billing disputes.
Her unpaid account went to collections, and the clash appeared to have waned. But the marketing manager learned it was far from over: About a year after the appointment she answered a knock at her door and was served with court papers. Dr. Gelareh Rahbar was suing her for defamation, claiming the online review hurt her dental business.
"I was just totally shocked," says Batoon, a marketing manager. "I never knew that could happen to people for posting a review."
But it does happen, and the number of such cases is multiplying as sites such as Yelp, Facebook, Twitter and others provide opportunities to vent and complain.
"These sites are the 21st-century version of the backyard fence," says California attorney Mark Goldowitz.
Yet the risk of getting sued when you tell your neighbor your woes is miniscule compared to your complaint posted for the world to see.
Want to gripe online? Then check your home insurance coverage, and learn what kind of speech could land you in hot water.
Getting SLAPPed
SLAPP Me
States with Anti-Slapp Statutes
Arizona
Arkansas
California
Delaware
Florida
Georgia
Hawaii
Illinois
Indiana
Louisiana
Maryland
Massachusetts
Minnesota
Missouri
Nebraska
Nevada
New Mexico
New York
Oklahoma
Oregon
Pennsylvania
Rhode Island
Tennessee
Utah
Vermont
Washington
Source: The Public Participation Project
The legal tactic to shut up critics is known as a SLAPP -- strategic lawsuit against public participation -- and has been around for decades. The suits are usually based on claims such as defamation, conspiracy or interference with economic advantage and are designed to intimidate the complainers. University of Denver law professor George Pring and sociologist Penelope Canan coined the term in their 1996 book SLAPPS: Getting Sued for Speaking Out, which focused on lawsuits targeting First Amendment speech on public issues. Now the maneuver is increasingly targeting ordinary folks who post critical comments online.
Justin Kurtz, a 21-year-old college student in Kalamazoo, Mich., was sued in April after he started "Kalamazoo Residents Against T&J Towing" on Facebook. Kurtz says the company towed his car from his apartment complex parking lot even though it had a parking sticker, and charged him $118 to get his car back. He filed a police report and argued with the towing company to no avail before taking his case to an online jury. Within two days, his Facebook group had 800 members, and local media covered the story. Two months later, T&J filed a defamation suit seeking $750,000 for loss of income. The Facebook page now has more than 12,000 members and Kurtz, an aviation science major, refuses to back down.
"These people are trying to block my rights of freedom of speech," he says.
The case, featured on the front page of The New York Times in May, is helping fuel a push for a federal law to make it more difficult to file SLAPPs, says Goldowitz, who is founder and director of the California Anti-SLAPP Project. Twenty-six states have anti-SLAPP laws. The proposed federal law is modeled after California's statutes, which let SLAPP defendants recover legal fees, court costs and other expenses if the judge rules at the outset that the SLAPP filer can't show a chance of winning.
State laws vary in the amount of protection they provide, and some states have no anti-SLAPP legislation, which encourages "forum shopping," says the Public Participation Project, which is supporting the Citizen Participation Act, the federal anti-SLAPP House bill introduced by Rep. Steve Cohen (D-Tenn.)
"A blogger in California would normally have that state's strong anti-SLAPP law as protection, but if a plaintiff can sue the blogger in a state without an anti-SLAPP law, the plaintiff has every incentive to do so," the project says.
Aside from anti-SLAPP laws, your best bet for protection is personal injury insurance and avoiding speech that could give someone legitimate legal ammunition against you.
Personal injury insurance protection
Personal injury insurance pays your legal defense costs and settlement up to the policy limit in case you get sued. Some high-end home insurance policies may include personal injury coverage for these types of claims, and homeowners can purchase additional personal injury and liability coverage, says Insurance Information Network of California spokesperson Tully Lehman. Some umbrella policies, which extend standard homeowner liability coverage, may also include coverage for personal injury claims. A personal injury endorsement on a standard home insurance policy can cost as little as $10 a year and offer coverage equal to the liability coverage of the home insurance policy, Lehman says.
If you get insurance quotes for personal injury coverage, talk to your insurance agent about what it covers and excludes -- and remember, it won't cover you for things you said online before the policy took effect. In addition, most policies won't cover damages from intentionally posting false information, Lehman says.
"If you are a personal blogger, you should review your homeowner policy to determine what and how much coverage you might have," Lehman says, who also recommends a business liability policy if your blog has sponsors providing income.
Goldowitz recommends personal injury insurance for anyone who posts complaints online, but he says you should be aware of the coverage consequences. In defending a case against you, the insurance company attorney represents the carrier's position, which might not always match what you want. And even if the insurance company pays for your defense, it can still reserve the right not to pay a judgment if it determines the judgment isn't covered by your policy. In that case, you're usually entitled to hire your own attorney at the insurance company's expense, he says.
Who, me?
Think you can hide behind an anonymous user name? Don't count on it.
Your right to speak anonymously online might be protected under constitutional right of free speech or a state constitution, according to the California Anti-SLAPP Project. But plaintiffs can try to find out who you are through legal maneuvers, such as filing a subpoena for Internet service provider records.
"Anonymity may provide one layer of protection, but it is not protection that can be counted upon," Goldowitz says.
Batoon says she learned she had insurance protection through her renters insurance, which could have covered her legal fees if necessary. But in her case, a judge decided the complaint had no merit and ordered the dentist to pay Batoon's legal costs. She continues to post reviews online but, she admits, even though she won her case she thinks twice before posting anything negative. "I definitely took a break for a while because this has just been traumatizing."
Tips for online complaining
Here are some tips for posting online from Mark Goldowitz, founder and director of the California Anti-SLAPP Project:
Know your legal rights. Check to see if your state has anti-SLAPP law and what protections it provides.
Even if you're complaining, tell the truth. Keep records to back up your factual statements.
Understand the difference between fact and opinion. You can be sued for false statements of fact, but not opinion. But don't think that just because you put "I think" or "I believe" before a statement that it counts as an opinion. Saying you think someone is a liar and a thief could still get you in trouble if you couldn't prove it's true.
Get legal advice if you're planning to speak out and aren't sure whether your speech would be protected.
More from Barbara Marquand here
Ready to get a quote?
Get quick and easy home insurance quotes