Top insurance mistakes made when buying a house
When you're buying a new home, there are many things to think about. Adequate insurance coverage should be one of them. Here are common mistakes people make when buying insurance for their new homes.
1. Not understanding the amount you are insured for. You are not insured for the market value of your home. You are insured for the amount it would take to rebuild your house.
2. Not understanding what is insured. Remember, you are insuring your dwelling and its contents, not the land. You may also need additional coverage for personal items.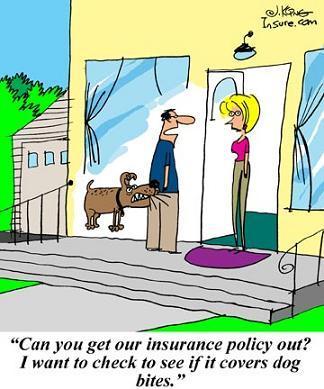 3. Buying inadequate coverage for your personal belongings. You can choose among "replacement cost," "actual cash value" or "guaranteed or extended replacement cost" policies, according to the Insurance Information Institute (III). Actual cash value will replace your possessions minus a deduction for depreciation. A replacement cost policy will pay to rebuild your home and to replace or repair your possessions without depreciation. A guaranteed replacement cost policy offers the highest level of protection: It pays for whatever it costs to rebuild your home as it was before the disaster — even if it exceeds the policy limit. Extended replacement cost policies pay up to a certain percentage over the limit, generally up 20 to 25 percent more.
4. Forgetting to insure against damage from natural disasters. Disaster coverage is not included in a standard policy and must be purchased separately. If you live in an area prone to earthquakes, floods or windstorms, make sure to purchase additional policies.
5. Assuming mold that results from water damage will be covered by home insurance. According to III, mold is generally not covered by a standard home insurance policy. However, if the mold is the result of a "peril" named in your policy, you could be covered. This could include mold that is the result of covered water damage, such as a burst pipe. But it won't cover mold that is the result of failing to maintain a home or caused by a flood. However, policies differ. According to the Texas Department of Insurance, "some policies may not provide any coverage for mold remediation or for damages resulting from sudden and accidental water leaks."
6. Not knowing that home businesses are not covered by standard home insurance. If you operate a business out of your home, check with your agent about a separate policy.
According to III, a typical home insurance policy provides only $2,500 coverage for business equipment — which may not be enough to cover all your equipment. You may also want coverage for liability and lost income. Depending on your needs, you can choose a home insurance policy endorsement to cover your business or a separate businessowner's policy.
7. Underinsuring your valuables. Art and jewelry, or anything else particularly valuable, should be insured separately under riders to your home insurance policy so that they are fully covered. Your basic home insurance policy pays only up to a certain level for personal possessions, which could leave valuables significantly underinsured.
8. Not keeping a list of your belongings. If your property is damaged, you'll wish you had a comprehensive home inventory of everything you own. Here's help in making a home inventory list.
9. Lacking appropriate liability insurance. If you have assets and potential liabilities, like a swimming pool, consider an umbrella policy in addition to your home and car insurance policies. Read more about how umbrella policies extend your coverage.
10. Assuming your insurance will always cover dog bites. Some home insurers have lists of breeds and crossbreeds they will not insure or charge more for certain "biting" breeds such as pit bulls. Other home insurers require dog owners to sign liability waivers for dog bites, which leaves you without coverage for dog-related incidents. You need home insurance for dog lovers.
11. Not telling your insurance agent that you have a pool or trampoline. According to the National Association of Insurance Commissioners, some insurance companies may not insure your property if you have a trampoline and others may have exclusions for any liability related to trampoline injuries. Pools and trampolines increase your liability risk. Also, an insurance company can deny coverage or cancel your policy if you do not follow its safety guidelines for a pool or trampoline and fail to inform them of your purchase. Some insurers drop coverage of homeowners who have trampolines. Check your policy or ask your agent.
Ready to get a quote?
Get quick and easy home insurance quotes