Party crashers: Opening the door to liability
Party crashers can do more than gobble up your canapés, consume your booze and appear in your party pictures: They can sue you if they're injured at your house.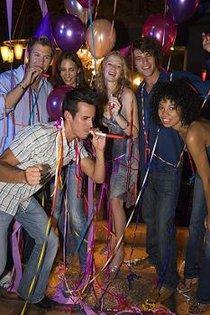 Under "premises liability" law, your obligation to warn people about hazards in your home — and their ability to sue you — depends on their "status." Party guests, in the eyes of the law, are "licensees."
One has a duty to warn partygoers about hazards, and if you don't they can sue you for injuries sustained on your property. For example, if your porch step is loose, warn your party guests. Or better yet, fix it before the party, advises Michael Callan, a trial lawyer and partner with Doherty, Wallace, Pillsbury & Murphy P.C. in Springfield, Mass. "Paint a broken step orange. Shut the door to a room with a hole in the floor," he says, and also verbally warn your guests about hazards.
If someone is injured at your party, your home insurance coverage kicks in. Robert Passmore, Senior Director of the Property Casualty Insurers Association of America, says, "The liability portion of the standard home or renters policy will generally provide coverage for the policyholder when there are accidents involving third parties on the residence premises. The coverage would including paying for damages if the policyholder is legally liable, and providing a defense if a lawsuit is filed."
Then there are trespassers. If you see a party crasher at your buffet table, should you be concerned about your liability?
In states such as California and Massachusetts, there are no distinctions made between invited guests and trespassers, so you have a duty to warn everyone about any unsafe conditions at your house.
In other states trespassers are not owed the same duty — but you're not off the hook yet. Callan points out that if you're aware of the party crashers and do nothing to throw them out, you've shifted them to guest status in the eyes of law. Now you should warn them about any hazards.
If party crashers are in your house without your knowledge, you likely have no legal liability to them.
If your party crashers are taking advantage of the bar area, state social host laws apply. That means you could be held liable if you know your party crasher is drunk, you let them drive home and they cause an accident. (For more, here's the trouble with drunk friends.) Callan says that social host liability generally vanishes if you don't know you have a party crasher. So if your uninvited guest is hiding in the basement, drinking cocktails, and then drives home drunk without your knowledge, you're not liable.
If the worst happens and you're held legally liable for party trouble, your home insurance company will pay for your defense and the cost of a judgment against you, up to your policy limits. So don't let party crashers mess up your good time or your insurance record.
Ready to get a quote?
Get quick and easy home insurance quotes