How do you want to get your free life insurance quotes?
Work directly with:
Policies Issued by American General
160 years in business, 13 million customers served
Over $34 billion in claims and benefits paid
Committed to helping you protect your family's future
I want
Insure.com
to find me the best quote fast:
Answer a few questions,
and then compare multiple quotes
from top providers.
The purpose of retained asset accounts for life insurance benefits
Life insurance companies have routinely placed death benefit payouts into beneficiary accounts for the past 20 years, with relatively few consumer complaints. But now the use of these repositories, known as retained asset accounts, is at the center of controversy.
New York Attorney General Andrew Cuomo recently announced he's investigating whether grieving military families were misled into keeping death benefits in the accounts. Insurance companies profit from the accrued interest on the money in these accounts. Therefore, the longer a life insurance beneficiary keeps his death benefit in this account, the better it is for the insurer. If beneficiaries understood that they could withdraw the money, they could deposit it into their own account and accrue interest for themselves.
The National Association of Insurance Commissioners appointed a special working group in August to examine whether there should be more stringent requirements about what insurers report to consumers regarding retained asset accounts.
And FDIC Chairwoman Sheila Bair expressed concerns that consumers were under the mistaken impression the accounts were covered by FDIC insurance.
The purpose of retained asset accounts
Insurers say the purpose of a retained asset account is to give the beneficiary time to decide what to do with life insurance proceeds after a loved one dies. Rather than mailing you a large check, the life insurer places the death benefit into an interest-bearing retained asset account. You get drafts that work like checks to access part or all of the money at any time.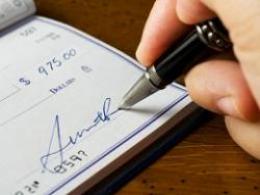 The accounts were thrust in the spotlight after Bloomberg Markets reported in its September 2009 issue that life insurance companies earn hundreds of millions of dollars a year in investment gains off the more than $28 billion in benefits they hold in retained asset accounts for beneficiaries. News reports raised questions about whether a survivor would lose their money in a retained asset account if an insurance company failed and pointed to instances where beneficiaries had trouble recovering money after drafts for their accounts were stolen and forged.
Money in retained asset accounts is not covered by FDIC insurance, which protects up to $250,000 in deposits per person per bank. But it is covered under state life and health insurance guaranty associations, which protect consumers when insurance companies fail. Maximum limits on guaranteed coverage vary, but most state guaranty associations cover up to $300,000 in life insurance death benefits. Here's more on what happens when your insurance company becomes insolvent.
"Guaranty associations are obliged by law to cover death benefits under life insurance policies. They are obliged by law to cover death benefits that are paid through supplemental contracts. By statutory definition, this obligation extends to retained asset accounts," said Peter Gallanis, president of the National Organization of Life and Health Insurance Guaranty Associations, while speaking to the insurance commissioners' retained asset working group on Aug. 15. Even policy benefits that exceed guaranty association caps have received 96 cents on the dollar on average in previous life insurer liquidations, he added.
Is it enough?
James Hunt, a New Hampshire actuary and former Vermont insurance commissioner, says a fair question is whether insurers are paying consumers enough interest on retained asset accounts. But for the most part, he says, he thinks the controversy over retained asset accounts is relatively "small potatoes." In fact, he says, keeping money in a retained asset account keeps it safe from agents, including agents at banks, who might try to persuade consumers to invest in financial products that may not be in their best interests.
In its recent consumer alert, the National Association of Insurance Commissioners advised consumers to ask the following questions if they are provided a retained asset account for life insurance benefits:
How much interest will I earn, and how will the interest rate be determined and credited to my account?
Will the proceeds be held in a bank and covered by FDIC coverage or will they be held by the insurer and covered by a state guaranty fund if the insurance company fails?
Will the money be held in a bank checking or an insurer draft account, and what kind of banking services will be provided?
What services will be provided free and what services will involve fees?
Talk to a trusted financial advisor about how to receive death benefits. Other options besides leaving the money in the retained asset account include taking a single lump-sum payment, an installment payout for a fixed amount or period, an installment plan for life, or an interest-only plan, which pays you interest and then passes the proceeds to your beneficiaries when you die.
More from Barbara Marquand here
Ready to get a quote?
Get quick and easy life insurance quotes.