How do you want to get your free life insurance quotes?
Work directly with:
Policies Issued by American General
160 years in business, 13 million customers served
Over $34 billion in claims and benefits paid
Committed to helping you protect your family's future
I want
Insure.com
to find me the best quote fast:
Answer a few questions,
and then compare multiple quotes
from top providers.
Survivorship life insurance as a tax exit strategy
Survivorship life insurance, also known somewhat gruesomely as "second-to-die" life insurance, has taken a turn for the worse lately. In the last three years, sales dropped by more than 15 percent, according to research group LIMRA. But Congress could soon provide what the doctor ordered to make the market healthy again: higher taxes.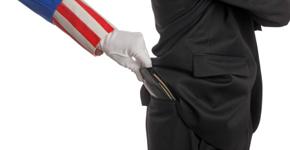 Survivorship life insurance policies turn the traditional concept of life insurance -- protect your spouse in the event of your death -- on its head. With a survivorship policy, the husband and wife both have to die before the policy pays. The purpose of this type of insurance is to provide your heirs with cash so they can pay estate taxes without holding a fire sale and downsizing the family business.
Survivorship life insurance policies began in the 1980s at a time when inheritance taxes for the wealthy became onerous. Inheritance taxes started at less than $700,000 and the top rate was 55 percent. In other words, more than half of a family's wealth could "pass on" to the government when parents died.
Steinbrenner's life insurance luck
In 2001, the Bush Era tax cuts ushered in a change. Congress passed a law which slowly increased the threshold at which estate taxes would kick in, while at the same time lowering the tax rate at which they would be paid. By 2009 the threshold was $3.5 million with a rate of 45 percent. And this year is even more favorable -- there are no estate taxes for anyone dying in 2010.
When Yankees baseball club owner George Steinbrenner died in July, leaving an estate of over $1.1 billion, his heirs could have been stuck with a $500 million federal tax bill. But because he died in 2010, they will pay nothing. "George was a winner all his life and even in death," observes William King, a financial planner in Manalapan, N.J.
What Congress giveth
Anyone trying to copy a page from Steinbrenner's playbook had better keep an eye on Congress. At the end of 2010, the Bush tax cuts are set to expire, pushing the estate tax rate back up as high as 55 percent and the minimum threshold (where taxes start) back down to $1 million. This would again make the survivorship life insurance option a lot more attractive.
Will Congress reinstate the estate tax cuts? "That's the Big Magilla, and we don't have a crystal ball," says John Bruins, a senior actuary with the American Council of Life Insurers. One thing is sure: Nothing will happen until after the November election. His advice: If you've waited until now to buy this policy -- and you're healthy -- wait a little longer to see what happens.
Others think it makes better sense to get ahead of the curve. With the budget deficit spiraling, "people are realizing the estate tax will be returning in 2011 and the need for survivorship [life insurance] is just as pertinent now," says Andrew Rinn, who specializes in high-net worth estate planning for MetLife.
Life insurance as exit strategy
Many financial planners would argue that, since there are also state inheritance and IRA taxes to contend with, survivorship life insurance should be part of any millionaire's exit strategy. So while survivorship life insurance is arguably a "niche" market, it is also a very useful tool for the millions of people in this country who've accumulated substantial wealth.
In broad strokes, here's how survivorship life insurance works. In the eyes of the IRS, the husband and wife are a single economic entity, so neither pays inheritance taxes when the other dies. And, if they have $10 million, neither should have an immediate need for the money. So this couple (it could also be two business partners) jointly buys a policy that will pay the $5 million in inheritance taxes that comes due after both die. To purchase the $5 million policy they can pay either an upfront sum or an annual bill.
The policy is generally held by an irrevocable trust, with the $5 million death benefit paid to heirs after the parents' demise and before the nine-month horizon when the IRS demands its money.
This is different from traditional life insurance policies, which are part of the estate, according to Kathleen Ryan, an insurance examiner with the New York State Insurance Department. But by keeping the policy out of the estate, it becomes available at exactly the moment and with almost exactly the amount needed to pay Uncle Sam.
A few wrinkles
Yes, there are a few wrinkles. By signing a contract and putting the money into a trust, it no longer belongs to the people who pay into it. And because it involves two lives -- a husband and wife who probably won't die at the same time -- chances are they'll be paying premiums for many years. But that also makes life insurance companies more willing to provide these policies, and at lower cost "per person," than traditional life insurance coverage.
The irrevocable trust does present problems in the event of a divorce, and Les Lovier, vice president of Life Product Development at AXA Equitable, says he's seeing more couples in their 40s, particularly in the entertainment industry, taking out these policies. A lot can happen in the 40 to 50 years between marriage and death. Couples can fall out of love, wealth can dwindle or grow, and children can become disabled or predecease their parents.
Evaluate survivorship life insurance carefully
Parents and business partners considering survivorship life insurance should consider a survivorship policy carefully. Better yet, have a lawyer look at it. One thing it should definitely include is a "split option rider," which allows the couple to split it into two equal single life policies in the event of a break up. Here's more on the advantages of survivorship life insurance policies.
While survivorship life policies are sold almost exclusively through insurance agents and brokers, chances are that any couple buying them will have already consulted a financial planner, tax accountant and lawyer to get all the advice needed. But what Congress will do with the estate tax in 2011 is anyone's guess. There's no insurance against politicians.
More from Ed Leefeldt here
Ready to get a quote?
Get quick and easy life insurance quotes.