Life insurance for new parents
Becoming a parent is a defining moment in life. Your world shifts to center around the care of your new baby.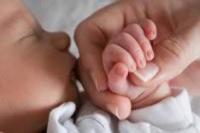 Among parents' major responsibilities is planning for the financial future of your child. Often a central component of this planning is buying life insurance. If you weren't around, would your family be able to carry on without your income? In households where one person stays at home, the loss of that caregiver can have huge financial impact in the form of new expenses for childcare. Most people buy life insurance specifically to replace income if they die.
Here are five simple steps to a good buying decision:
How to buy life insurance
The first step is to calculate how much life insurance your dependents would need.
There are many useful and free life insurance calculators online, including Insure.com's Life Insurance Calculator. Consider the standard of living you want to maintain for your dependents and factor in your debts (such as a mortgage) and the expenses you may have in the future (such as college tuition).
Life insurance is sold in two main forms:
Quick facts
Americans purchased $3.1 trillion of new life insurance coverage in 2007.
The average amount of the life insurance policy was roughly $175,514 in 2007.
By the end of 2007, total life insurance coverage in the United States reached $19.5 trillion.
Of new individual life policies purchased in 2007, 45 percent were term life insurance.
The most common supplementary benefit is waiver of premium.
Term life insurance pays a benefit upon your death, without the "cash value" account that's available in permanent life insurance. It is the least expensive type of life insurance. Term life insurance is available for set periods of time such as 10, 15, 25 or 30 years. As its name suggests, "annual renewable term life" automatically renews itself each year and premiums increase as well. Choose "level term insurance" (the most popular form of term life) if you want your premium to stay the same for the duration of the policy. Also available is "decreasing term insurance," where premiums remain level but your death benefit declines over time.


Choosing a term period is easy: Match the period of time your dependents need your income to the available rate-guarantee periods. For example, if your children are young and you have decades to go on your mortgage, try 30-year term life.

If you get to the end of your term life insurance policy term and still need life insurance, you'll need to shop for a new policy, which will then be priced based on your age and health status.

Permanent life insurance has a "cash value" account in which you can build up savings. Permanent life insurance types include whole life, universal life and variable universal life.


You'll receive a financial "illustration" of the potential growth of the cash value account, which can run to 15 or more pages. Pay particular attention to the guaranteed death benefit and premium-payment sections, because these columns contain the actual company promises.

Understand what your beneficiaries will receive if you die. If you have a traditional whole life policy, your beneficiaries receive only the death benefit no matter how much cash value you've built up. Other payout options available for higher premiums are "death benefit plus cash value" and "death benefit plus return of premium."

Universal life insurance policies allow you to fluctuate or even skip premium payments, which in turn adjusts your death benefit amount.

Variable life offers a death benefit with a side fund that operates like an investment account. Theoretically, the cash value can go down to zero and, if so, the policy will terminate. Some variable life insurance policies will guarantee a minimum death benefit.

Be aware that many permanent life insurance policies contain harsh penalties for surrendering them in the early years. If you change your mind, it's an expensive decision.
Life insurance prices
Life insurance rates are based on your life expectancy, the face amount you request and the length of the policy.
Because your current and past health conditions impact your life expectancy, insurers want to know as much as possible about your health condition. Common conditions such as high blood pressure, heart disease, obesity, cancer and depression can all raise your premiums or even result in your being declined if you have multiple conditions. Expect questions in detail regarding your lifestyle, intended foreign travel destinations, your family health history and your personal health history.
Based on your medical history, you'll be grouped into an underwriting category such as "preferred plus," "preferred," "standard" and "substandard." Your category ultimately determines your premiums.
Ways to make life insurance more affordable
If you get life insurance quotes but you can't afford them, consider these strategies:
Reduce your benefit amount or term period in order to reach a price you can afford, then buy additional insurance in the future if more funds become available.
Buy as much term life insurance as you can afford and supplement with group life insurance through work, if it's available. Group life insurance is the cheapest way to obtain life insurance, but you can't take it with you if you lose or leave your job.
If your spouse needs life insurance and you have group life through work, find out if you can buy group life for your spouse at the next open enrollment period.
Ready to get a quote?
Get quick and easy life insurance quotes.