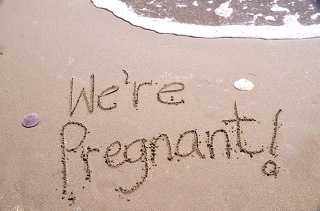 There are few times in life more exciting — and more nerve-wracking — than the period before your child is born. You could easily forget things like insurance, but life, health and home insurance coverage are critical to protect your growing family.
Here are three insurance moves you should make well before the big day arrives.
1. Buy life insurance — or more of it
Life insurance should be at the top of your to-do list when your family is about to grow. As a woman, you may not think life insurance is a priority, but it should become one, especially when you have kids, says Jeanne Salvatore of the Insurance Information Institute.
A Pew Research Center analysis found that mothers are the sole or primary wage-earner in 40% of U.S. households. According to LIMRA, a life insurance and marketing research association, most U.S. households (70%) with children under 18 would have trouble meeting everyday living expenses within a few months if a primary wage earner were to die.
But you don't have to be the main breadwinner to need life insurance. Mothers contribute at least some income in 70% of married households with children under the age of 18 living at home, according to the Center for American Progress. Even a small loss of income can affect a family's finances.
Life insurance is also important for stay-at-home moms. If you're one of the five million women who have children and don't work outside of the home, your family would likely need to pay for childcare and for someone to do other household tasks if you were suddenly gone. Your life insurance policy would help cover those costs.
If you have a group life insurance policy through work, it may be limited and likely not sufficient to meet your dependents' needs. Parents normally need to supplement a group life policy with an individual life insurance policy.
Rechecking your needs is also a good idea if you already have an individual policy. The more children you have, the more money will be necessary to support them in your absence. If you're uncertain about your coverage, a life insurance calculator can help determine your needs.
If you're worried about costs, an individual life insurance policy may not be as expensive as you think. A female 30-year-old nonsmoker in "regular" health pays an average of $302 annually for a 20-year, $250,000 term life insurance policy. The same policy for an a 40-year-old woman is $464 on average.
Barring any medical complications, you should be able to obtain a life insurance policy early in your pregnancy. If you wait until your third trimester or if there are medical issues surrounding the pregnancy, you may have to wait until you child is born to obtain a policy.
A medical exam is required for term life insurance and most whole life insurance policies, so health concerns brought on by your pregnancy, such as increased weight or high cholesterol, could affect your rates. Some insurers waive charges associated with issues for which pregnancy is a contributing factor. If those charges aren't waived, find out if you can be rechecked after delivery and have your rates adjusted accordingly.
Key Takeaways
A group life insurance policy from work may not be enough to meet your dependents' needs.
Health insurance usually covers pregnancy and childbirth, which are both among the 10 essential health benefits.
Make sure you have sufficient health insurance coverage before the baby's birth.
Most health insurance plans bear the cost of delivery and aftercare, but you may need to pay a part of the hospital bill.
2. Realign your health insurance benefits
Health insurance usually covers pregnancy and childbirth. Under the Affordable Care Act, maternity care and childbirth are among the 10 essential health benefits that all qualified health plans must cover. However, there are some exceptions.
One exception is if you're under age 26 and are covered under a parent's health insurance policy.
Some large employers who are self-insured don't have to meet essential health requirements, according to the National Women's Law Center in Washington, D.C. They can exclude maternity coverage for dependents, so it's always a good idea to double-check.
If you have health insurance that covers maternity care, check on the specifics. What's covered can vary by plan. That's true whether you get insurance through your employer or buy it on your own.
Most plans cover the costs of delivery and aftercare, but you may need to pay part of the bill for your hospital stay. You may have lower copays if you choose a doctor and hospital that are part of your plan's network, so be sure to ask before seeking care.
Get a detailed list of your out-of-pocket expenses for the delivery and your hospital stay months ahead of your due date. Some hospitals require partial payment in advance. Plan ahead so you won't be stuck in the finance office when you should be in the delivery suite.
If you don't have health insurance, you can enroll only during an open enrollment period unless a qualifying event, such as a job loss, starts a special enrollment for you. If you want to get on your workplace health insurance plan, your employer can give you the dates of its open enrollment.
Pregnancy isn't considered a life-changing event that qualifies you for a special enrollment period, but the birth of the baby is. You will have 60 days from the birth to buy health insurance (for you and the baby) from a marketplace, but only 30 days to be added to your employer or your partner's employer's job-based health plan.
If you already have insurance, this special enrollment period allows you to make changes to your existing plan, such as adding your child. This is an important step, and it doesn't happen automatically. If you wait past the special window that opens, you'll be out of luck until your next open enrollment period.
If you're still on a parent's policy when you deliver your bundle of joy, you won't be able to add your child to that policy. Your child is your dependent, not your parent's, meaning you will need to purchase a separate policy for your child within the special enrollment period.
"I highly recommend expectant parents to sit down with local experts who can help them find and understand the plan that is best for them," says Jessica Kendall, director of state partnerships for Families USA in Washington, D.C., a non-profit health consumer advocacy group. Kendall works with enrollment assisters to identify best practices in enrollment-related activities, and she shares those lessons with the network at the national, state, and local levels
If you have a low income and qualify for Medicaid or the Children's Health Insurance Program (CHIP), you can sign up for these programs at any time, Kendall says. Most states have expanded their Medicaid coverage to pregnant women within certain income limits, but you should check whether yours does. If it does, determine the eligibility requirements since they can vary by state.
3. Reconsider your car and home insurance policies
A new addition to your family may require a new home or car — or both.
If you're moving to a bigger home to accommodate the growing family, it's time to shop for homeowners insurance (or renters insurance, if you'll be renting). Your current insurer may not be the best one for your new residence. Shopping home insurance quotes can help ensure you're getting a fair price.
If instead of moving you're making major home improvements, like adding a bedroom or bathroom to your home, let your insurance company know and adjust your coverage accordingly. You don't want your new and improved home to be underinsured.
If your newborn child will inherit a family heirloom that has some significant value — such as a great-great grandfather's gold pocket watch or a grandmother's diamond engagement ring — talk to your agent about whether you need to schedule it separately on your home insurance policy, Salvatore advises.
All the paraphernalia that comes with a new baby — cribs, dressers, changing tables, car seats, play pens and so on — shouldn't affect your homeowner's policy. But you'll still want to inventory it and keep your personal belongings list up-to-date, so it's available should the unexpected happen and your home is damaged in a fire or storm or robbed, Salvatore says.
Having a baby won't get you a car insurance discount, but changing to a family vehicle might lower your rates. If you're trading that two-seater sports car for a family-friendly SUV or minivan, expect to pay less each month.
Still, some vehicles you're considering may have higher rates than others, so it's important to compare costs before you hit the showroom.
"We always recommend you look at the cost to insure something before you make the final purchase," Salvatore says. "With a new baby and new expenses, money can be tight. So you want the best deal you can get."
To compare rates between car models, you can use Insure.com's average insurance rates by model tool, which features rate data for more than 2,000 current-year vehicles.
Related Articles