Life insurance can be one of the most confusing forms of insurance. There are a variety of policies, tons of riders and, depending on the type of policy, many choices that have to be made when setting up your coverage.
Regardless of the type of life insurance, reading the policy in full is extremely important and will help you avoid coverage gaps that could leave your family ill prepared to handle the financial obligations if you die.
Taking just a few minutes to learn the parts of a policy and understand the jargon will allow you to feel more confident when choosing a policy of your own or if you need to review the policy of someone who has died.
Key Takeaways
The first page of the insurance plan lists details of your policy; name of the insured and policyowner, type of insurance plan you are purchasing and the free-look period.
Life insurance policies have three important people: the policy owner, the insured and the beneficiary. The owner and the insured are often the same individual.
Life insurance policies are written in legal language that can be difficult to understand, but the definitions section will help you navigate through the confusing terminology.
It can be helpful to talk to an expert about your life insurance policy. They can help you understand the details of your insurance plan.
Reviewing the declaration page
The first few pages of a life insurance policy are basically a high-level summary of the coverage and details of the insured. In most cases, the first page states the name of the insurance company, the type of plan you are purchasing, the name of the insured, the policy owner and the "free-look" period terms.
Life insurance policies have a trial period, often referred to as the "free-look period" or "right to return," which gives the policy holder a certain number of days – generally 10 to 30 days – to cancel the policy without penalty.
After the cover page is the schedule of benefits, also called the declaration page. There may be additional information included and the schedule of benefits can be multiple pages.
The following information is usually included:
Personal information: Review your personal information for errors.
Benefit amount: The amount to be paid upon your death.
Policy type: Specifies a term or permanent policy.
Premium amount: How much you have to pay for coverage.
Policy issue date: Date the policy is issued.
Policy number: The unique number assigned to your policy.
Risk class: This is the risk class you have been assigned (e.g. smoker versus non-smoker).
Attached riders: A rider is an additional condition to the established contract.
Beneficiary: The beneficiary and secondary beneficiary may or may not be listed in the schedule of benefits page.
Name of the insured: See explanation below.
Name of the policy owner: See explanation below.
Sample policy illustration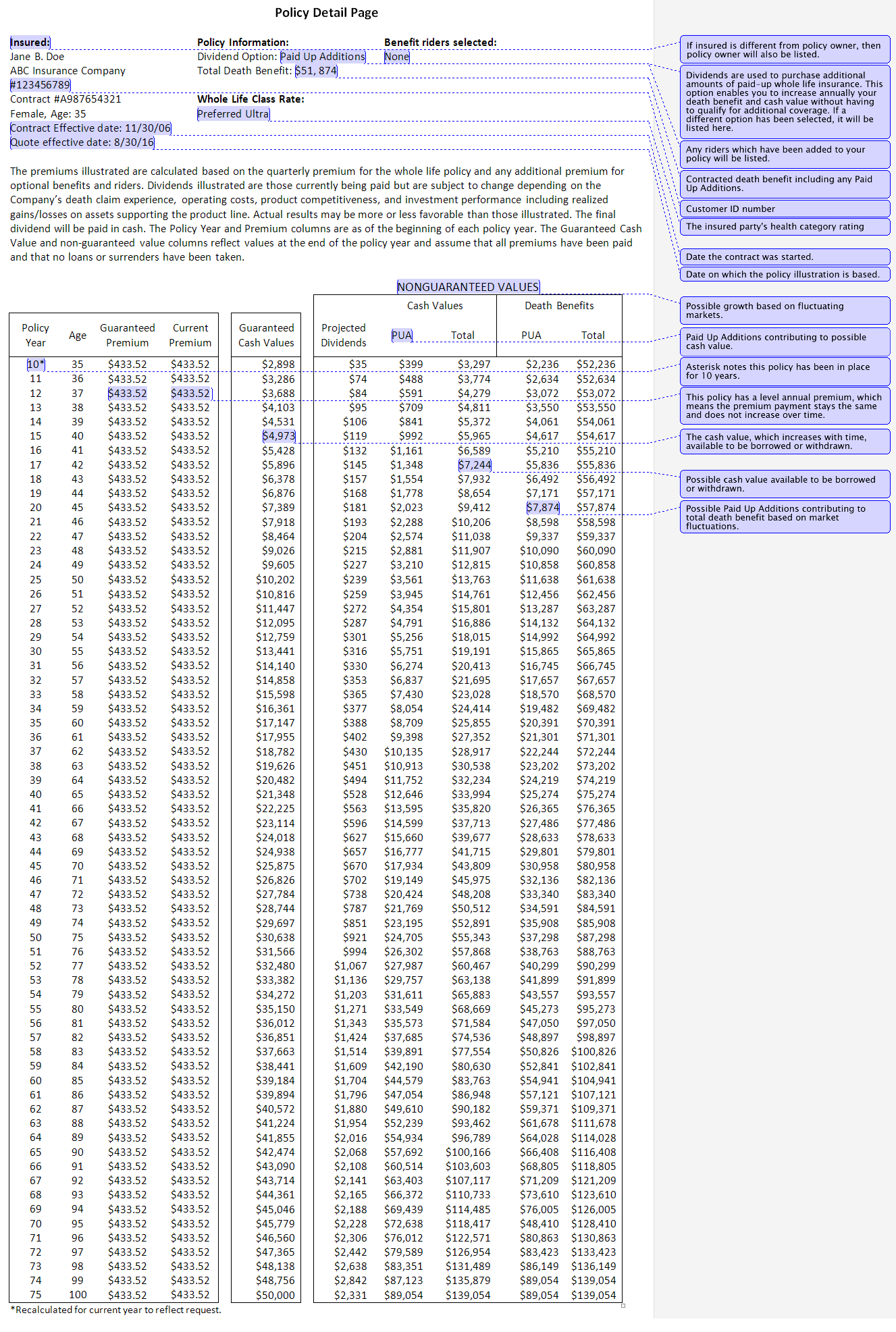 Click here to zoom in
This is an example of policy illustration for a $50,000 whole life policy, highlighting specific details that you should review as you read through your policy. Click to enlarge the sample page or you can expand by enlarging your page.
The owner, the insured and the beneficiary
Life insurance policies have a policy owner, the insured and the beneficiary.
The owner: The person who has applied for and set up the policy and is paying the premium on it (also called the policyholder). The owner is the only one who has access to policy information and can change the beneficiaries listed on the policy.
The insured: The person on whom the policy is purchased and the one upon whose death the policy will issue payment. This is the person whose lifestyle, age and medical information are looked at for rating purposes.
The beneficiary: The person or persons who will receive the death benefit upon the death of the insured.
The owner and the insured are often the same person. They can be different though. As an example, a wife may buy a policy on her husband's life and name herself as the beneficiary. In this case, she would be both the owner and the beneficiary but her husband would be the insured.
The insured cannot be the policy's beneficiary since the insured must die for the policy to pay out a death benefit. And if you're dead, you certainly can't collect on the policy as the beneficiary.
If those three roles are filled with three different people, it can result in a tax trap known as "the Goodman Triangle." For instance, if a grandparent bought a life insurance policy on their adult child and the grandchild is the beneficiary, this could result in a tax for the policy owner, in this case, the grandparent.
In general, you want two roles filled by the same person in order to avoid the tax trap.
Understanding the important details of the policy
Life insurance policies are long and filled with legalese. However, reading the policy in its entirety is an important way to familiarize yourself with your coverage and make sure you understand the policy. Here are a few tips on how to read the policy:
Owner and beneficiary: This section explains your rights as the policy owner to transfer the policy, change the beneficiary, borrow against the cash value and all other rights.
Death benefit: This section spells out the details of the death benefit and how your beneficiary will make a claim after your death.
Contestability period: This is a set amount of time, typically two years from the policy issue date, when the insurer confirms details of your personal information and policy and may contest and deny claims.
Exclusions: There are factors that can invalidate or limit a death benefit. Most policies won't pay a death benefit if the insured commits suicide within the contestability period. Misstatement of age or sex can also limit the death benefit. Any misrepresentation of information you provide could result in the policy being voided or could even be considered insurance fraud.
Premiums: This section details premiums, grace periods and reinstatement. Policies stay in force as long as you pay the premiums. Most policies have a grace period of 31 days, but it can vary. The policy will lapse if payment isn't received by the end of the grace period.
Reinstatement allows you to reinstate a lapsed policy. This isn't available on all policies, so verify if yours can be reinstated and what conditions must be met for reinstatement.
Illustrations: Life insurance policies, specifically permanent life polices, will have pages of illustrations showing how the policy will perform at certain interest rates. The illustrations can pertain to policy premiums, cash values and other factors.
Riders: A rider, a policy add-on, tailors your life insurance policy, if necessary, to best fit your needs. Each rider will be separate and will spell out what it covers.
Coverage types and levels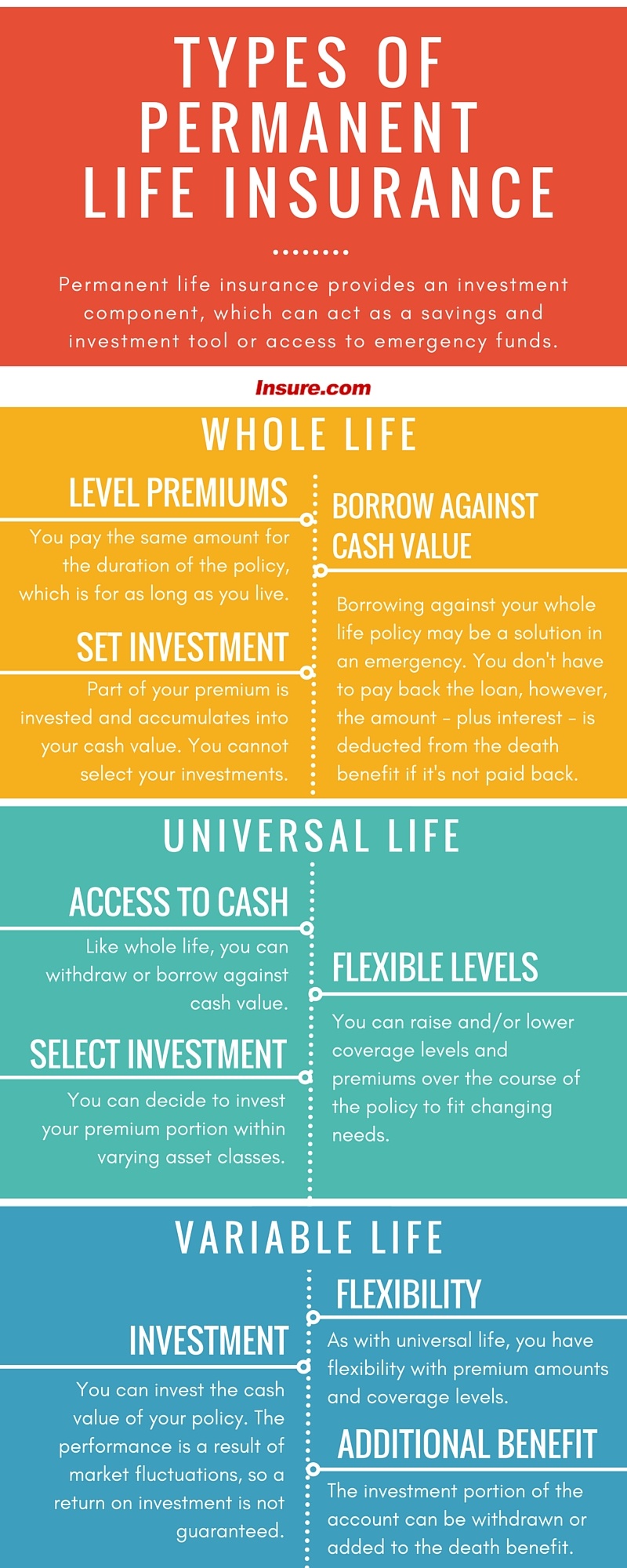 Choosing the proper type of life insurance is just as important as choosing the correct coverage level. Life insurance comes in two main types, term and permanent.
Term Insurance: Term life insurance is the simplest and least expensive form of coverage. It provides a certain amount of coverage for a certain amount of time. Its function is to protect your dependents in case you die within the agreed upon term.
Permanent life insurance: There is no set "term" in permanent life insurance. It is designed to provide protection for as long as you live, assuming you continue to pay your premiums. In that way, you're guaranteed a death penalty.
Click on the graphic to the right to see an explanation of permanent policies.
Defining policy terms
Life insurance policies are written in legal language that can be confusing, so all policies include a definitions section that defines words used in the policy. Refer to the definitions section when reading your policy and ask about anything you don't understand.
"Consumers often find the purchase of life insurance a very confusing process," says John Seltzer, with J. Seltzer and Associates in Pittsburgh. "Many don't understand the terminology and are afraid to ask for assistance, which is a mistake," he continues.
Here are a few key terms you should be familiar with:
Level premiums: The premium amount will stay the same throughout the life of the policy. This can apply to both term and permanent policies.
Accelerated benefits: A clause or rider allowing the policyholder to receive a portion of benefits before the insured's death. This usually applies when the insured has a terminal or long-term illness.
Graded-death benefit: This type of whole life insurance pays out a limited death benefit in the first few years of the policy. This is as opposed to most policies, in which if the insured dies in the first two years of the policy, the payout would be limited or voided.
Policy loans: This pertains to whole or universal life insurance. As the cash value in a policy builds, you can borrow against the accumulated funds.
Irrevocable beneficiary: This type of beneficiary has a vested interest in the policy and the policy owner cannot change the beneficiary without receiving the irrevocable beneficiary's permission.
Substandard risk: This means that the person applying for coverage does not meet the requirements for being classified a standard risk. This classification will push up your premium dramatically.
Insurance experts say…
It can be beneficial to discuss your life insurance needs with an expert. There are many unexpected details that they can help you understand. Here are a few surprising details about life insurance.
Report a change for the better.
A number of things are considered when determining your premium, such as age, health history, and occupation. And though you can't do anything about your age, you can do something about a few other major factors.
Your medical history, family history and current health and weight will all be factors in determining your rate. In most cases, an insurer will require a physical. Being a smoker will result in a much higher rate. If you quit smoking, you can qualify for a lower rate. Usually after five years, you can be considered a non-smoker.
"If you stop smoking, lose weight, get off medications or change to a less risky job, you should petition your insurance company to reconsider your premium," says Penny Gusner, senior consumer analyst for Insure.com.
Your hobbies can affect rates.
Love to jump out of airplanes? Your premium will be significantly higher.
"People don't realize there is a factor called 'avocation,' which includes things like skydiving, scuba diving, private pilots, and weekend racers. These can be as big a factor as health and smoking when it comes to your premium," says Kristofer R. Kirchen, president of Advanced Insurance Managers in Tampa, Florida.
Don't try to cover up these hobbies, as your insurer could find out about them during the contestability period and cancel your policy or, worse yet, refuse to pay out in the event of your death due to a dangerous hobby.
"It's certainly better to pay the higher premium and protect your family, rather than run the risk of leaving your family financial unsupported," says Gusner.
Group life is not enough.
Buying group life through your employer is easy and a good start, but it's usually not enough for most people's financial needs.
"While group life insurance through your employer is a wonderful benefit, it's rarely enough. Most people change jobs frequently and these policies have very limited or no portability. You should hold as much of your life insurance through a personal policy as possible," advises Seltzer.
You are probably underinsured.
Even if you already have a policy, there is a good chance that you are underinsured.
"First and foremost, don't skimp on the amount of coverage you need. Most people significantly underestimate how much life insurance they need," warns Seltzer.
Use the life insurance calculator to determine a realistic estimate of the policy you should have for your situation. The calculator considers factors, such as funeral costs, debts, mortgage, dependents, income replacement and education costs.
The primary breadwinner shouldn't be the only parent with a policy. A stay-at-home parent provides significant value that will have to be replaced. At a minimum, calculate the cost of child care until your youngest child will no longer require care. It's also a good idea to account for household tasks that would need to be paid for instead of being completed by the missing family member.
Review your policy now
If you've had significant life changes or you don't fully understand your policy, it's time to sit down and realistically look at your current life insurance coverage and assess if it will sufficiently protect your family if you were to die.
If you don't have a life insurance policy or if your analysis shows you are underinsured, start shopping for an affordable life insurance policy that meets your family's needs.
You can use our step-by-step guide for buying either term or permanent life insurance, or if you know what you need, start shopping for a life insurance policy now with these reputable life insurers.
Related Articles