From alien abductions to celebrity body parts, some people insure the wackiest things
Afraid of being abducted by aliens? How about being reincarnated into an animal that you loathe? Perhaps you worry about injuring one of your signature body parts because your livelihood depends on your impeccable taste buds, soprano voice or sexy legs.
Not to worry. You can buy insurance for just about anything — including your voice, body and fears. Celebrities, sports stars, corporations and even the paranoid can buy themselves peace of mind in the event that their fears are realized.
"Don't leave Earth without it"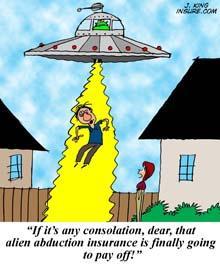 If you're among those worried about unexpected trips to outer space, Mike St. Lawrence will be happy to sell you alien abduction insurance. As president of UFO Abduction & Casualty Insurance Co., he's sold policies to tens of thousands all over the world — including actress Shirley MacLaine and television host Larry King. A policy will cost you $25 for lifetime coverage. If you are abducted and manage to return, it promises up to $10 million in coverage to pay for medical and psychiatric care and the emotional distress you will suffer from being teased by friends and relatives.
This policy includes a "frequent-flyer endorsement" and also doubles your coverage if the aliens insist on conjugal visits.
"The premiums are very reasonable and you can't be turned down because of your age or frequent-flyer status," Lawrence says. "Only if you don't have a sense of humor."
Since its inception in 1987, the company has paid out two claims (both from New York state), says Lawrence. In the event of a claim, the company pays you $1 per year for 10 million to 20 million years, depending on the circumstances.
Lawrence, a former door-to-door insurance agent who does not recall being abducted by aliens ("But there are flashbacks," he notes) also sells insurance to those concerned about their reincarnation status in the next life (such as being reborn as a pig or into a poor family). Lawrence describes this as a "me, me, me" policy.
"When most people take out life insurance, it's for the people they love," he says. "This is for [you]."
Finally, Lawrence's insurance company offers "asteroid insurance" in the event that one hits the Earth and you survive. In the near future, he will start selling "2012 insurance" — for what some believe is the Earth's new expiration date.
Insuring Hollywood
Although it only went to space cinematically, the Starship Enterprise, probably one of Hollywood's most elaborate props, was insured by the Fireman's Fund Insurance Co. during the filming of Star Trek, The Motion Picture against "almost any imaginable peril" under one of the biggest movie-production policies ever written.
Besides spacecraft, Lloyd's insured the supersonic car used to set the world land speed record of 763 mph in 1997. But the policy only protected the jet-propelled car while it was en route to Nevada and set up in preparation for the record attempt. Once the engines were turned on, all bets were off.
Legs, legs, legs
In addition to the policies celebrities buy that seem like common sense — such as performance-cancellation coverage and insurance on high-priced equipment — a growing number of stars are buying insurance on their body parts.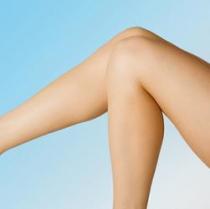 Protecting one's legs is a long-standing tradition. World Cup soccer player David Beckham had his legs (and feet) insured. Michael Flatley (producer and choreographer for "Lord of the Dance") had his dancing feet insured for $39 million. German Supermodel Heidi Klum insured her legs for $2.2 million. One of Klum's limbs is insured for $1.2 million while the other for only $1 million. A British newspaper, The Sun, quoted her explanation: "They are different values because I have this little scar [on my knee]."
Pop diva Tina Turner has had her legs insured for a sum that is "quite large," possibly surpassing "Entertainment Tonight" co-host Mary Hart, whose legs were insured for $1 million each, says Peter Moraga, a spokesperson for the Insurance Information Network of California.
"Leg insurance" likely started with Betty Grable, whose "million-dollar legs" were in fact insured for that amount. Fred Astaire also insured his legs, but for a more modest sum — a mere $75,000 per leg, with an additional $20,000 of insurance on his wrists and arms.
Famous faces
Insuring faces, or parts of them, is not uncommon. Supermodel Claudia Schiffer once had her face insured for $5 million and actress America Ferrara's smile was insured for $10 million.
But the phenomenon of insuring body parts may have started with Ben Turpin, the silent-movie star who bought a $20,000 policy in the 1920s to insure his signature crossed eyes, says Moraga — "to make sure they didn't turn straight," he adds.
Not long after, in the 1940s, Jimmy Durante insured his signature "schnozzola" for $50,000 and raspy German bombshell Marlene Dietrich bought a $1 million policy on her voice.
Insuring voices has remained popular with celebrities since then. According to Moraga, Bruce Springsteen bought a $6 million policy for his, as did Rod Stewart — although not on his somewhat signature nose.
Moving away from faces, in the 1980s actress and country singer Dolly Parton purchased a $600,000 policy to insure her 42-inch chest, and in the 1940s and '50s Bette Davis had a $28,000 policy insuring her against weight gain. Rolling Stones guitarist Keith Richards had his hands insured.
Marilyn Monroe may have been the first star to be insured against her drug use, says Moraga. No fewer than three movie studios purchased policies to protect against losses if the star's drug use interfered with filming schedules.
Marilyn Monroe may have been the first star to be insured against drug use.
The producers of "Ally McBeal" were probably grateful for the precedent. It allowed them to insure against Robert Downey Jr.'s similar difficulties.
"There was a time when no one wanted to insure him," Morega says of Downey. "One of the requirements on the set is that you have to be insurable."
It's a tough job, but they're insured to do it
The famous aren't the only ones who insure their body parts, says Moraga. Food critic and gourmet Egon Ronay bought a $400,000 insurance policy on his taste buds. The chief taster for Dreyer's Grand Ice Cream also insured his good taste, or at least his tasting ability, for $1 million.
Lloyd's issued an almost equally "tasteful" insurance policy to a whiskey distiller who insured his nose.
Another item insured by Lloyd's: the world's largest cigar (weighing almost 240 lbs.), which took 315 hours to make using 15,903 full tobacco leaves and which would require 339 uninterrupted days and nights to smoke.
Companies insure the oddest things
TV game show "Who Wants to be a Millionaire?" doesn't want to pay if you win big, so they insure against having to pay major prizes.
The TV game show "Who Wants to be a Millionaire?" doesn't want to pay if you win big, so they insure against having to pay major prizes through Lloyd's.
Cutty Sark whiskey also bought a policy from Lloyd's so it wouldn't risk paying one million pounds to the winner of a contest. What was the whiskey company afraid of? That someone might capture the Loch Ness monster alive.
Many companies will also insure their top employees against dying or becoming disabled. It's called "key person" or "key man" insurance. CEOs and CFOs are commonly insured, with any payouts going to their employers.
"Those key people, when they leave, can affect the whole company's financial status," Moraga says. "Microsoft has it for [Bill] Gates and Apple has it for Steve Jobs."
Then are many other unique insurance products. For example, residents of northern Australia can purchase insurance against being attacked by crocodiles through the Northern Territory Insurance Office.
Ready to get a quote?
Get quick and easy insurance quotes