I'll give you $20 to blow into my car
Most of us go through a short mental checklist when we get behind the wheel of our car.
Seat belt? Check. Kids belted in? Check. Rearview mirror adjusted? Check.
But some drivers have one more step: blow into a device attached to the inside of their cars that determines whether they are sober. If they have been drinking alcohol -- even a sip -- their cars will not start.
New York was the most recent state to enact a law forcing anyone with a drunk driving conviction to have a breath analyzer installed in their cars. New York joins 13 other states that mandate the on-board breathalyzers, called ignition interlocks, for all DUI offenders (first-time and repeat offenders), and is one of 47 states that employ the devices in order to reduce repeat DUI offenses. In some states, the interlocks are the only way a convicted DUI offender can get his license back.
How effective are on-board breathalyzers?
Several studies have found that use of the ignition interlock devices reduces the risk of a repeat offense by as much as 65 percent.
According to the Insurance Institute for Highway Safety, while 13 states require all DUI offenders to have car breathalyzers, many others allow drivers to get their suspended licenses back after a DUI if they agree to have the devices installed. New Jersey requires DUI offenders to have the devices installed in their cars even if the offenders don't want to drive anymore -- assuming they don't sell their car.
"Many [DUI offenders] end up driving anyway -- even without insurance or a valid driver's license -- so this is just an added safeguard," says Marc Bergman, director of field operations for the SmartStart Co., which sells interlock devices around the country.
States that mandate ignition interlocks for all DUI offenders
Alabama
Alaska
Arizona
Arkansas
Colorado
Illinois
Louisiana
Nebraska
New Jersey
New Mexico
New York
Oregon
Utah
Washington
Source: The Insurance Institute for Highway Safety and Property Casualty Insurers Association of America
New Mexico was the first state to mandate interlock devices for repeat DUI offenders when it passed a law in 2005, and as of late 2008 there were more than 130,000 ignition interlock devices working in 45 states, The Los Angeles Times reported.
The devices cost the DUI offender up to $200 to install and require the driver to pay a monthly service fee of up to $100. They have to remain in a DUI offender's vehicle for a period of time that is usually determined by the severity of their offense. In Florida, for instance, the courts can order you to install the device for at least two years if it's your third DUI or if you had a child under age 15 in the car when you drove drunk.
Thwarting interlock cheaters
As you can imagine, some DUI offenders will always try to outsmart the devices. For instance, say a DUI offender has had a few drinks at a bar and then needs to drive home. What's to stop him from offering to pay a stranger $20 to blow into his interlock device?
Bergman, who sells interlock devices in Connecticut, New York, New Jersey and Rhode Island, says the devices have become sophisticated enough to stymie even a "technical wizard" who is trying to defeat it. Some features include:
A tiny camera that takes a picture of every test and saves the image to a chip to ensure a driver doesn't have a friend blow into his device for him.
Requiring the driver to hum into the breathing tube so the device knows it's measuring a human being and not, say, a leaf blower.
Random tests to prevent drivers from drinking after they start driving, or leaving their car idling while they sit inside the bar. Washington's Department of Licensing calls these "rolling retests."
Hard-wiring to the horn and headlights, both of which are activated in a heart-stopping frenzy if you try to bypass the system.
The devices are calibrated to detect even low levels of alcohol -- mouthwash can cause a failed test -- because convicted drunken drivers are prohibited from driving with any alcohol in their systems. You're not advised to take a test with a severe hangover either – lingering alcohol will cause you to fail the test.
The interlock company sends the data collected by interlock devices to a designated law-enforcement agency -- such as a district attorney or probation officer. In some states, multiple failures can cause you to lose your license again, or force you to keep the device installed longer.
DUI car insurance causes sticker shock
The cost of an interlock device is just the beginning of the expenses related to being convicted of a DUI.
According to the Judicial Council of California, teens convicted of DUI can expect to pay more than $40,000 in car insurance rates over the 13 years following their conviction. DUI education classes, towing and storage fees and attorney fees can add thousands more to that total.
Given the choice, many offenders decide not to drive rather than have an interlock device installed and pay high car insurance rates. In a 2007 study in New Mexico, for instance, less than 5 percent of the 21,000 repeat offenders who could have gotten their driving privileges back by getting an interlock device chose to do so. When judges imposed house arrest as an alternative to interlock, however, 70 percent of the drivers convicted of DUI decided to get the devices installed.
Robert Passmore, senior director for personal lines with the Property Casualty Insurers Association of America, says many car insurance companies will cancel a policy when a driver gets a DUI -- regardless of whether the driver has an interlock device installed-- and companies that sell DUI car insurance typically charge about 25 percent more in premiums for a risky customer. That car insurance rate typically remains in effect for at least three years, Passmore says, although the DUI conviction stays on your driving record for anywhere from five to 10 years.
Here's more on how a DUI conviction affects your car insurance.
State Farm of California spokesperson Bob Devereaux says his company is one of those in California that won't provide DUI car insurance and will automatically drop a customer who gets a DUI.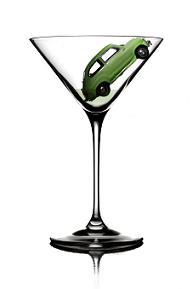 "We can't tolerate that," Devereux says. "It wouldn't matter if you had the [interlock] device or not."
Devereux notes that the odds of a DUI offender having another drunk driving arrest are "pretty alarming": According to California DMV, first-time offenders have a 24 percent chance of committing another offense in the next five years, and a two-time offender has a 36 percent chance. Drivers with three DUI convictions have a 50 percent chance of being caught drunk driving in the next five years.
"There are companies out there that will provide car insurance quotes for these people, but their car insurance rates reflect the kind of risk they are taking," Devereux says.
The future of interlocks
Although interlocks will cut down on that recidivism, some states have been slow to adopt the devices. Bergman, who used to work in California, says state lawmakers there have time and again shot down a comprehensive interlock law because of pressure from the restaurant industry, which believes the law will discourage patrons from ordering beer or wine with their meals.
Still, some advocates think alcohol-sensing devices could one day become standard equipment in vehicles. They note that repeat offenders account for only 7 percent of the nearly 20,000 people killed annually by drunken drivers; stopping the other 93 percent means equipping all cars with devices.
The key, according to a study by the National Highway Transportation Safety Administration (NHTSA), is making the sensor nonintrusive so that drivers' alcohol levels can be tested by means other than blowing into a tube – by touch, for example. NHTSA is working with auto manufacturers on that technology. Passmore notes that a recent survey in Traffic Injury Prevention found that two out of three drivers think it's a good idea for all cars to be equipped with technology that measures a driver's blood alcohol level.
Ready to get a quote?
Get quick and easy auto insurance quotes