Save money on car insurance by spying on your teen!
Adding a teen driver to your car insurance policy is a jolt to your bill. Teens are among the highest-risk drivers due to their inexperience, lack of reflexes and, sometimes, questionable judgment on the road. But what if you could keep an eye on your teen driver without having to be in the car? Better yet, what if you could save money by doing so?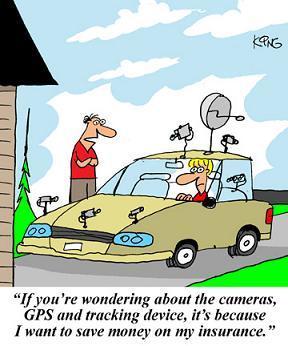 Car insurance companies know what you're thinking, and some have started offering "monitoring programs" that could lead to car insurance discounts.
Some monitoring programs use cameras installed inside the car that allow you to view video and audio footage of your teen through a camera that is triggered "on" by aggressive driving. Others use global positioning systems (GPS) to track how your teen drives (including speeding and sudden breaking or accelerating) and where they go. You can even set the system to send you an e-mail or text message when your teen arrives at a specific address.
"The responses we've seen from our customers are very positive, from parents as well as the teens," says Ken Muth, spokesperson for American Family Insurance, which offers a Teen Safe Driver monitoring program. "I think early on the teens are a little hesitant but as they participate in the program and understand its benefits, they become strong advocates."
Here are examples of monitoring programs offered by car insurance companies.
American Family
Participating in the Teen Safe Driver program offered by American Family Insurance is voluntary for all new drivers and, in some states, you will receive a 10 percent discount on your car insurance for participating. American Family has partnered with DriveCam (a company based in San Diego, Calif., that uses technology to improve risky driving behavior) in making the program available to its customers.
A camera, installed inside the car, records sights and sounds inside and outside the vehicle. However, the camera is not "on" at all times and cannot be activated by a parent on command. It will activate itself only when it detects "risky driving behavior" such as swerving, hard braking, sudden acceleration or a collision. Parents can review the video recordings online and receive weekly e-mails that include an assessment of the teen's driving performance. The videos are only available for viewing by the parent and an analyst from DriveCam. The insurance company does not have access to the video footage and cannot base its rates on it.
"The technology enables good conversations between the parents and the young drivers to identity good driving habits," says Muth, who recently signed up his 16-year-old daughter for the program. "I'm given weekly report cards. I receive weekly e-mails. If it tells me that there's been any risky driving incidents, I discuss it with my daughter."
Why would teens agree to be monitored? Muth says that teens can learn from their mistakes after watching themselves on the video. According to American Family's pilot tests, participation in the program can reduce risky driving in teens by 70 percent. But many teens have reported another perk.
"This builds trust between the parent and the child," Muth says. "We've seen that this can lead to expanded driving privileges."
Still, there are teens who do not appreciate being monitored. Some have been known to cover the camera when it is first installed.
American Family foots the bill for the camera and installation is free at specified locations. The program is only available for the first year of a teen's driving career. But the discount for participating in the program can last many years into the future. Details vary by state. For example, Colorado customers get the discount upon installation of the technology. In Minnesota, the discount is applied after the teen completes the one-year program, and the discount lasts until your child turns 21, Muth says.
Even if you're not an American Family customer, you can still purchase a DriveCam.
Safeco Insurance
Safeco customers can receive up to 15 percent off their car insurance by participating in its Teensurance program. There is no camera, but instead the teen is monitored by a GPS unit and other electronic devices. Parents can specify to be notified (via text message or e-mail) if their child exceeds a certain speed limit, travels a certain number of miles away from home or school or arrives at a specific address. Teensurance also allows you to monitor where your teen is at any moment and features roadside assistance.
The average monthly cost for Teensurance is about $27, according to the company's Web site, which is offset by the insurance discount.
21st Century Insurance
Though you won't receive a discount on car insurance, 21st Century offers a monitoring program for parents who seek peace of mind when it comes to their teen's driving.
The insurance company, owned by Farmers Insurance, offers a "MobileTEEN GPS" program similar to Teensurance. The system allows you to track where your teenager is at the moment as well as the how fast the car is traveling and how it is being driven. There's a free trial and then it costs $19.95 per month.
Mike Boid, spokesperson for 21st Century, says the device and program are significantly discounted for the insurer's customers.
Boid says that simply having the technology in the car may deter teens from making reckless decisions.
"The hope would be that if the device is in the car, the teens will drive safer," he says. "That means fewer accidents and fewer fatalities."
Ready to get a quote?
Get quick and easy auto insurance quotes