How to determine if your car was repaired properly
Car repair can be a hair-pulling experience that consumes time and energy. Your stress barometer has already been high if you've been involved in a car accident. The last thing you need is for your car to return from the repair shop with problems. While you can't guarantee your repair will be successful on the first try, you can save yourself some aggravation by inspecting it thoroughly before you leave the body shop.
"Your car is the second biggest investment behind your home and you need to treat it that way," says Dan Bailey, president and chief operating officer of Carstar, a nationwide chain of about 280 collision-repair centers.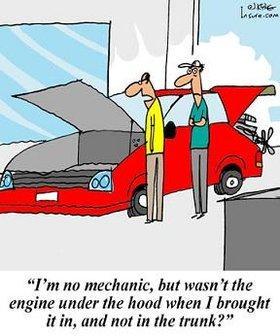 Bailey recommends you spend about 30 minutes in the auto shop when you pick up your car to make certain all is in order. He has a checklist that can help you inspect your car thoroughly:
Review your bill
Compare your original estimate against the final bill. If you don't understand something, ask for an explanation. The final bill should be detailed.
"The first thing I'd ask about is the cost difference," Bailey says, adding "they should be able to point to exactly what was done, by every line, on that final bill."
Inspect your car
Ask the mechanic or the person who wrote the estimate to review the repairs with you. Don't be afraid to ask questions or demand more time to review the repairs. Also, if it's raining outside, inspect your car indoors — especially if you've had a paint job. Rain can hide many imperfections.
Look for the following:
If new parts were installed, ask to see them (whenever possible).

If you've had a paint job, make sure the new paint matches the old. Look at color, texture and shine. If you haven't had paintwork, look for new nicks or scratches. For the protection of both parties, a quality collision-repair shop will have conducted a pre-inspection. If there are signs of new damage, it should be evident.

If you've had collision-repair work done, inspect the gaps around the doors, trunk and hood. Gaps should be uniform. "Even an untrained person should be able to see if the gaps are the same on both sides," Bailey says.

Open and close your car doors, trunk and hood. Look for leftover polish and/or rubbing compounds. If your car has been painted, the shop will polish it with a white or gray substance. Sometimes that substance is not cleaned off entirely. "A lot of times it looks great on the outside, but then you open [the car door, trunk or hood] and there's a mess," Bailey says.

Check the mileage and fuel. Remember, the mechanic usually needs to conduct a test drive after fixing a car. Usually 4 or 5 miles is appropriate for a test drive. Anything more warrants an explanation.

Check your accessories and necessities. Test your radio, headlights and taillights. If your lights have been replaced, make certain the illumination is the same — especially if your car has received aftermarket parts. This may be difficult in daylight, but keep it in mind the first time you drive at night. Also, make certain the lights fit properly. None of your car's dashboard warning lights should be activated.

Turn on the heater and A/C blower fan. Debris can get stuck inside vents, only to be released when the HVAC system is activated. This is especially true if you've had glass replaced. If the shop doesn't properly clean your car ducts, "then the first time you turn your heat or air conditioning on full blast, it can blow dust and/or debris onto your dash or into your face," Bailey warns.

If your vehicle had any structural damage, ask for a copy of the before and after printout of factory-specification tolerances. Most shops now use an electronic measuring system. Before a mechanic starts repair, he will scan your car with a computer and the machine calculates alignment problems in the bodywork. After an accident, your alignment will usually be off. After the car is repaired, the printout should show that the alignment matches factory specifications for your make and model. Most shops attach this form to your invoice, but some may not.
Understand your guarantee/warranty
Not each body shop warranty/guarantee is the same. Make sure you understand its limitations and the location where it applies. For example, Carstar has a five-year warranty that applies at any of its nationwide shops and a lifetime warranty at the shop where the car was first repaired. Warranties and guarantees do not transfer over to a new owner if the car is sold. Generally, you won't get a warranty for a paint job.
Unsatisfied with your repairs?
If the car repairs are not satisfactory, you have a few options. The Legal Advice & Referral Center (LARC), a nonprofit law firm that provides free legal advice to eligible low-income people in New Hampshire, suggests that you first attempt to work it out with the repair center. Ask to speak to the owner or shop manager and explain why you believe the job has not been completed satisfactorily. A reputable service shop should not charge you to correct an unsatisfactory job.
"They shouldn't charge you more for something they said they were going to fix and then they didn't," adds Pete Moraga, spokesperson for the Insurance Information Network of California.
If the auto shop refuses to fix the car to your satisfaction, Moraga suggests you consider contacting your local chapter of the Better Business Bureau. If you live in California, contact its Bureau of Automotive Repair (BAR), which conducts consumer protection services related to automotive repair, he says. In the golden state, BAR registers and regulates automotive-repair dealers, resolves auto-repair complaints from the public and investigates violations of the state's Automotive Repair Act. It also refers cases to law enforcement authorities if necessary. If you don't live in California, Moraga suggests contacting your department of insurance. If your state has an organization similar to BAR, it should know, he says.
"Also, keep in mind that a lot of body shops are recommend by your insurance company," Moraga says. "So make sure your insurer knows that you are not happy with that service. The insurer may also look into it for you."
If you believe that the repair shop has performed an illegal action or refuses to uphold the terms of its warranty, contact your state attorney general's consumer protection division. Many states — including California, Colorado and Illinois — have adopted an Automotive Repair Act or Motor Vehicle Repair Act that guarantees certain consumer rights. (Your state attorney general's office can tell you if your state has adopted such an act.)
Communication is key
Allen Wood, director of the Collision Repair Association of California, says it's important to be specific about your expectations prior to the repair and ask questions afterward. Be sure that you know whether you will receive original equipment manufacturer (OEM) or generic aftermarket parts (this will probably depend on your car insurance policy).
If your insurer wants to use aftermarket parts and you prefer OEM, you can likely request OEM and pay the cost difference yourself. Know your OEM rights.
"The best thing is to participate in the repair process when it's being repaired," Wood says. "Anything I should know? Anything changed on the repair? The more the shop talks to the consumer, the better it is for the consumer."
Ready to get a quote?
Get quick and easy auto insurance quotes