How to judge the quality of a health plan
When faced with a choice of plans, people generally make their decision based largely on two factors: price and whether your family doctor accepts the plan. But there are better ways to judge the quality of a health plan.
Accreditation groups rate the health plans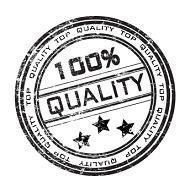 One way health plans try to prove their worth to employers, consumers and state regulators is by seeking accreditation.
Accreditation is earned when the health insurance plan meets certain quality standards set by independent organizations. Health plans also seek accreditation as a means of self-improvement when weaknesses are spotted.
Some states require health plans to achieve accreditation. Some states require only certain features of managed care plans to undergo accreditation.
A major challenge facing accrediting groups is determining what is meant by "quality." When evaluating health plans, most accrediting bodies look at the information provided to patients, the grievance and appeals process, preventive care services, credentialing of doctors and other providers in the network, and similar measures.
Each accrediting organization measures quality in different ways. When you're shopping for a health plan, list what features are most important to you. Just because an accrediting agency considers something important doesn't mean you will. For example, if you have a chronic illness, you are more interested in programs that relate specifically to your condition. Perhaps you have children and desire preventive care and immunizations. Maybe you've had a bad experience and want your new health plan to have a good track record dealing with customer complaints.
The National Committee for Quality Assurance
The National Committee for Quality Assurance (NCQA) is one the most visible of the accrediting organizations because it focuses on health plans. Its Healthcare Effectiveness Data and Information Set is a tool used by more than 90 percent of health plans to measure performance in care and service.
If a health plan does poorly on NCQA accreditation, you might never know it. Health plans can choose to keep their results private. Accredited health plans must meet a set of more than 60 standards and report on their performance in more than 40 areas in order to earn NCQA's seal of approval. NCQA summarizes its formula for health plan improvement this way: "Measure. Analyze. Improve. Repeat."
NCQA has valuable online tools for health care consumers. The Health Plan Report Card strives to answer your most pressing questions, such as: Does this health plan provide good customer service? Will I have access to care I need? If I get sick, which plan will take better care of me? There's also a directory of doctors who have earned NCQA recognition.
URAC
URAC (formerly the Utilization Review Accreditation Commission) claims to be the largest accrediting body for health care. It has accreditation standards for just about everything, from health plan standards for an entire organization down to the quality of one single area, such as case management.
URAC's Consumer Resource Center includes its directory of accredited organizations, its latest research and a method for filing complaints about URAC-accredited organizations.
Accreditation Association for Ambulatory Health Care
Another accrediting group, the Accreditation Association for Ambulatory Health Care (AAAHC), provides another way for organizations to measure themselves against national standards. Currently, more than 4,600 organizations are accredited, including ambulatory health care clinics and surgery centers, urgent care clinics, birthing centers, college health centers, women's health centers and single-specialty group practices.
The AAAHC accreditation review looks at patient rights, quality of care, how medical records are maintained, professional-improvement programs for staff, the facility itself and other criteria. You can search for AAAHC-accredited organizations online.
The Joint Commission
The Joint Commission (formerly named the Joint Commission on Accreditation of Healthcare Organizations) focuses on improving the quality and safety of care provided within hospitals, nursing homes and rehabilitation centers. To earn and keep The Joint Commission's Gold Seal of Approval, an organization must have an on-site survey by a Joint Commission survey team at least every three years (labs every two years).
In addition, The Joint Commission provides a comprehensive guide to the nearly 15,000 Joint Commission-accredited health care organizations and programs, plus organizations that are not accredited. At QualityCheck.org, you'll find each accredited organization's most recent "Quality Report," including:
Information on the organization's performance and how it compares to similar organizations
The accreditation decision and the effective dates of the accreditation award
Programs accredited by The Joint Commission, and programs or services accredited by other accrediting bodies
Compliance with The Joint Commission's National Patient Safety Goals; special quality awards; and, for hospitals, performance on National Quality Improvement Goals.
Emergency-department overcrowding, emergency preparedness, infection control, organ donation, patient safety and health care staffing shortages are just some of the topics that The Joint Commission addresses through public policy initiatives and standard-setting. "Improving America's Hospitals: The Joint Commission's Report on Quality and Safety 2009" looks at how accredited hospitals performed against quality performance measures and safety goals.
If you suffer from a specific condition, you may be interested in The Joint Commission's Disease Specific Care Certification, which can be earned by health plans, disease management service companies, hospitals and others.
Financial strength ratings

Knowing the financial strength of your life insurer is crucial, but few people consider financial strength when picking a health plan.
It's easy to assume a health plan, especially a large one, will be there day after day, but even large health plans can fail, forcing consumers to seek new health coverage.
Most state insurance departments require health plans to maintain a specified amount of money in reserves set aside to pay patient medical claims and other debts if the health plan gets in financial trouble.
There are several major companies that look at the financial health of insurers. These ratings will tell you how solvent your health plan is, but they give no indication as to customer service or satisfaction. Among them:
A.M. Best provides ratings of an insurer's financial strength and ability to meet ongoing obligations to policyholders. It rates insurers of all types, including health plans.
Fitch Ratings provides claims-paying ability and debt ratings on life, health, property/casualty, title, mortgage and financial guaranty insurers.
Standard and Poor's (S&P) rates the financial strength of more than 4,000 insurance companies worldwide in the life, health, property/casualty, reinsurance, mortgage, bond and title insurance sectors.
The Street.com Ratings tracks the financial safety of insurance companies, including HMOs and Blue Cross/Blue Shield plans. It publishes a list of the financially strongest and weakest HMOs in the nation.
Employer groups create their own standards
Accreditation by independent organizations is not the only indicator of quality. The Pacific Business Group on Health (PBGH), for example, is one of many business coalitions evaluating the quality of health plans on behalf of their member employers. PBGH's reports include such measures as customer satisfaction, chronic care, preventive care, prescription drugs and care for the elderly.
Nearly 60 business coalitions like PBGH across the country are members of the National Business Coalition on Health (NBCH). The NBCH helps employers of all sizes organize their purchasing power and influence change in the health care system.
Report cards show which health plans make the grade

You'll find report cards issued by consumer groups and state insurance officials. A few states require health plans to submit data to a state agency that issues report cards. "Report cards" grade health plans on a variety of quality and performance issues. Of all the ways to evaluate health plans, report cards are probably the most consumer-friendly.
Most report cards include information on things such as the ease of getting referrals to specialists, the doctor turnover rate and overall customer satisfaction.
Just as with accreditation, the information you find most useful in a report card is going to depend on your own health concerns. Report cards can help you compare quality measures for different health plans.
A potential downside of report cards is they generally do not include information on subcontracted groups. For example, many HMOs contract out the management of their mental health or pharmaceutical services to unrelated companies or subsidiaries.
Complaint rankings reveal customer satisfaction
Many state insurance departments track the number of customer complaints filed against insurers, including health plans (mainly HMOs). Most states issue these complaints as a ratio or index. The index weighs the number of complaints against a company by its size, so larger providers are not unfairly rated.
Ready to get a quote?
Get quick and easy health insurance quotes