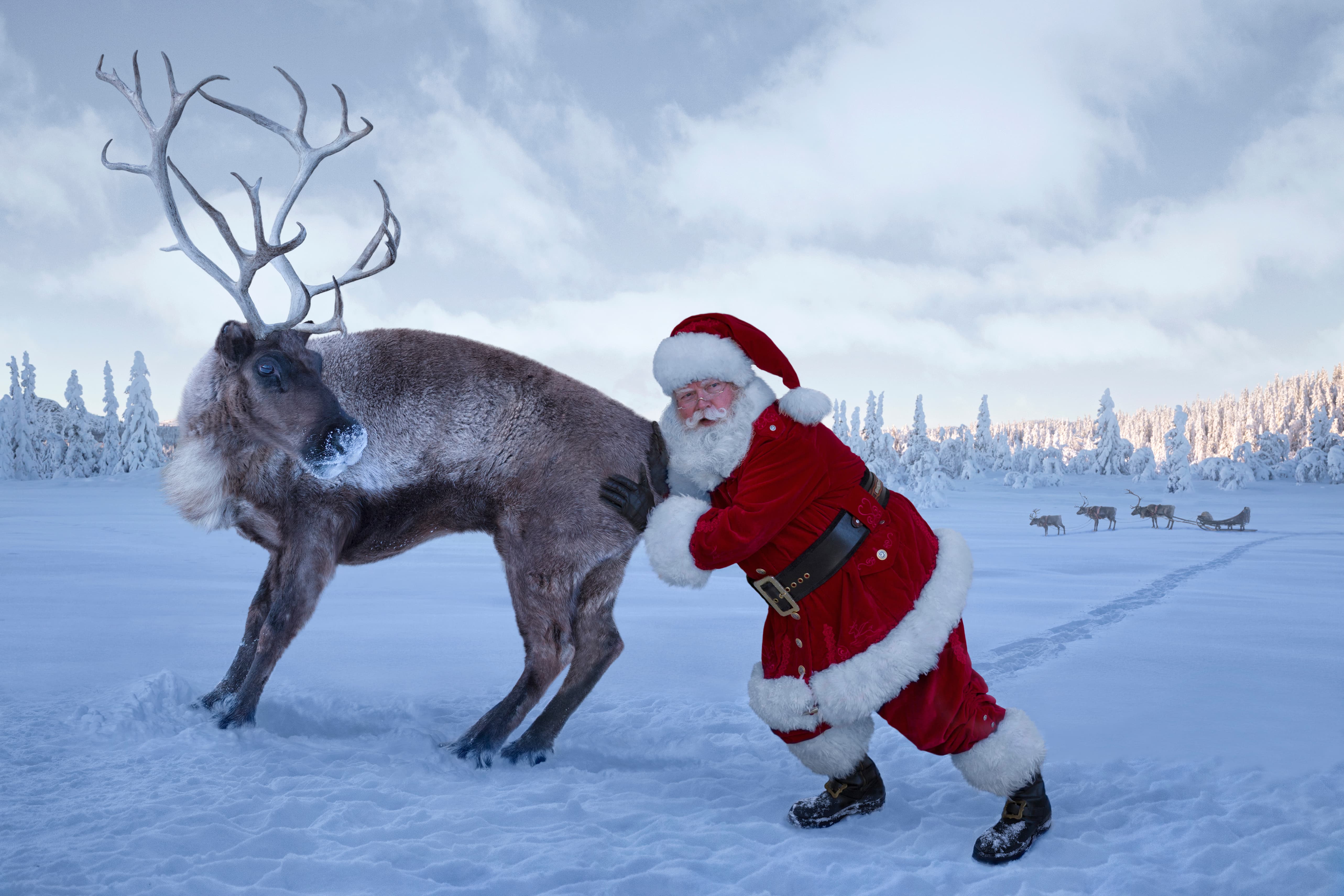 Saint Nicholas has his work cut out for him this holiday season. As the shock wave of COVID-19 travels seemingly without end around the world, many people are experiencing harder times than they might have previously ever imagined.
Santa is likely to hear lots of wishes from children, maybe some of us adults, as well, in many parts of the world asking for much larger things than scooters, books, or dollhouses.
We're all in need of some Christmas magic, so the insurance elves at Insure.com have officially declared Santa an essential worker. We have it from a reputable source that the North Pole workshop hasn't slowed production, and Santa's on his second round of list-checking. And if Santa's still working, that can only mean one thing: it's time for our annual Santa Index.
Every December, Insure.com determines the salary that the Jolly Old Elf would earn for everything that he does to bring joy to millions of children across the globe. Using salary information from comparable jobs from the Bureau of Labor Statistics, our elves account for all his tasks from Rudolph's nose maintenance to taste-testing each delicious cookie – even the oatmeal raisin ones.
Best Life Insurance Offers For You
The big man got a 2% raise and earned a "salary" of $157,300 in 2020. Here's the breakdown of Kris Kringle's job responsibilities:

The Santa Index 2020
Santa's job
BLS occupation title (closest matching)
Hours per day
Days per year
Hours per year
Mean hourly wage
Annual earnings (rounded)
Change from last year
Running the workshop
Industrial Engineers
8
364
2912
$44.55
$129,730
1%
Professional shopper
Sales and Related Workers, All Other
8
15
120
$19.53
$2,344
0%
Wrapper of gifts
Packers and Packagers, Hand
12
14
168
$13.31
$2,236
4%
Labor negotiator (with elves)
Labor Relations Specialists
0.5
365
182.5
$34.55
$6,305
2%
Letter reader
Correspondence Clerks
1
100
100
$19.03
$1,903
1%
Sitting in mall to speak with children
Customer Service Representatives
8
21
168
$17.94
$3,014
2%
Investigator (knows if you've been good or bad)
Private Detectives and Investigators
1
30
30
$27.40
$822
0%
List checker (checking it twice)
Bookkeeping, Accounting, and Auditing Clerks
1
30
30
$20.65
$620
2%
Taking care of reindeer
Farmworkers, Farm, Ranch, and Agricultural Animals
1
365
365
$14.37
$5,245
3%
Snow plow driver (at the North Pole)
Highway Maintenance Workers
0.5
360
180
$20.39
$3,670
2%
Pilot of sleigh
Airline Pilots, Copilots, and Flight Engineers
10
1
10
$84.07
$841
3%
Going down chimneys
Building Cleaning Workers, All Other (Chimney Sweeper)
10
1
10
$16.96
$170
7%
Cookie & milk taster
Agricultural Inspectors
10
1
10
$22.67
$227
3%
Distributor (placing gifts under the tree)
Shipping, Receiving, and Traffic Clerks
10
1
10
$17.32
$173
3%
Announcer ("Merry Christmas to all, and to all a good night!")
Public Address System and Other Announcers
0.01
1
0.01
$19.13
$0.19
0%
Santa's total salary for 2020
$157,300
2%
Does Santa keep his cash in a snow bank?
According to Census.gov, the median household income in the U.S. was $68,703 in 2019. Santa has really done well for himself with five consecutive years of raises -- reinforcing the notion that Santa is a top-earner. It's a good thing, too, since it's bound to be expensive running one of the world's largest toy workshops and providing for an entire polar community of elves. At Insure.com, we want to make sure that Pere Noel has an insurance policy to protect his assets and take care of his dear Mrs. Claus, the reindeer and, of course, hundreds of elves.
Life insurance: Your fast pass to the Nice List
Confused on why a magical being like Santa Claus should have a life insurance policy? Here's your crash course on how life insurance works. Pay attention. He knows when you are sleeping.
Life insurance is a contract to pay a specified amount of money to your loved ones – your designated beneficiary – in the event that you die. For the guarantee of that money, you (the contract holder) pay a monthly, quarterly or annual premium for the term of the policy.
The money that beneficiaries receive after a death is often put to immediate use. Planning funeral arrangements, supplementing lost income from the deceased or the remaining family who need time to grieve, paying bills such as mortgages or child care, health care bills, counseling or physical or mental therapy, are just a few of the expenses that can loom in just a couple of short months.
If Santa needs life insurance, you do, too.
There's no denying that if this year has taught us anything, it's that we cannot take health or circumstances for granted. While Father Christmas might be magical, he still faces unusual perils every year on his journey around the globe – and it might not be a bad idea to scale back on the cookies and cocoa the rest of the year.
But should Santa meet an untimely end, a life insurance policy would allow Mrs. Claus to continue running the North Pole Workshop. She could hire on some extra help to do all the important jobs that Santa once did. The elves would be paid on time, the reindeer stay fed, and all those wonderful toys are loaded up and delivered on time.
Checking a different list twice
In a recent survey of 1,000 participants, Insure.com found that 69% of participants have some form of life insurance in their household. And what's more, 65% of participants felt comfortable bringing up this topic with loved ones. That makes our bells jingle! But it wasn't all shiny tinsel and blinking lights, some of the responses had us worried participants would end up on the naughty list. So, we're making things merry and bright by busting some common life insurance misconceptions.
Naughty: I don't need to tell the beneficiary they are part of my policy
Of those participants that have a policy but haven't told their beneficiary, 29% were unaware that they need to inform the beneficiary of the policy.
Life insurance payouts are not how they would be portrayed in a Hallmark Christmas movie. There's no long-lost relative who leaves gobs of money to a quirky, down-on-her-luck, 20-something who's just had her heart broken.
Nice: Since beneficiaries are often the party who must file the claim with the insurance company in order to receive a death benefit, it's critical the policyholder communicate about the policy. If you don't, your loved ones could be struggling financially not knowing there is money you left to help them out in your absence.
Naughty: A policy on the main earner is enough
Thirty-five percent of those who have a policy believe that a policy on the main income earner is enough. As everyone knows, Santa couldn't do what he does without the help of the amazing Mrs. Claus. She might not make the big bucks like Santa's flashy salary, but we have it on good North Pole authority that she helps with quite a bit at the North Pole. If Mrs. Claus passed, Santa would likely need to hire help to do some of the workshop tasks.
Nice: The value of a significant other isn't always measured with a salary. If a partner maintains the home, cares for children, manages bills and appointments, completes errands, all of those things are tasks that would likely need to be hired out in order to keep the household running as normally as possible.
Naughty: Life insurance is too expensive or unnecessary
Popular responses in our survey suggest that a life insurance policy is too expensive. Yet 51% of our respondents with a policy pay less than $84 a month for a policy, with 17% paying less than $21 each month.
Nice: You don't need a huge benefit amount to provide security and alleviate responsibility. Whether you have dependents or not, it's very likely that someone you know will be responsible for your final arrangements. A life insurance policy ideally covers your plans for your remains, a service, or any other wishes. A minimal plan can cost less than four fancy coffees each month, ensuring your preferences can be carried out.
Faster than a Black Friday flash sale
Creating a plan that creates security for our loved ones is one of the most generous gifts we can give, and planning for it doesn't have to be complicated or morbid. Just ask yourself, if you or your significant other were to die, would the remaining
partner have enough money to sustain your lifestyle? If not, it's time for a life insurance checkup. You'd better not pout. You'd better not cry, and I'm telling you why: It's our job to make this part as easy as possible.
Step 1: Determine your life insurance needs through a quick series of easy questions with the Insurance Advisor.
Step 2: Use the insurance calculator to estimate costs and policy types.
Step 3: Compare policy prices and choose a policy that protects your family's cost of living.
The best gifts don't come from a store
In years past, the changing weather and a flurry of holidays helped us all to refocus on what truly matters. But this year has been unlike any other that most people have ever experienced. It's impossible to lose sight of the impact to families around the world.
No one wants to plan for the worst, but a plan has proved essential. Santa can make a lot of things, but this is a gift only you can give. With just a little time and a little expense, you can give a gift that provides peace of mind that can also help bring some peace in grief by continuing to provide for your family after you're gone.