Some people probably think they can safely skip mobile home insurance since they don't own a traditional, more expensive home. But that can be a huge mistake.
The average insurance cost of mobile homes is between $300 and $1,000 per year. However, certain factors such as your location and the age of your home influence the cost of your mobile insurance. Just as with traditional homeowners insurance, mobile home insurance protects your home and the contents within it.
It also protects you if you are sued by someone who is hurt on your property or if you damage someone's property and they take you to court.
So, not having mobile home coverage can be a mistake that can cost you anywhere from a few thousand dollars to $1 million or more if something goes wrong. Read on to learn more about why you need this type of insurance – and how to get the right coverage at the best price.
Key Takeaways
Mobiles homes are manufactured homes, 'but the term "mobile home" applies explicitly to houses built before June 15, 1976.
The average cost of mobile home insurance is between $300 and $1,000 annually.
Factors such as the age of a home, its condition, and location can influence the cost of your mobile home insurance.
Not all insurance companies offer mobile home insurance. You will need to shop around to find the best company that provides this type of policy in your state.
What is mobile home insurance?
Mobile home insurance – also known as manufactured home insurance — is similar to traditional homeowners insurance. Carole Walker, executive director of the Rocky Mountain Insurance Association, notes that it typically covers:
Repair or replacement of the mobile home due to damage from covered perils
Reimbursement for the loss of personal belongings
Liability coverage
Additional living expenses in case your mobile home is damaged severely enough that you need to pay for temporary living quarters while the mobile home is repaired.
Mobile home vs. manufactured home vs. modular home
Before you shop for a mobile home insurance policy, make sure you understand how mobile homes differ from manufactured homes and modular homes. The key differences are subtle, and they are as follows, according to the Manufactured Housing Institute.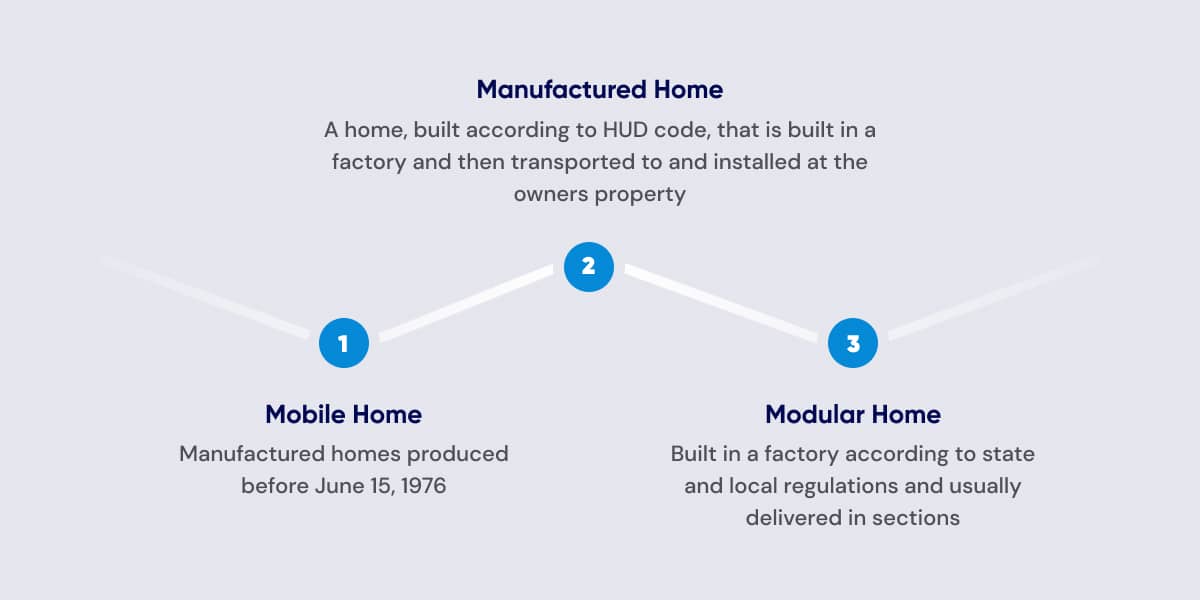 Mobile home
These are actually manufactured homes, but the term "mobile home" specifically applies to homes produced before June 15, 1976. That is the time when the HUD Code went into effect.
Manufactured home
A home built in a factory and then transported to and installed at a site. Manufactured homes are built according to the HUD Code (formally the Federal Manufactured Home Construction and Safety Standards), a national standard that ensures the proper design and safety of manufactured homes.
Modular home
These are also factory-built homes, but instead of falling under federal guidelines, they are built according to standards set by state or regional codes in the area where the home will be located. As with the other homes on this list, they are later transported to and installed on a site.
Unlike manufactured homes, modular homes are more likely to be delivered in two or more pieces and built on crawlspaces or basements. They also look more like traditional "stick-built" homes.
What does mobile home insurance cover?
According to the Insurance Information Institute, mobile home insurance policies offer two types of coverage:
Physical damage coverage
This protects you if fire, hail, wind, theft and vandalism or falling objects cause accidental damage to your mobile home, belongings or other structures like decks and garages. However, coverage can differ from insurer to insurer.
Personal liability coverage
This protects you if someone injures themselves on your property or due to your fault. It also covers you if you damage the property of another. In such cases, the injured or damaged party could sue you for everything from lost wages to medical claims. This type of coverage would kick in to protect you.
Mobile home coverage typically is available for all of the following:
Commercial mobile homes
Mobile homes located in a park or on private property
Mobile homes used seasonally
Rental mobile homes
What does mobile home insurance not cover?
It is also important to note the things that mobile home insurance does not cover. For example, many policies do not cover the mobile home while it is in transit, although some insurers may offer the option of purchasing temporary coverage during the transit phase.
Also, as with homeowners insurance, flood damage is not part of a mobile home policy. You need to purchase a separate flood insurance policy to get that type of coverage.
Another type of coverage known as a peril policy gives you just basic coverage and only protects you in the case of specific causes of loss. While it can be cheaper than traditional mobile home insurance, you are taking a more significant risk, as you will not be covered for damages caused by perils not named in the policy.
The National Association of Insurance Commissioners notes that if your mobile home has wheels and doesn't sit on blocks or a permanent foundation, you will likely have no choice but to purchase a form of automobile insurance to insure the home. Such a policy is likely to offer far less coverage than a typical homeowners policy.
How much does mobile home or manufactured home insurance cost?
How much is mobile home insurance? According to an Insurance.com average rate study, the average mobile home insurance cost is between $300 and $1,000 annually. However, it can cost considerably more than this in some situations.
Many factors impact your mobile home insurance rate, ranging from the age, condition and location of your home to your coverage limits and claims history
The NAIC notes that insurance company premiums can vary widely from insurer to insurer. For that reason, shopping around and comparing mobile home insurance quotes is crucial to getting the best deal on a policy.
Some companies also offer discounts that can bring down the cost of a policy. For example, installing a home security system or membership in specific organizations may entitle you to a price break. Bundling your insurance policies together — such as buying your mobile home insurance with the same company that sold you car insurance — can also net you a discount.
Finally, accepting a higher deductible can lower premium prices. You may pay less if you raise your deductible from $500 to $1,000, for example. However, it is important to make sure you can afford to pay such a deductible should you suffer a loss.
Where can I buy mobile home insurance?
Finding good home insurance is typically not difficult. There are many mobile home insurance companies for you to shop and compare rates.
But finding a policy may involve slightly more work than purchasing coverage for a more traditional home with a foundation.
"Not all insurance companies offer mobile home insurance or offer policies in all states, so you'll need to shop around," says Carole Walker, executive director of the Rocky Mountain Insurance Association.
Fortunately, in many places, the same insurance companies that sell traditional homeowners insurance also sell mobile home insurance.
When looking for a policy, one of the best places to start is with the insurance company you bought your other policies, such as auto insurance. As an existing customer, you may be eligible for discounts.
However, it would be a mistake not to comparison shop and to get quotes from other insurers before settling on a policy. Shopping around is often the best way to lower your insurance costs.
If you are struggling to find an insurance company that meets your needs, contact your state insurance department for more help.
How to compare mobile home and manufactured home quotes
Before comparing quotes for manufactured home insurance, make sure you know what types of coverages you need and how much you need. If you are unsure, it makes sense to talk to your insurance agent.
The NAIC offers more tips for comparing quotes. They include:
Ask for the exact same coverage and limits from each company you contact so that you can make an "apples to apples" comparison.
Ask about any discounts for which you might qualify.
Get rate quotes and other key information in writing, or save an electronic copy of the information.
Use the same deductible amounts when comparing policies.
7 Best mobile home insurance companies
To find the best companies for mobile home insurance, Insure.com looked at several factors, including customer feedback, AM Best Financial Strength ratings, and an independent review of each company.
With those criteria in mind, the following are some of the best mobile home insurance companies:
Allstate
As one of the nation's biggest insurers, Allstate has a long history of providing insurance coverage to homeowners.
What we like: Allstate offers discounts such as 5% off if you are the original titleholder to your mobile home, 15% off for bundling policies and 10% off if you are over 55 and retired.
Country Financial
J.D. Power ranks Country Financial as the top homeowner's insurance company and says it has earned that ranking primarily for its customer service. Unfortunately, Country Financial only offers mobile home policies in Illinois.
What we like: This insurer offers several discounts to mobile homeowners, including alarm and tie-down price breaks. You also get a discount if your mobile home is less than six years old.
Foremost
Foremost is a Farmers Insurance Group subsidiary founded in 1952 to provide insurance to people who own mobile homes. It also partners with organizations such as AARP and USAA to provide coverage.
What we like: Foremost has a nearly seven-decade history of meeting the needs of owners of manufactured homes. It also offers options such as earthquake coverage and coverage for water damage from sewers and drains
American Modern
This is another insurance company with a long history of covering mobile homes — 50 years.
What we like: In addition to its long history of serving manufactured homeowners, American Modern offers optional coverages such as earthquake insurance and protection for the breakdown of major appliances.
American Family
American Family is a hit with Insure.com readers – in our annual Best Home Insurance Companies survey, 94% of those surveyed said they plan to renew their policies the next time their policy term expires.
What we like: American Family's Diminishing Deductible means you will save $100 off your deductible right from the start, turning a $1,000 deductible into one that is $900. The deductible will continue to drop each year.
State Farm
The largest property/casualty insurer in the U.S. also offers mobile home policies.
What we like: Insure.com has named State Farm as the best insurer in 2021. What's not to like about that? You can also get home alert discounts and price breaks depending on the model year of your home and how long you have lived there.
Assurant
This company offers manufactured home insurance policies through partners such as GEICO and Liberty Mutual. However, it does not offer policies in Florida, Hawaii, Puerto Rico and Washington, D.C.
What we like: Assurant's partnerships make it easy to get your mobile insurance with companies that provide your other policies, like car insurance.
All of these companies can be a good choice for insurance. Ultimately, though, the best mobile home insurance is the policy that most closely matches your needs and budget.
Frequently asked questions about mobile home insurance
Why is mobile home insurance so expensive?
While mobile home insurance might seem expensive, it's really not. Insurance.com says you can expect to pay somewhere between $300 and $1,000 annually for mobile home insurance, although it can cost more in some situations.
However, when you consider that this insurance protects your home and everything in it, mobile home insurance cost is really a bargain.
Just make sure you don't purchase less coverage than you need simply to save a few bucks. The cheapest mobile home insurance can prove very expensive if you have a loss but do not have enough insurance to cover it.
How to get insurance on an old mobile home?
Purchasing older mobile home insurance is similar to getting a policy on a newer mobile home. However, the age of a home and its condition can impact the rate you pay.
"Mobile homes may require a higher deductible," Walker says.
As always, it makes sense to shop around to find the best deal on home insurance, as each insurer has its own rules for how it sets rates.
Are manufactured homes more expensive to insure?
The cost to insure a manufactured home is typically reasonable, although many factors can influence the cost. Trusted Choice — an online platform of independent insurance agents — notes that just as with homeowners insurance, costs of coverage vary depending on the level of risk to the insurance company.
For example, because Florida has a higher crime rate and is more prone to hurricane damage than other states, the cost to insure mobile homes there is relatively high.
By contrast, mobile homes are much cheaper to insure in Hawaii, which faces fewer storms and lower crime rates.
Are mobile homes hard to insure? 
It can be difficult and expensive to get insurance for older mobile homes. This is because homes before 1976 had unregulated building standards. Manufactured homes were built after June 15, 1976, whereas mobile homes were built before the mentioned date.
Related Articles