All photos courtesy of vehicle manufacturers
What a time for a horsepower enthusiast to be alive.
For decades following the muscle-car heyday of the 1960s, concerns over fuel economy and emissions pushed powerful yet affordable models to the brink of extinction.
How bad did it get? In 1975, the Chevrolet Corvette – America's original supercar – came standard with a 350 cubic-inch V-8 that wheezed out 165 horsepower.
That's 20 fewer ponies than a base-model 2015 Honda Accord sedan.
Today, high-output engines are more reliable and more drivable than ever before. As a result, anyone craving a production vehicle with stratospheric horsepower numbers can likely find it at a nearby dealership, and probably for a more reasonable price than any time in history.
This new breed of supercar won't necessarily cost a fortune to insure, either.
True, the insurance bill for nearly every car on this list is likely to exceed $1,555, the average annual cost to insure a car in our 2015 survey of car insurance rates by model. But then again, no car on this list puts out less than 365 horsepower – and one model puts out nearly twice that.
Here are seven models that offer serious bang for your insurance buck, as ranked by insurance cost per unit of horsepower.
---
Key Takeaways
Since muscle cars may be more attractive to the older buyer, either because of appeal or purchase price, they can surprisingly be less expensive to insure.
With 707 horsepower and $1,879 annual premium, the Dodge Challenger SRT Hellcat tops this list of vehicles as the most serious bang for the insurance buck.
To establish a risk profile, insurance companies look at claims for a high-powered car in the same way they look at any other driving record to rate a driver.
No car on our list cranks out less than 365 horsepower, and one pumps out twice that amount
No. 7: Dodge Charger R/T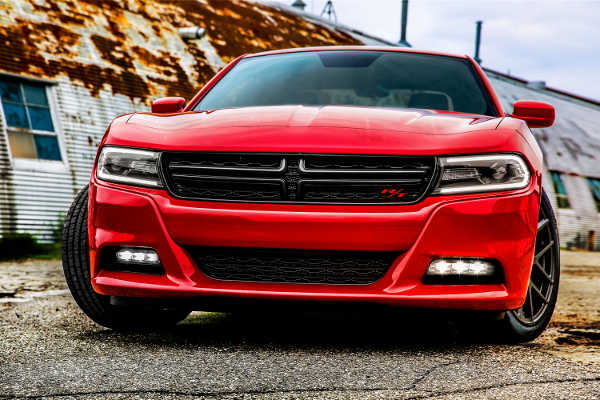 Insurance cost per horsepower: $4.53 (370 horsepower, $1,676 average annual premium)
It's no mystery why Detroit has recycled some of its famed muscle-car monikers in recent years. Beyond the obvious aesthetic nods to the Chargers of the 1960s and early 1970s, the 2015 Charger R/T shares the same Hemi engine design (named for its hemispherical combustion chambers) that graced some of the most potent past Chargers.
The new Hemi is fuel-injected and laced to a modern TorqueFlite eight-speed automatic transmission and 20-inch wheels. But at an MSRP of $33,595, it remains within reach for many budget-minded enthusiasts – particularly since its 25 mpg highway fuel efficiency rating bests virtually any Hemi Charger of generations past.
---
No. 6: Chevrolet Corvette Stingray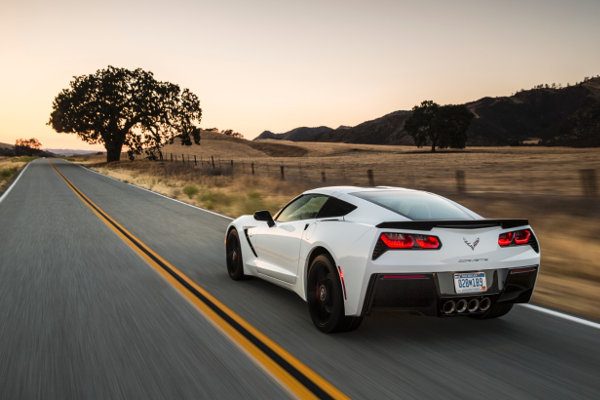 Insurance cost per horsepower: $4.14 (460 horsepower, $1,905 average annual premium)
A Corvette is probably not the first car you imagine when someone says "affordable insurance." Yet the Corvette's appeal to older, more affluent buyers – the type who may be less likely to wrap their rides around a tree trunk than a 19-year-old street racer – help keep its insurance costs comfortably out of GT-R territory. (The 2015 Nissan GT-R comes with an average annual premium of $3,574.) Generally, the fewer insurance claims that owners of a particular model make, the lower the car insurance rates for future buyers of that model will be.
Still, the newest Vette is capable of things that its asthmatic 1975 counterpart could only dream of. With a 0-to-60 time of 3.8 seconds and a fuel-efficiency rating of 29 mpg on the highway, the new Stingray is a formidable opponent for nearly any Corvette produced in the nameplate's storied 62-year history. Its $55,000 base price also places it among the most reasonably priced 450-plus horsepower models available today.
---
No. 5: Ford Taurus SHO AWD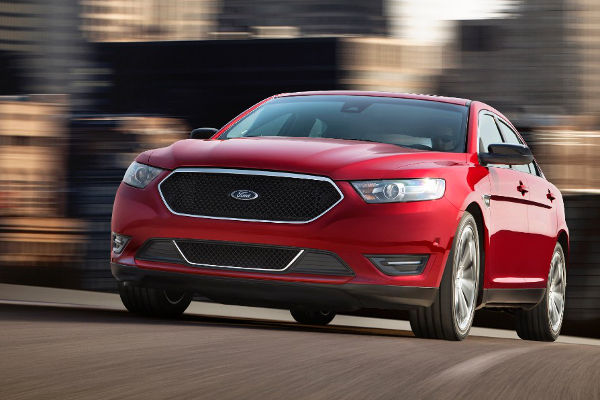 Insurance cost per horsepower: $4.06 (365 horsepower, $1,481 average annual premium)
To the casual observer, there's scarcely any reason that the Chevrolet Corvette and the Ford Taurus should ever be compared to each other. But the Taurus SHO – the lesser-known, "super-high output" version of Ford's ubiquitous four-door sedan – has periodically offered an exception to this rule since it first appeared in 1989.
In 2015, a twin-turbo V-6 and paddle-shifter-equipped six-speed automatic transmission are the highlights of this notorious sleeper. But what's most remarkable about the Taurus SHO in this context is not its all-wheel-drive configuration or sub-6-second 0-to-60 capabilities. Instead, it's the better-than-average annual insurance premium that comes with it: The Taurus is 5 percent cheaper to insure than the average 2015 vehicle, and it's 10 percent cheaper to insure than any other vehicle on this list.
---
No. 4: Kia K900 Luxury
Insurance cost per horsepower: $3.93 (420 horsepower, $1,652 annual premium)
Speaking of sleepers, few would expect anything with a Kia badge to put out north of 400 horsepower, but that's precisely what the K900 does. While its $59,900 base price speaks to a different class of buyer than those who might consider, say, a Kia Rio, the K900 Luxury's insurance costs are only 6 percent higher than the average 2015 model.
In fact, they're only a bit higher than the subcompact Rio, whose 138 ponies costs $10.28 apiece to insure ($1,418 average annual premium).
Its "Luxury" designation is also worth noting if you appreciate a few creature comforts with your horsepower: A 17-speaker surround-sound system, multimedia driver information system and heated and ventilated driver and front passenger seats all come standard as well.
---
No. 3: Mustang GT
Insurance cost per horsepower: $3.77 (435 horsepower, $1,639 average annual premium)
From its inception, Ford's Mustang has been synonymous with affordable performance. Fortunately for buyers of the 2015 GT, this characteristic holds true for this model's insurance costs as well. The Mustang is the second-cheapest car to insure on this list, and its base price of $32,300 also makes it the least expensive car on this list to purchase.
The 5.0-liter V-8 engine can power the Mustang from 0 to 60 in 4.4 seconds and through the quarter mile in 12.8 seconds, according to Motor Trend. But it's not built only for straight lines: It also boasts a new independent-rear-suspension set-up that should aid grip when the road (or track) turns curvy.
---
No. 2: Chevrolet Camaro ZL1
Insurance cost per horsepower: $3.38 (580 horsepower, $1,960 average annual premium)
Many of today's fastest cars get their horsepower from either forced induction or good old-fashioned displacement. But the ZL1 Camaro and its 6.2-liter supercharged V-8 opts for both, delivering the second-highest power output of the vehicles on this list. Its 12.2-second quarter-mile time and 3.9-second 0-to-60 time (as tested by Motor Trend) prove that the Camaro chassis is capable of putting the engine's 556 foot-pounds of torque to the ground in impressive fashion.
The Camaro's annual premium makes it the most expensive car to insure on this list, and its $55,505 starting price places it on the pricier side of that spectrum. Yet only one car on this list delivers more power than the Camaro – every other machine gives up more than 100 horsepower to it – and it's clear that the Camaro can hold its own through corners, likely more so than even the No. 1 car.
---
No. 1: Dodge Challenger SRT Hellcat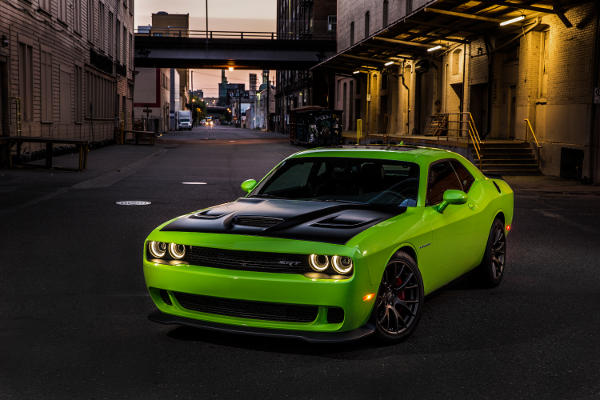 Insurance cost per horsepower: $2.66 (707 horsepower, $1,879 average annual premium)
The Hellcat is all about superlatives – highest horsepower, most torque, fastest quarter-mile times – so it's no surprise that the insurance-cost-per-horsepower stat for this $59,995 Dodge puts every other contender's number to shame. What's mind-boggling, though, is that despite being capable of 11.7-second quarter-mile times – a figure that many far more expensive supercars cannot touch – the Challenger is not the most expensive vehicle (or even the second most expensive vehicle) to insure on this list.
Yes, its annual premium is still 20 percent higher than the average 2015 vehicle. But considering that it puts out roughly 380 percent the horsepower of the Accord mentioned in the introduction – to say nothing of that poor Corvette – many will consider this trade-off more than fair.
---
Why some muscle cars are cheap to insure
It's not about horsepower.
Insurance companies look at claims to establish a risk profile for a car the same way they look at a driving record to rate a driver. Cars with a history of more frequent or more expensive claims will be comparatively more expensive to insure.
That has the odd consequence of making some muscle cars less expensive to insure than an econobox at half the price with half the horsepower. With the same driver behind the wheel, the 435-horsepower Mustang GT costs about the same to insure as a 179-horsepower Scion TC.
"Younger drivers have a lot more accidents, so the cars they buy tend to have worse claims records," says Penny Gusner, Insure.com consumer analyst. "But some cars – either because of their purchase price or their appeal – attract older buyers. That tends to mean cheaper rates."
Average rates were compared based on full coverage for a single 40-year-old male who commutes 12 miles to work each day and chooses policy limits of 100/300/50 ($100,000 for injury liability for one person, $300,000 for all injuries and $50,000 for property damage in an accident) and a $500 deductible on collision and comprehensive coverage. This driver has a clean driving record and good credit.
You can get quotes for more models on the Insure.com car insurance rates page. Your driving record and other personal factors, along with the claims record of your car, ultimately determine what you pay.
Related Articles