Fat guys survive car crashes better
It's not often that a scientific study suggests there are advantages to being overweight.
With obesity at epidemic proportions in the United States -- the Centers for Disease Control estimates 34 percent of adults are too fat for their own good -- most studies sing the praises of exercise, dieting and losing weight.
But a recent study by the University of Michigan Transportation Research Institute found that chubby men actually stand a better chance of surviving an automobile crash -- provided they are wearing a seatbelt.
Despite this encouraging news, heavy-sey fellows should not expect lower car insurance rates.
How fat do you have to be?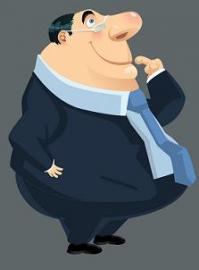 The study, by Dr. Michael Sivak and Dr. Jonathan Rupp, found that belted drivers with a body mass index (BMI) of 35 to 50 have a 22 percent lower probability of being killed in a crash than belted drivers with a BMI between 15 and 18.4.
BMI is a calculation based on weight and height, and the CDC uses it because, for most people, it correlates with their amount of body fat. Anyone with a BMI of 30 or more is considered obese. At 30 BMI, we're talking about someone who is 5-foot-9 and tips the scale in excess of 203. If your BMI is 45, you're hauling around more than 300 pounds at that height.
Ladies: This does not apply to you. Although rotund fellows fare better in serious accidents in which they are wearing a seatbelt, the same is not true for heavy women. Belted females with a BMI between 35 to 50 have a 10 percent higher probability of being killed in a crash than women with a normal BMI between 18.5 and 24.9, the study found.
Obese folk are at a disadvantage if they forego the seatbelt, the study found. Unbelted fat men had a 10 percent higher probably of dying than skinny guys who weren't belted. There was no statistically significant difference among BMI categories for unbelted women, although for belted females, those with a normal BMI had the lowest risk of being killed.
What to think?
Sivak believes that at some point there is an "optimal balance" between the extra cushioning from body fat and the extra "mass and momentum" that is generated by a large person. A skinny guy simply can't take a punch as well as the bigger guy. But the big man is going to hit an immovable object -- like a steering wheel or a guardrail -- with much greater force than the small man, so the seatbelt is key. Unbelted, that massive guy is much more likely to overload the car's airbag than the lean fellow.
Sivak's study is based data from 300,000 drivers in fatal crashes recorded by the National Highway Traffic Safety Administration from 1998 to 2008. More than 50 percent of the people involved in these crashes were killed, although the odds of unbelted drivers being among those killed is more than five times higher than for those who wore seatbelts. The odds of female drivers being among the fatalities are 1.28 times higher than those of male drivers, the study found.
Expert says it makes sense
The study doesn't come as a big surprise to some experts who work with obese people. Anne Lindsay, a specialist in health and nutrition and exercise physiology with the University of Nevada Cooperative Extension, said the findings make sense.
"Look at babies, who have a lot of subcutaneous fat," she said. "They're all roly-poly, and that's why they don't get hurt when they fall down."
But Lindsay, the state coordinator for the President's Council on Physical Fitness and Sports, said it would be a mistake for people to think carrying around extra weight is good for them. "Obese men, on the other hand, can have subcutaneous fat but most likely also have a lot of internal fat around their organs, which increases their risk for heart disease."
Researchers want better car safety
The researchers, whose study was published the journal Traffic Injury Prevention, have these recommendations:
Improve occupant-restraint system components (including air bags, safety belts, knee restraints and seats) to better protect both skinny people and overweight people.
Develop new tools to evaluate the ability of restraint systems to prevent injuries. They noted, for instance, that current crash test dummies and models represent drivers and passengers with normal body weights.
Auto makers should consider body mass and gender when they determine how to "tune" their restraint systems.
"I hope that this study will encourage vehicle manufacturers and suppliers to consider extremes of BMI in designing smart restraint systems," Sivak said. Car insurance companies are also interested in improving car safety and often offer discounts for restraint systems, among other safety features.
Sivak and his fellow researchers say future car-crash research should look into other factors, such as driver age and the principal direction of the force of the crash. Future researchers could also use the national Fatality Analysis Reporting System (FARS) to examine how often head injuries are the cause of death versus other types of injuries, delays between the time of the crash and the death of drivers or passengers, and how urban crashes differ from rural crashes.
Ready to get a quote?
Get quick and easy auto insurance quotes