No matter what type of insurance you buy, your policy will exclude coverage for intentional and fraudulent acts. For example, if you set your car on fire, don't expect your car insurance company to pay for it. However, there are cases where insurers will have to pay for damage resulting from your illegal acts – as long as your crime was "accidental." Here are examples.
1. Your DUI mess
Driving under the influence of alcohol or drugs is illegal, obviously. However, if you drive drunk and cause a car accident, your car insurance policy will pay for damages you cause — up to the liability limits of your policy. This means your insurance would pay for damages to the light pole you damage or cover the medical bills of someone you injure.
"If you torch your home, you're intentionally committing a crime. With a DUI, you understand that it's against the law to drive under the influence, but you don't expect to get into an accident," explains Penny Gusner, senior consumer analyst for Insure.com.
While your auto insurance company will pay for your DUI mess, the claim will drive your car insurance rates through the roof. Depending on your insurance company, you could also face other DUI penalties such as nonrenewal or cancellation. Expect your car insurance rates to increase by 79%, on average, for a DUI conviction, according to data analysis by Insure.com's team of experts.
Worst case, your recklessness could kill someone and you could be charged with involuntary manslaughter and sentenced to serve time in prison – insurance won't help you then.
Key Takeaways
If you cause an accident under the influence of alcohol, your insurer might pay for damages or the medical bills of someone you injure.
Your insurance company will cover you for the damage you cause while driving recklessly.
Health insurance will also pay for the emergency care if you overdose on illegal drugs.
Even if the insurance company pays for your illegal acts, these claims will skyrocket your insurance rates.
2. Your stupid reckless driving
Reckless driving is a more serious charge than simply speeding a few miles above the speed limit. It generally involves a wanton disregard for the rules of the road – like driving at extremely high speeds – and is punishable by large fines, license suspension or revocation and even imprisonment.  Still, if you cause a crash while driving recklessly, your insurer will pay for the damages you cause, up to the limits of your policy.
However, insurance companies view these charges seriously. Such a charge on your driving record will certainly result in a high car insurance quote. A reckless driving violation hikes your rates by an average of 73%, according to a rate analysis by Insure.com's experts. 
3. Your drug overdose
If you overdose on illegal drugs and require emergency care, your health insurance policy will pay.  Your health plan may even pay for your rehab.
But there will be consequences. A history of drug abuse – illegal or otherwise –- will increase your life insurance quotes and possibly make it difficult to buy an individual health insurance policy.
4. You're shot while robbing a bank
So you've decided to rob a bank but things didn't go as planned. You're shot by police while trying to escape. If you have health insurance, it will pay for your emergency care. "People get treated for gunshot wounds suffered while committing a crime," says Walt Cherniak, former national media relations director for Aetna. "For us, the key is that the person requires medical care. We would not deny that [claim]." But you can be assured that the minute you wake up from surgery, you're likely to see police standing next to your bed, ready to take you to jail.
5. Your meth lab blows up
Clearly you're committing a crime if you're operating a meth lab in your basement. If it accidentally blows up while you're cooking drugs, you'll face criminal charges.
But will your home insurance pay for the damages? Maybe.
You could argue that while you knew you were committing a crime (just like with a DUI), the explosion was an accident. Two major home insurance companies have differing opinions on the matter. One insurer says, "If the insured was the one who was involved in the meth lab, and a fire ensues when the lab explodes, there would be coverage for the peril of fire. If the lab exploded, explosion is a covered peril and again coverage would apply." But another insurance company sees it differently: "The homeowner should not expect to be covered for damages resulting from his/her criminal act." You could be on your own for this one.
6. Your marijuana plants are stolen
An Oregon man once filed a home insurance claim after the marijuana plants he was growing in his garden were stolen. If you're suffering from a chronic medical condition and have a medical permit to grow pot (like this man did),  or, growing it for recreational purposes is legal in your state, your insurer will pay for your loss – up to the $500 limit per plant allowed under standard coverage for "landscaping." Hey, you didn't expect the insurer to pay street value, did you?
But would your insurance company cover the loss of your marijuana plants if you did not have a medical permit to grow it, or growing it is illegal in your state? The big question is, do you really want to file that claim? You'd first have to report the theft to the police – which will likely result in your arrest. 
7. You fall asleep while smoking a joint
According to the U.S. Fire Administration, roughly 1,000 smokers and nonsmokers are killed each year in house fires caused by cigarettes and other smoking materials. Many of these fires are caused by people who fall asleep while smoking. As long as the fire is not set intentionally, your home insurance policy would cover damage resulting from a fire caused by smoking pot. Such a claim would probably be treated the same as a claim from a cigarette-started fire. However, if police find out what you were doing, you could face charges.
8. You smash your friend's TV
Let's say you behave badly at a friend's party, get into an argument and push someone into your friend's new $4,000 TV. Who's going to pay for this? 
You should probably offer to pay for the damages yourself. However, your friend can make a claim on his home insurance policy. But most standard policies have limits on such items – typically $2,000, so that leaves $2,000 that will have to come out of someone's pocket.
9. You shoot your neighbor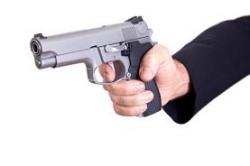 You fire a gun on your property (which is generally illegal inside city limits) and the bullet accidentally injures your neighbor, who was in his backyard. Your neighbor requires medical attention and sues you for damages. Will your home insurance policy cover you? In this case, you did not intend to shoot your neighbor so your home insurance policy should cover medical bills and your legal defense.
10. You need to be bailed out of jail
You get into a car accident that resulted from some traffic law violation. Maybe you were driving recklessly or drunk and you caused an accident. A standard policy will pay "up to $250 for the cost of bail bonds required because of an accident, including related traffic violations."
Related Articles