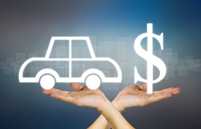 After you overcome the initial shock of causing a car accident, you'll need to make arrangements to get your car repaired and pay your collision deductible, assuming you carry collision coverage. You'll also probably need to arrange for alternative transportation for yourself. In most cases, that means renting a car.
Based on where you rent and what you want to drive, you can pay anywhere from $200 to $400 per week for a rental car. This is where rental reimbursement coverage can be a lifesaver.
Rental reimbursement is not automatically included in most car insurance policies, but you can add it at an affordable cost. According to the Insurance Information Institute, rental reimbursement coverage is available for $1 to $2 a month. For example, GEICO charges as little as $20 per year for a maximum $750 in rental reimbursement, with no deductible to pay. In this case, GEICO would reimburse you up to $25 per day but no more than $750 per accident.
Since renting a car can cost more than $25 a day, most insurers are willing to supply more coverage for extra premium. For example, if you want to rent a more expensive car because you own an expensive car, you'll pay more in premiums.
How to cut your costs
Opting for a low daily limit on rental reimbursement leaves you with some choices. With a $15 per day limit, for example, you could use that amount toward a rental car and pay any remainder out of your own pocket.
Another option allowed by most car insurance companies is using that $15 toward taxi, bus or train fare. If your bus fare doesn't add up to $15, you will be reimbursed only for what you spend. When you buy your car insurance policy, make sure you clear up these issues with your agent so that you know precisely how much your insurer will cover and what rules apply.
Related Articles