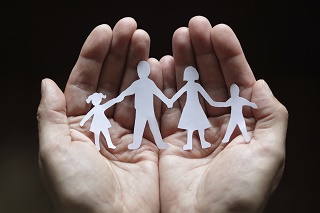 Fewer employers are offering group life insurance plans as part of their benefits packages.
LIMRA's Hidden Currents: Under-the-Surface Changes in the Employee Benefits Market surveyed nearly 1,500 U.S. employers with 10 or more employees that have been in business for at least three years. The survey found that only 48 percent of employers offered life insurance to employees in 2017. That's a drop from 62 percent in 2006.
With fewer employers offering life insurance benefits, you'd think that more people would buy individual life insurance, right? Well, LIMRA found that for the first time in its surveys employer-sponsored life insurance coverage exceeds individual life insurance coverage (108 million compared to 102 million).
So, that means fewer businesses are offering life insurance and fewer individuals are getting individual life insurance coverage. This could leave families prone to financial ruin. It could mean losing your house, racking up huge credit card bills and defaulting on loans.
Despite fewer employers offering coverage, life insurance is as important than ever. The survey found that Americans without life insurance don't have savings to help them if the unthinkable happens.
Three-quarters said they would have immediate or near-immediate problems paying for basic living expenses if the primary wage earner died.
Why are employers cutting back?
Businesses are pulling back benefits despite a strong economy. One major reason is rising healthcare costs, which eat into more of companies' bottom lines each year. Healthcare costs aren't rising as fast as the double-digit increases in the early 21st century, but costs are still rising between 2 percent and 4 percent each year for businesses.
Companies need to figure out ways to cut back in other areas. They could change health insurance benefit design by putting more costs onto employees. A company could freeze wages and stop hiring. And then there's another option — cutting other benefits, including life insurance coverage.
That said, LIMRA found that employees value life insurance as part of their employment. Sixty percent of survey respondents said life insurance is an important or very important benefit. Survey respondents said employer-sponsored life insurance is one of the five most important benefits along with medical, dental, paid time off and retirement benefits.
Is employer-based life insurance enough?
Fewer businesses are offering life insurance, but group plans often don't provide enough coverage to cover all of your family's needs. In fact, about half of households in the LIMRA survey with group life insurance coverage are worried about not having enough money if the primary wage earner dies. Plus, the policy is likely only in effect if you're employed there.
That's why it's important to understand if you're covered enough — even if your employer enrolls you in a group plan.
Employer-sponsored group plans are usually term life insurance. These group life plans often cover a small amount. For instance, the death benefit might only be the amount of your annual salary or double that amount.
So, even if you're covered by a group plan, there's a good chance that you still need additional coverage.
One option is to see if you can buy additional coverage through the group plan. If that's possible, you might get to pay the group rate, but that also means you'll likely need to provide health information and take a medical exam.
You could also buy an individual life insurance policy. You will likely need to have a medical exam and answer health-related questions. One option you may want to explore is an instant-approval term life policy. For these policies, an insurer will use accelerated underwriting, which employs algorithms and data to predict life expectancy and risk. So, instead of filling out forms, going through a medical exam and waiting weeks or months for approval, instant approval offers a quicker approval process with less work for you.
Life insurance basics
If you need your own life insurance or additional coverage, where do you begin? Let's take a quick walk through the two different basic types of life insurance — term life and permanent life to figure out what's best for you:
Term life is usually less expensive and is for a period, such as five, 10, 15 or 20 years. You may be able to renew your policy after that period, but it will cost you much more.
Permanent life insurance, also called whole life insurance, covers you for your entire life and is more expensive. These policies cover you regardless of when you die as long as you make your payments.
You can add riders to your policies. These provide more protections, but usually increase the costs, too. For instance, a premium rider waiver stops the premium if you become seriously ill or disabled. A guaranteed insurability rider lets you purchase more insurance later without needing to provide information about your health.
Another popular rider covers long-term care, including accelerated benefit riders. Separate long-term care insurance has fallen out of favor as more people choose life insurance policies with long-term care riders.
This type of rider lets you tap into your life insurance to pay for long-term care. The downside is that your beneficiaries receive a smaller payout after you die.
How much life insurance do you need?
The first step in figuring out how much life insurance you need is to decide what type of life insurance you want (term or whole) and then how much your survivors will need in the case of your death.
Figure out your family's debt, including your mortgage, as well as upcoming expenses, such as your children's college payments, and what you want to leave your survivors in inheritance.
One way to figure out how much life insurance you need is by using Insure.com's Life Insurance Calculator, which helps you decide how much coverage you need and what type.
Our Insurance Advisor tool will give you recommendations regarding any gaps in your coverage and what actions you need to take to ensure sufficient coverage to better protect you and your love ones.
Insure.com's annual survey of 3,700 customers also ranks the Best Life Insurance Companies on value, customer service and renewal recommendations.
Related Articles