Some divorcees may lose a spouse but gain a life insurance policy.
When you are going through a divorce, you need to protect yourself financially. And insurance — particularly life insurance — could be a valuable tool for that, say lawyers and financial planners.
In some divorce cases, neither person has a life insurance policy and the court may order the breadwinner to buy one as part of the settlement to ensure the financial security of the couple's children and the surviving spouse.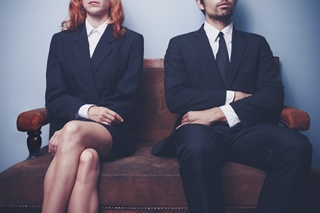 Even an amicable divorce can be economically devastating when you factor in the costs: setting up and maintaining separate residences, loss of income, credit and debt issues and counseling if there are children. And an acrimonious divorce could leave you with a stack of costly legal bills, not to mention the additional time off from work.
All told, divorce reduces a man's standard of living by 10% and a woman's by almost three times that much, according to the National Marriage Project at Rutgers University.
Divorce and insurance
Many types of insurance figure into a final settlement, says spokesperson Loretta Worters of the Insurance Information Institute (III).
Some policies may need to be updated; for instance, you want to take your spouse off your auto insurance and homeowners insurance when he or she moves out.
Other policies you might want to keep, though you may have to make adjustments to do so. For example, if you want to retain your spouse's employer-provided health insurance, COBRA allows you to continue a group health plan at your own expense for 36 months after a divorce or separation. Here's more about your COBRA rights. You should also hold onto any life insurance policy that either of you have, and perhaps consider purchasing more.
If you want to drop your spouse as a life insurance beneficiary and your policy is not part of the divorce settlement, you can ask your insurer for its beneficiary-change paperwork and make the change.
Battening down the hatches
If you think your marriage is over, move decisively with your insurance strategy and don't procrastinate. Delaying a divorce filing — or even indicating your intentions to divorce — could lead to unforeseen problems.
"Once you start a matrimonial action, the state orders everything frozen," says New York City divorce attorney Bruce Provda, partner at Provda Law. "You can't change, sell or encumber any asset without a court order."
There are always people who try to hide assets from their spouse after filing. But Provda warns that "the court will catch up with that and there will be a day of reckoning."
After filing, each spouse has to fill out forms detailing assets and liabilities, including mortgage, checking and savings accounts, credit and debt, investments, retirement and pension plans and, if relevant, insurance. Each one must also list the names and ages of their children and any other dependents.
Sometimes, the assets are split evenly, but often a court — usually family court — will determine that one spouse must make monthly payments to the other.
This is to ensure that:
Children are provided for until they reach adulthood, which could include college tuition. This is covered by child support.
The dependent spouse, who may have given up his or her career to act as caregiver, can become financially independent. Stipends, which used to be known as alimony, are now referred to as maintenance and, unlike alimony, are only paid out for a few years instead of a lifetime, or until the spouse remarries.
It's usually left to the opposing lawyers to iron out the decree and for the judge to sign off on it.
However, there is a potential problem with any divorce settlement when one ex-spouse has to pay the other: What if the former spouse who is making the child support and/or alimony payments dies and the surviving ex-spouse is left with nothing?
Here's where a life insurance policy can really count. Life insurance guarantees that the surviving ex-spouse will receive money to replace the lost income.
So if the ex-spouse who is making alimony and child support payments already has a life insurance policy, the opposing lawyer will probably insist that he or she keep it and could negotiate for a larger policy. If there is no life insurance, a policy will likely be included as part of the settlement.
Life insurance for divorced couples
There are many types of life insurance depending on your goals and needs: whole life builds cash value, universal life provides some flexibility to payments, variable life has a stock market component and group life is usually provided by an employer. There are also riders to these policies, such as accidental death and dismemberment.
In divorce situations where there's no existing life insurance, most lawyers recommend buying a plain-vanilla 20-year term life insurance policy for middle-class families with young children and a 10-year term life policy if the children are older. "These policies are never much of a hassle and the cheapest way to go," says Provda.
Life insurance quotes for term life are easy to get and buying a policy typically involves answering questions about personal medical and family history and doing a life insurance medical exam.
In contrast, other policy types can be unsuitable for divorced couples:
A variable life insurance policy carries the risk of investment loss.
A group life policy is lost if a you change jobs.
An accidental death policy will not pay off if the death isn't ruled "accidental." So if the insured dies from, say, a heart attack, there's no payout.
"You just want a certain amount of money," says Chief Economist Steve Weisbart of the III. You need "nothing fancy."
Working out life insurance policy details
But there are still a lot of kinks to be worked out. One of the biggest is who should actually own the policy.
Since some ex-spouses could stop paying, the insurance policy — and the issue of who pays for it — needs to be part of the final divorce decree.
Some legal experts say the beneficiary should also be the owner, even if the other spouse is making the premium payments. That way, the beneficiary is notified by the insurer if the ex-spouse stops payment.
One way to protect against a policy being canceled without the beneficiary knowing is to have the insurance company hold the divorce decree with instructions to notify the beneficiary if there's a change in the policy or non-payment of premiums. The beneficiary can then go back to court to force the ex-spouse to resume payments.
Another option: Beneficiaries can protect themselves by being the policy owner and making the payments. The monthly payments for alimony and/or child support could include the amount needed to pay for the life insurance policy and, in some cases, would be tax deductible, says Martin Feldman, chief executive of Life Happens, a non-profit group that educates consumers about life and health insurance.
Insurance policies can also be used as a weapon during divorce. Here's how to protect yourself from 'insurance revenge' during divorce.
Pension protection with life insurance
Child care and maintenance are the main reasons for a divorce-related life insurance policy, but pension protection is another consideration.
Police, firefighters and other civil servants often have pensions that build until retirement, when the two ex-spouses would then be entitled to an equal share. The Uniformed Services Former Spouses Protection Act entitles military wives and husbands to a portion of retirement pay.
Since an ex's early death can threaten the pension amount that a former couple would share, a life insurance policy could also protect the future earnings of an ex-spouse.
Getting divorced is difficult regardless of the situation. Make sure you protect yourself and life insurance in case your marriage disintegrates.
Related Articles