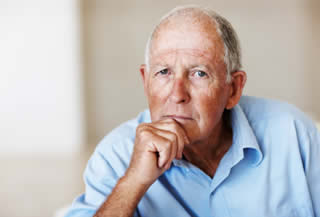 People often worry about providing for their families if the unthinkable happens. When figuring out options, those in their 50s and 60s might think life insurance is no longer affordable at their age.
It's true that rates increase as you age, so it's understandable why middle-aged people might be concerned. Rates are higher when you're 45 or 55 compared to being 25 or 35. It's all about risk.
Life insurance companies want to limit their risk, and they're more likely to pay out life insurance benefits for a 60-year-old who takes out a policy compared to a 30-year-old.
So, the question is: Is life insurance worth the cost if you're middle-aged or a senior citizen? Much like everything else with insurance, there is no definite answer. Instead, you need to weigh the costs and options when it comes to life insurance — regardless of your age.
Matt Rowles, former director of advanced marketing for individual life insurance at Prudential Financial, who is now retired, said there is a point in life when life insurance is probably too expensive.
"Old age and poor health will certainly drive up the cost of insurance. If it drives it to a point where it makes little financial sense, that is probably the point where life insurance is not appropriate," says Rowles.
Going without life insurance is a serious financial decision, even for people who are middle-aged and elderly. Before you do so, you should sit down and carefully review your finances to determine your future financial needs. Life insurance might not be for you if:
The rates are too high for the payoff at the end.
Your children are self-sufficient and aren't relying on you to care for them.
Your mortgage is fully paid off and you don't have any outstanding debt that your spouse will need to pay off when you die.
If those situations sound like you, there might be better ways to provide for loved ones after you die. This can include your savings, home equity, long-term care insurance or final expenses insurance.
However, many people maintain a life insurance policy as more of a bequest than a necessity.
If you want to leave a legacy, "life insurance is an excellent way to do that," says Rowles.
Creating a legacy for a charity or a loved one is a common reason why seniors continue to pay into a life insurance policy when they no longer have dependents.
"It could be someone you care about, like your children or grandchildren," says Gail Linn, financial advisor at Fortis Lux Financial Services. "Since life insurance death benefits are income-tax free, it is a great way to leverage your dollar and leave money to someone you care about."
Term and permanent life insurance
If you decide to buy a life insurance policy, you'll choose between term life insurance. Term life insures you for a specific period. The other option is permanent life insurance, which covers you for as long as you live if you pay your premiums.
Permanent policies build cash value over time. Term policies typically are much cheaper, but many companies don't issue them to people over 75 or 80.
Permanent policies like whole life usually are more readily available for older people than term life policies. However, be prepared to pay for that access, says Rowles. And for seniors with health problems, seeking a new permanent policy can be prohibitively expensive.
For more details on policy choices, read Insure.com's life insurance basics.
Other options other than life insurance
If you find the numbers for life insurance don't work, there are still ways to protect your future. Here are some other options.
Long-term care insurance
If you are trying to preserve your current wealth for your heirs, long-term care insurance may make more sense. Long-term care insurance provides for you when you are too ill to take care of yourself.
The cost of nursing home care can quickly erode the value of your estate in your final years.
Like life insurance, long-term care insurance becomes more costly as you age. Your general health at the time of your purchase will also impact your premiums.
Your 50s is still a good age for purchasing long-term care coverage. Here are the basics of long-term care insurance.
Funeral expense insurance
Seniors frequently buy small life insurance policies simply to take care of their burial and funeral expenses. Such policies may be called pre-need, burial or funeral expense policies, said James Miles, a consulting fellow for the Society of Actuaries.
"It is almost like pre-funding your funeral," he says. "You go into the funeral director and you are sold a life insurance policy typically for a single payment, sometimes for three payments. If the funeral expenses go up, most policies would cover that. Then when you die there isn't out-of-pocket expense for your family."
On the downside, funeral expense insurance pays out much smaller benefits than other life insurance policies. Here are tips for buying pre-need and final expense insurance.
Longevity insurance
Larry Dahl, a consultant with CS+SDRA Consulting, said some people with long life expectancies choose to buy longevity insurance to make sure they do not outlive their wealth.
"There are insurance products that say if I give an insurance company 'X' dollars today, I will get nothing unless I live to age 85, and then at age 85, I start getting payments that are really, really good. There are a handful of companies that are offering those types of insurance policies," he says.
The amount the insurer pays on this deferred annuity depends on how much you've invested and the interest rate you receive. The Consumer Federation of American warns that you need to make sure the policy's long-term interest rate is high enough to be adequate.
You may be able to do better with a different type of investment, but it likely won't have the tax deferral that's available with insurance products.
Do you buy life insurance or not?
In the end, life insurance choices for seniors often are limited by the size of their disposable income. Be prepared to make trade-offs.
If you choose to purchase long-term care insurance, for example, you may have less money available for providing a legacy to your children through life insurance. It often comes down to personal preferences.
"There is a balance unless you have unlimited funds," said Miles. "You are going to have expenses before your death that have to be taken care of somehow. Where do you want to put the emphasis? Where is the greater need?"
Regardless of what option you choose, make sure you shop around, get quotes from multiple companies, and research the company's reputation. If you're shopping for life insurance, a good place to start is to review Insure's Best Life Insurance Companies.
Related Articles