Few things in life are riskier than launching and running your own business. You needn't compound that risk by neglecting your business insurance needs. Protecting your business from financial ruin will not only preserve all your hard work and long hours, but it will also help you sleep better at night.
Cecelia Taylor, a spokesperson for the Small Business Administration, an independent agency of the federal government that assists and protects the interests of small businesses, recommends three types of insurance for small businesses.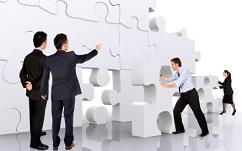 "Workers compensation is required by state law for persons with one or more employees, but small business owners should, at a minimum, purchase property and liability insurance," says Taylor. "Small businesses are more at risk because they have far more to lose and do not have the same resources for legal counsel as large companies. A lawsuit would have the potential to wipe out their business completely."
In a litigious society, a business should not opt to take its chances by deciding to go uninsured for property, equipment and inventory, as well as against a number of potential liabilities.
According to the The Hartford, most companies generally purchase a business owners and accidental death and dismemberment policy, in addition to workers compensation and umbrella liability.
Small business property insurance
Property insurance can be purchased based on the property's actual cash value (the replacement cost minus depreciation), its replacement value (the cost of replacing an item without deducting for depreciation) or an agreed-upon amount (commonly used for art objects and other unique items).
Basic property insurance will cover your losses in the event of a problem such as a fire or a lightning strike, and will pay the cost of removing property to protect it from further loss. Additionally, a standard small business policy will usually cover losses from windstorm, hail, explosion, theft, and damage caused by aircraft, automobiles or vandalism. Optional coverage can insure against earthquakes, floods, building collapse and glass breakage. Property insurance can be categorized by what is insured and by the events leading to a loss.
The Hartford's "Business Owner's Playbook" offers this checklist-
Buildings and other structures, leased or owned
Furniture, equipment and supplies
Leased equipment
Inventory
Money and securities
Records of accounts receivable
Improvements and betterments you made to the premises
Machinery
Boilers
Data processing equipment and media, including computers
Valuable papers, books and documents
Mobile property, such as cars, trucks and construction equipment
Satellite dishes
Signs, fences and other outdoor property not attached to a building
Intangible property (such as goodwill, trademarks, etc.)
Taking stock of your business property
You should take a complete inventory of all your business property, determine its value and decide what's worth insuring. Make sure the items you want to cover are provided for in the basic policy; if not, buy more coverage.
If your business rents space, your lease might require you to carry certain types of insurance coverage. However, just because the building owner carries all the necessary insurance on the building doesn't mean it will cover any of your equipment, furniture or other business property.
"Named-peril policies" will cover certain losses resulting only from the perils that the policy names; "all-risk policies" offer coverage for all perils except those specifically named in the policy. A business owner may choose a named-peril policy if his business is located in an area that is frequently hit by natural disasters such as hurricanes. Insurance experts recommend that the average small business purchase an all-risk policy.
Find an insurer specializing in small-business insurance
Some insurance companies specialize in small-business insurance coverage. For instance, The Hartford has a policy that automatically covers business property, equipment breakdowns and loss of income from business interruption.
The policy offers additional optional coverages for small business owners who also own their own buildings: It pays out if your building is destroyed and it costs more to demolish and rebuild it to code than its previous value; it provides full glass coverage and full sign coverage; it provides additional coverage for damaged landscaping; and it extends coverage limits for newly acquired buildings. So, when you shop around, keep in mind that these coverages are not standard.
If your company has a variable growth pattern, you may want to adjust your coverage annually.
Other coverage that you can buy through riders include: accounts receivable coverage from $25,000 up to $250,000; coverage for loss of stock; protection against counterfeit money orders or currency; employee-dishonesty protection; sewer and drain back-up coverage; and valuable papers coverage.
Deductibles for property insurance can be calculated on a per-claim or on an aggregate basis. The out-of-pocket cost for per-claim deductibles is often lower, so if you're in a business that has a relatively low chance of filing a claim, you might consider this. Companies with a lot of claims would do well to consider calculations on an aggregate basis.
Make sure the full value of an item is insured and check the policy terms for reimbursement. Just because you have $1 million in coverage doesn't necessarily mean the whole amount is going to be applied in a given category of property loss. Also, think about whether or not you want the policy to automatically renew each year. If your company has a variable growth pattern, you may want to adjust your coverage annually.
Liability insurance
Liability insurance will protect your business assets in the event you are sued. These days, with lawsuits clogging the courts, you'll want to maintain a sufficient amount of liability insurance to protect the business you've worked so hard to build. Your company can be sued for something it did — or even didn't do — that resulted in injury or damage to someone else.
Liability insurance will not only pay the cost of the damages but also the legal fees and other costs associated with your defense in a lawsuit.
However, standard liability insurance or umbrella liability insurance will not protect you against claims arising from nonperformance of a contract, wrongful termination of employees, sexual harassment, or race and gender lawsuits. But a more specialized liability insurance such as Employment Practices Liability Insurance (EPLI) will protect your business against these claims. For nonperformance of a contract and most breach-of-contract matters where there was a loss because the terms of a contract were not fulfilled, a surety bond is taken out as insurance to protect the recipient.
Many small businesses have difficulty figuring out how much liability insurance they need. There are some guidelines to consider but no standard formula. Determining the amount of liability insurance to buy is an important task, since the sky's the limit on lawsuits. You could use a recent liability settlement in an industry related to yours as a guide, or you could base the amount on your business's total assets. Either way, discuss it with your agent and check for recommendations from your trade association.
Some occupational licenses might require a set amount of liability insurance. If you rent your business property, check your lease, as it could require a minimum amount of liability. Then buy what you can reasonably afford because the cost of the insurance will be far less than the cost of a lawsuit.
You might have to get additional coverage and pay an additional premium for specialized liability policies, but when you think about the considerable risk involved by not having such protection in place, it is well worth the price. Examples of specialized liability policies include:
Errors and Omissions Insurance (E&O) or Professional Liability Insurance
Employment Practices Liability Insurance (EPLI)
Directors and Officers Liability Insurance (D&O)
Business Identity Theft Insurance
Other policies to consider include a commercial auto insurance policy. Business owners should consider the same insurance coverage for a work car as they do for their personal car. Liability, collision, comprehensive and personal injury protection all apply here. Business owners are at the same risk for being sued due to an accident as they are for an accident they might be involved in while driving a car for personal use.
Business owner policies (BOPs)
Many insurance companies have bundled property and liability coverage into what's commonly called a business owners package policy (BOP). It allows you to obtain broad coverage with affordable premiums.
According to the Insurance Information Institute, BOP policies generally cover:
Buildings or "declarations" named in the policy. Structures are covered as well as permanently installed fixtures, machinery and equipment; outdoor fixtures; items you use to maintain or service the building, such as appliances; and additions under construction. You can choose to insure your buildings at their "actual cash value" or their "replacement cost" depending upon your own personal needs.
To keep up with the increasing cost of rebuilding, the policy's limit of insurance for covered buildings will automatically rise by a set percentage each year. Be sure to discuss with your agent whether you should purchase the standard building coverage or replacement cost coverage.
Building contents, although there are a few exceptions. The policy covers most property on or near the business premises that is used in the business. This would include such things as machinery, computers, raw materials or inventory. You also have coverage for any leased property, which you are contractually obligated to insure.
Property of others that is in your care, custody and control, to the extent you are legally liable for that property. This coverage is particularly important to a business, such as a computer-repair shop, that earns revenue from servicing the property of others.
Keep in mind that, according to III, small- to medium-sized businesses have to meet certain criteria to be eligible for BOP insurance. Factors include the size of your storefront or business office, required limits of liability and the amount of offsite activity, plus financial stability and security features.
Even if you have a BOP, you'll want to consider adding coverages that might not otherwise be included. For example, most BOP policies do not cover auto, workers compensation, or life, health and disability insurance.
Property insurance can be tailored to fit your needs since no two businesses are the same. This is why it's best to speak with an insurance agent who can help you determine the type of coverage that is best for your business.