This week is National Hurricane Preparedness Month, with hurricane season officially kicking off June 1.
There is no better time to give serious thought to your preparedness, including preparing an emergency go-bag.
A recent survey conducted by Insure.com of nearly 800 people revealed that only 25% of Americans have an emergency go-bag. While this number has not increased since our 2019 go-bag survey, some respondents indicated that their level of preparedness has changed in some way since the coronavirus pandemic began.
When we asked those who did not have a go-bag prepared when or if they planned to create one, 16% said "soon," 30% said "not sure" and 12% said they are "not going to prepare one."
Seventeen percent of respondents said they plan to create a go-bag of emergency essentials, but only when disaster is imminent. But the thing about disasters is that we don't always know about them ahead of time. This is why being prepared for the "what if's" is so important.
Do you have an emergency go-bag prepared?
If you are asking yourself, "what is a go-bag" you are not alone. Thirty-seven percent of respondents said that they either don't have or don't know anything about a go-bag.
What is a go-bag?
A go-bag is an easily portable bag that contains the emergency essentials you would need to survive for at least 72 hours if you had to quickly evacuate your home during a disaster.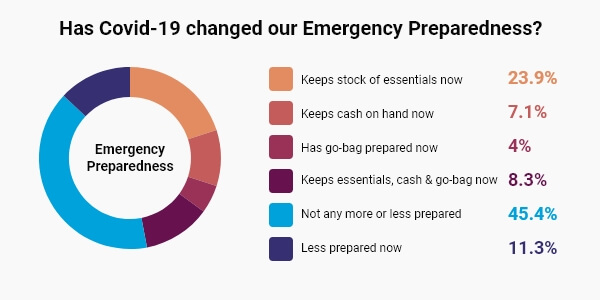 In addition to a go-bag, the National Financial Educators Council (NFEC) recommends maintaining six-month's worth of financial needs and a one-year supply of essentials.
You might have heard a go-bag referred to as a survival kit, survival bag, or a bug-out bag.
How to prepare a go-bag
Imagine that disaster strikes your home and you have only seconds to get yourself and your family to safety. Although you and your loved one's safety is the top priority, it is also critical to plan for how you all will survive post-disaster if you cannot access your home. This is the idea behind the go-bag.
What you'll need in your go-bag depends on a few main factors.
Geographical location
Your location will determine the climate and the types of disasters you may need to prepare for.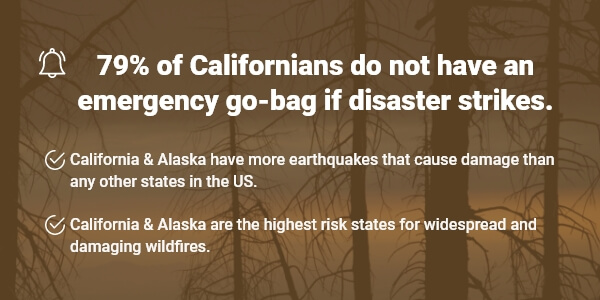 Around 81% of the Earth's largest earthquakes happen along the rim of the Pacific Ocean. Included in this area are California and Alaska, which have the most earthquakes in the U.S. Additionally, both of those states are also prone to significant wildfires.
When surveyed only 21% of Californians already had a go-bag prepared, which leaves a staggering 79% of Californians with no emergency kit if disaster strikes.
States like
Florida, Texas and Louisiana
are prone to tropical storms and hurricanes, which may result in people having to evacuate their homes quickly. When surveyed, 46% of Floridians, 30% of Texans and 44% of Louisianans reported having a go-bag prepared.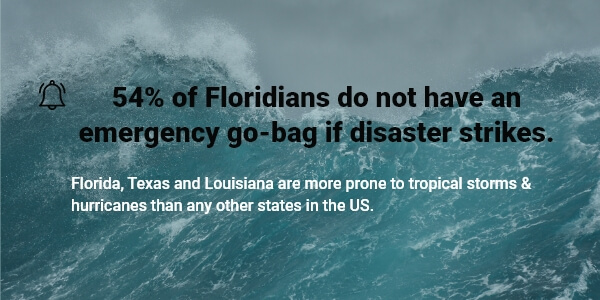 These are certainly not the only states where disaster can strike. Every state has its own potential for disaster.
Time of year
Also depending on your location, you may need to update your go-bag throughout the year depending on the weather associated with that time of year.
Personal needs
Is the go-bag only for you or will you also be caring for others, like spouse, children and pets? Do you or any of your family require medication or special accommodations? This year, the COVID-19 pandemic has brought new meaning to emergency preparedness. Now, it is important to consider adding in additional personal protective equipment (PPE) like masks, gloves and hand sanitizer into your go-bag.
Nearly 30% (25.7%) of survey respondents said they already have a go-bag emergency kit prepared, so we asked them to tell us the most important item in their bag.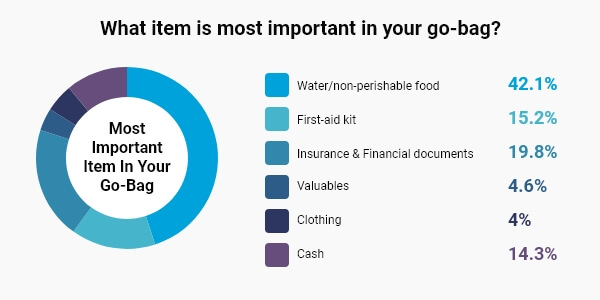 Here are some things experts recommend including in your go-bag or "go-bag checklist":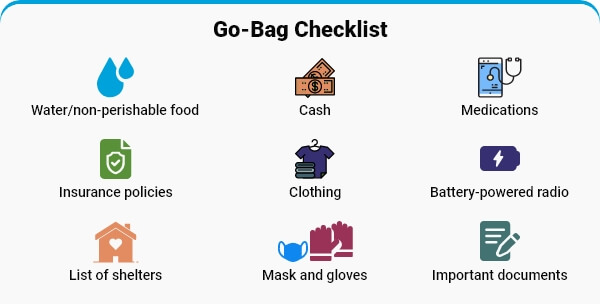 Insurance coverage for disasters
Disaster has stricken, you've managed to get your family evacuated safely and you've got a go-bag for post-disaster survival. But what about your home, personal property and any vehicles you left behind?
When disasters like hurricanes, tornadoes, earthquakes, and wildfires occur, there is often destruction or damage to homes, vehicles, and other personal property. This is why adequate insurance coverage is one of the most important things you can do for yourself and your family, including home insurance.
Penny Gusner, Insure.com's senior consumer analyst, shared her thoughts on insurance coverage for disasters. She said, "having your insurance documents in your go-bag is important, but you also need to know what the policies say they cover."
It is important to know that many disasters are not covered under home insurance policies. Finding out you are not covered after a disaster has destroyed your home could leave you in a dire situation.
Do I need flood insurance?
Although FEMA says that 99% of U.S. counties were impacted by a flooding event between 1996 and 2019, standard homeowners insurance policies do not usually provide flood insurance.
You can purchase flood insurance through the National Flood Insurance Program or a variety of private insurers.
Are earthquakes covered under home insurance?
Although some areas of the United States, like California and Alaska, are more prone to severe earthquakes than other areas, most people in the U.S. are at some risk of earthquake. Earthquake insurance is not typically included in a standard home insurance policy.
You can often purchase earthquake insurance as an endorsement or add-on to your existing homeowners policy. You may also choose to purchase an entirely separate policy for earthquake insurance.
Do I need wildfire insurance?
We have good news! Most home insurance policies provide coverage for smoke and ash damage to your home and personal property.
However, if you live in an area deemed high-risk for wildfires, like some areas of California, you may need to purchase additional coverage. Be sure to ask your home insurance provider how to make sure you are covered for wildfires.
What about Additional Living Expenses (ALE)?
If you have to evacuate your home due to disaster, there may be additional living expenses you incur that you would not have otherwise incurred. This might include things like lodging and food. Home insurance policies don't typically cover these living expenses just because you evacuate.
Penny offered this great advice, "additional living expenses is part of the homeowners policy that most don't think about – until they need to use it. It's smart to read over and know what will and won't be covered before you get in a frantic situation.
Keep receipts and keep notes on anyone you talk with from your insurance company, along with date and time, so if there are any issues with your claim you can point back to where you received your information from."
However, if your home is uninhabitable due to a covered loss, such as damage from a wildfire or tornado, you likely have additional living expense coverage under a standard home insurance policy.
Final thoughts on emergency preparedness
There is no better time than now to prepare for the unthinkable. Prepare an evacuation plan that includes a communication plan, an emergency meeting location and an emergency go-bag. Speak with your insurance company and make sure you have adequate home insurance coverage for potential disasters.
The Insurance Information Institute's Evacuation: the 10 minute challenge illustrates the difference between a family that prepared in advance for disaster and a family that did not. The difference is profound.
Preparation now provides a peace of mind and assurance that your family and home will be taken care of if disaster strikes.
Related Articles