Insights:
Even if your property doesn't have flood insurance requirements, it's additional coverage worth considering if you believe your home could be at risk of flooding.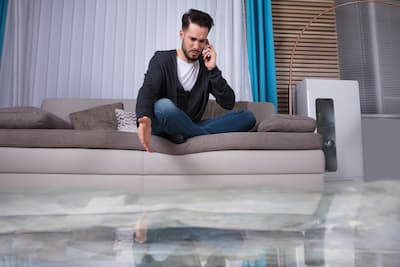 As a homeowner, you want to protect your valuable asset. But you might not realize that your standard homeowners insurance policy doesn't cover every type of disaster. That includes flooding.
Not having flood insurance could be devastating if you get flood-related damage. The Federal Emergency Management Agency (FEMA) estimates every one inch of floodwater can cause as much as $25,000 in damage to a home. So, it's important to make sure you're protected if flooding is a risk.
If you live in certain areas, you might be required to buy separate flood insurance. However, even if you aren't, you may still want to get flood insurance coverage just in case. Here's what you need to know.
Key Takeaways
Flood insurance is required if you live in a specially designated high-risk area and have a federally backed mortgage.
Flood insurance cost is based on a property's flood risk.
There are maximum coverage limits on federal flood insurance through the National Flood Insurance Program (NFIP), which may not be enough to cover all your expenses in the case of flooding.
Even if you don't live in an area prone to flooding, getting a flood insurance policy can be a wise decision.
What does flood insurance cover?
Flood insurance policies cover flood damage and was created by the National Flood Insurance Act in 1968. Home insurance doesn't typically cover flood damage, so you need a separate flood policy to get that protection.
A flood policy provides homeowners and businesses with protection for both the structure of a building and, in some cases, its contents, says Allen Anderson, senior vice president and chief underwriting officer for personal lines at Selective Insurance. Anderson explains that it's important to understand the boundaries of your flood policy.
In general, flood insurance covers damage that resulted directly from flooding. Events that led to the flooding may include storms, snowmelt, blocked storm drainage systems, failure of a levee dam and more.
Damage to the structure is generally covered. This is known as building coverage and usually includes:
The insured building and its foundation
Electrical and plumbing systems
Air conditioning and heating systems
Major appliances such as refrigerators, stoves and dishwashers
Permanently installed carpeting, flooring, paneling, wallboard and built-in bookcases and cabinets
Window blinds and shutters
Detached garages, up to 10% of structural coverage
Debris removal
Flood policies also cover some personal property inside the structure, also known as contents coverage. This can include:
Clothing
Furniture
Electronics
Curtains, window treatments, and rugs
Portable appliances, such as air-conditioners, microwave ovens, and dishwashers
Clothes washers and dryers
Food freezers and the food in them
Valuables such as jewelry or artwork, up to $2,500
It's possible to purchase additional riders or endorsements if you have many valuable items that need extra coverage.
What doesn't flood insurance cover?
Though flood insurance protects quite a bit, a flood policy doesn't cover every cost associated with flooding.
For instance, you won't be reimbursed for temporary housing while your home is inhabitable due to flood damage. Property and features outside the insured building (other than a detached garage), such as a swimming pool, shed, deck, or landscaping are also not covered. If you run your business out of your home and lose income due to the damage, flood insurance won't cover the loss.
Additionally, there may be damage that exceeds coverage limits of your policy. Unless you purchase additional insurance, you'll be on the hook for those costs.
Other exceptions include vehicles; currency, precious metals, and valuable papers like stock certificates; and damage caused by moisture, mildew, or mold that could have been prevented.
How do you figure out how much flood insurance you need?
With flood insurance, it's usually better to be safe than sorry, Anderson says. In fact, more than one-fifth of flood damage claims originate in homes that are in low-to-moderate risk areas, according to the Insurance Information Institute.
Policies are individualized based on many factors, including the mortgage balance, property location, structure size, and construction date.
"The best way to figure out how much insurance you need is to sit down with an agent and evaluate your options together," Anderson said. "It's also important to remember that if you wait to buy insurance until the threat of flood is imminent, it may not protect you from the potential financial losses caused by a flood."
New NFIP flood insurance policies have a 30-day waiting period. So, it's best to buy a flood policy well before the need arises.
How can you buy flood insurance?
Similar to other types of insurance, if you're interested in purchasing a flood insurance policy, you can ask your current insurance agent or find one in your area.
Federal flood insurance policies through the National Flood Insurance Program, which is backed by FEMA, are sold through private insurers. If you live in a high-risk flood zone, you're required to buy flood insurance to get a federally backed mortgage. There are nearly 100 insurance companies that provide NFIP policies.
If you want to supplement your NFIP coverage or buy flood insurance if you don't qualify for the federal program, you can also go through a private insurance company. Keep in mind that you might be able to find private flood insurance at a lower price than NFIP, but you should be sure it's through a reputable, stable company. Also, unlike NFIP insurance, private coverage can be canceled.
"Be forthright when talking to an insurance agent about things that could increase premiums," Anderson says.
Otherwise, you may be underinsured if you need to file a claim and could have to pay out-of-pocket for damages.
"In the end, transparency about your property and possessions will help you obtain appropriate coverage and peace of mind," Anderson says.
What are flood insurance limits?
Pricing for NFIP policies is standardized with flood insurance premiums consistent based on your risks. So, you don't have to shop around to find better flood policy rates for a standard NFIP policy. Coverage amounts are also capped.
For dwelling or building coverage, the maximum is $250,000. For contents, it's $100,000.
If your home and/or belongings are worth less, you can buy lower limits at a lower price. However, if they're worth more than the maximum coverage levels, you would need to purchase additional private insurance or risk being underinsured.
How can you buy additional flood insurance?
Private flood insurance can supplement or replace an NFIP policy. It can also provide coverage for things usually excluded from NFIP policies, such as outdoor property, detached structures, swimming pools, and basements (depending on the insurer and policy). Private policies also usually have a shorter waiting period of 10 to 14 days instead of 30.
Below is a look at what types of coverage you can receive through the NFIP vs. a private policy from private insurance companies.
| | Private Flood Insurance | NFIP |
| --- | --- | --- |
| Building coverage | Up to $500,000, $1 million or $5 million, depending on policy | Up to $250,000 |
| Contents coverage | Up to $1 million, depending on policy | Up to $100,000 |
| Alternative living expenses/loss of use | Yes (depends on insurance company and policy) | No |
| Debris removal | Yes (depends on company and policy) | Yes |
| Rebuild limit | $500,000+ (depends on company and policy) | $2,50,000 |
Frequently Asked Questions
Do you need flood insurance if you have a mortgage?
You aren't automatically required to get flood insurance if you have a mortgage on your home.
However, if your home is in a FEMA-designated high-risk area, your mortgage lender will likely require flood insurance as a condition of making the loan, according to Anderson.
This is generally the case if you're seeking a government-insured loan, such as an FHA loan or mortgage backed by Fannie Mae or Freddie Mac.
Do you need flood insurance if you don't live in a flood zone?
If you don't live in an officially designated flood zone, you aren't required to buy flood insurance. However, you might still want to consider it, as flooding can occur outside these high-risk areas.
"Just because you don't live in an area where you are required to have flood insurance to get a mortgage doesn't mean you don't live in a flood zone," Anderson says.
What is a Special Flood Hazard Area?
A Special Flood Hazard Area (SFHA) is an area designated by FEMA as a high-risk zone where the NFIP's floodplain management regulations have to be enforced. It's also where purchasing flood insurance is mandatory for mortgage holders.
When is flood insurance required?
Any homeowner who lives in a high-risk flood area and has a government-backed mortgage must purchase flood insurance. Keep in mind that even if you live outside of high-risk flood areas and flood insurance isn't federally required, your mortgage lender may still require that you obtain flood insurance to get approved for a loan.
Does a home in a flood zone need more flood insurance coverage?
The amount of flood insurance coverage you need is determined by many factors, including how much your home and belongings are worth, the amount of the mortgage, and where you live.
The most important consideration is whether you have enough coverage to replace anything damaged by a flood. That will dictate the amount of coverage you ultimately buy.
Related Articles