OMG! When phones turn fatal: Texting & driving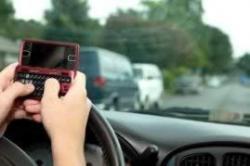 Are you guilty as charged? Research shows that an increasing number of people are writing text messages while driving and that this popular habit is turning deadly. TOBAL. And to that end, the issue has even reached Capitol Hill, where legislators are proposing a law that would require states to ban texting while driving — or lose 25 percent of their annual federal highway funds.
The proposed legislation (called the ALERT Drivers Act) is in the wake of a Virginia Tech Transportation Institute study that found people who text while driving have a collision risk 23 times greater than drivers not texting. Another study, conducted and published in June by Car and Driver magazine, indicates that texting while driving is more dangerous than driving intoxicated in certain scenarios. It also found that text messaging is increasing, up from 9.8 billion messages a month in December 2005 to 110.4 billion messages in December 2008. WDT?
Sen. Robert Menendez, a Democrat from New Jersey who's sponsoring the ALERT Drivers Act, wrote in a statement: "iPhones, Sidekicks and Blackberries are ingenious, indispensable devices. But while they make our lives so much easier, they make driving that much harder. Texting while driving should be illegal on every road, every railway, in every state." GIWIST.
According to the Insurance Information Institute, texting while driving has, as of Nov. 1, been banned in 15 states: Alaska, Arkansas, California, Colorado, Connecticut, Louisiana, Maryland, Minnesota, New Jersey, New York, North Carolina, Utah, Tennessee, Virginia, Washington and the District of Columbia. However, in some states (like Washington), texting is a secondary offense — meaning that the driver must first be pulled over for a primary violation like speeding in order to be cited for texting.
Some states have started aggressive campaigns against texting and driving. But none have gone as far as the OTT public service announcement produced in the United Kingdom. The video (below), deemed too graphic for the general audience on YouTube, is flagged suitable for viewers older than 18. It graphically portrays a deadly (and very bloody) car accident caused by a teen who is texting and driving. In fact, ITIGBS.
While far from that graphic, the state of Utah recently produced a public service announcement video of its own. It's an emotional 15-minute documentary based on a car accident caused by texting that killed two people. It features interviews with the responsible driver (who lived), friends and family of victims, police and legal representatives.
"Studies from the University of Utah show that if you're driving and texting at the same time, you're about as dangerous as somebody who's driving with a blood alcohol content that's twice the legal limit," says Don Linton, a prosecuting attorney in the case, in the video.
Even car insurance companies have started conducting research into the dangers of texting and driving. PEMCO, one of the largest insurers in Washington State, recently conducted a poll that reveals that sending and reading text messages while driving has more than doubled in the past 18 months, even while an increasing number of drivers believe the activity to be unsafe.
"I think it's ironic," says Jon Osterberg, spokesperson for PEMCO. "More people are admitting that they are doing it and at the same time more people are saying it's a concern."
In 2008, only 6 percent of Washington drivers polled admitted to texting while behind the wheel. In 2009, that number increased to 18 percent. ATST, 45 percent of those polled stated that they are more concerned about the dangers of texting while driving than other distractions like talking on a cell phone, speeding or driving while tired. So knowing the dangers, it's better to put away the phone and stay AAS.
Ready to get a quote?
Get quick and easy auto insurance quotes