Insight: Collision coverage pays for damages to your vehicle if you hit or collide with something, such as a tree or pole.
James William Lambert was involved in what may have been the first auto accident in history. The incident occurred in Ohio City, Ohio, when Lambert's one-cylinder horseless carriage struck a tree root in the road and veered into a hitching post.  
Cars are faster and more powerful today, and if your vehicle hits something in or off the road you want to be sure you're covered by the right insurance policy.
Here's what you need to know about insurance coverage if you hit something while driving.
Key Takeaways
Collision coverage pays for repairs to your car if you hit an object.
Damage to a vehicle not caused by a car accident, such as a fire, theft or hitting an animal, is covered by comprehensive coverage.
More than 1.5 million animal-collision insurance claims were reported in the U.S. between July 2019 and June 2020.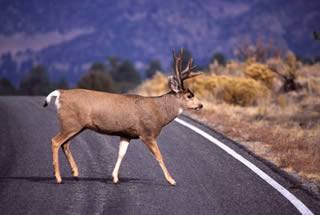 Animals
Comprehensive coverage pays for damage to your car that's not caused by an accident involving another vehicle.
If an object falls on your vehicle or if your car is damaged because of a fire or natural disaster or if you hit an animal, comprehensive coverage takes care of the repair costs.
When most people think about car insurance, they most likely think about hitting a vehicle or object. But hitting an animal isn't uncommon.
In fact, more than 1.5 million animal-collision insurance claims were reported in the U.S. between July 2019 and June 2020, according to data on the Insurance Information Institute's website.
"Even if an animal jumps into the road in front of you and you manage to miss it but crash into something like a neighbor's mailbox, it is considered a collision and deemed your fault. And, your rates can go up," says Daniel Ferrara, a former senior sales rep for Liberty Mutual Insurance.
Earl Jones, a Farmers Insurance agent, says that hitting something in the road will more than likely be classified as an at-fault accident in most states, which could remain on your DMV record for at least three to six years, depending on state laws.
"As a result, the accident could result in a rate increase of your insurance. But that increase can also depend on the insured's driving record at the time of the accident," he says. If that accident is counted against the driver, it can lead to the loss of home/auto discounts and even umbrella insurance coverage, he says.
Potholes
It doesn't matter where you live, road potholes are a problem. In a 2021 survey from AAA, one in 10 drivers experienced enough vehicle damage to justify a repair after hitting a pothole. The average price per repair was almost $600.
If your car is damaged from hitting a pothole, your collision coverage kicks in, minus any deductible you pay upfront. You can report the pothole to your local transportation agency. Most do not pay for damages to your car. But perhaps the pothole will get fixed.
Poles, fences and other objects
Many accidents happen when a driver goes off the road. Roadway departures accounted to almost 60,000 deaths between 2016 and 2019, according to data from the U.S. Department of Transportation About 10,700 deaths occurred when a vehicle hit a tree and about 2,500 when someone hit a utility pole.
Collision coverage pays for repairs to your car if you hit an object. If you don't have collision coverage, any repairs come out of your pocket.
If you mow down your neighbor's fence, your liability coverage will pay the damages for that fence. However, if you hit your own fence it's another story. Your personal property liability does not extend to your own structures.
Other cars
The damage you cause to others, including property damage and bodily injury, is covered by your liability policy. States set minimum car insurance requirements for liability insurance.
If you hit another car and also sustain damage to your car, you'll need collision insurance to make a claim for your own repairs. If you're injured, Personal Injury Protection or MedPay coverage will apply — assuming you have this coverage.
Really big things
Property damage liability protection also applies when you hit bigger things – like storefronts and other people's houses – and you're found to be at fault. You've probably seen videos of people who hit the wrong pedal and drive through a store window. Minimum liability limits vary depending on the state in which you live.
Your own garage door
This is going to result in two separate claims: A collision claim for your car damage and a homeowners insurance claim for your garage door. Why? You can't make a liability claim against yourself.
Another car you own
Say you back up in your driveway and hit your second vehicle. You can't make a liability claim against yourself, so you'll have to turn to your collision coverage – one claim for each car. If you're lucky, your insurance provider will waive one deductible. If not, you'll have to pay a deductible for each claim. There's no reimbursement for the embarrassment, though.
A pedestrian
If you hit a person, your liability coverage should kick in to pay for their medical bills, lost wages, and pain and suffering. These can add up quickly, as you can imagine, which is why it's good to have high liability limits.
There's no deductible to pay with a liability insurance claim.
If an injured pedestrian files a lawsuit against you, your liability insurance would also cover your legal defense. This is another situation where having umbrella insurance, which kicks in after you have hit your liability limits on your auto policy, would be very helpful and possibly save you from financial ruin.
–Ashlee Tilford contributed to this article.
Related Articles