Drivers have been colliding with things in the road since 1891, when inventor James William Lambert was involved in what may have been the first auto accident in history. The mishap occurred in Ohio City, Ohio, when Lambert's one-cylinder horseless carriage struck a tree root and veered into a hitching post.
If your car hits something, you'll want know whether you have the right car insurance coverage to make a claim. Here we look at what you'll need in common collision situations.
Key Takeaways
Optional car insurance coverages of collision and comprehensive are what protect your car if you collide with an car or object or have damage from a natural disaster.
Damage to a vehicle not caused by a car accident, such as a fire or theft, is covered by comprehensive coverage.
Collision coverage pays for damages to your vehicle if you hit or collide something, such as another car or a pole.
Liability covers injuries or property damage you caused to others in an auto accident.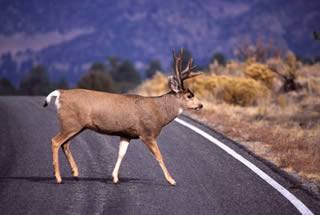 Animals
Comprehensive coverage pays for damage to your car that's not caused by a car accident.
If you hit a deer, moose or other animal, "it's not your fault that something has gotten in the way of your vehicle and is struck," says Janet Masters, spokesperson for American Family Insurance.
Data analysis by State Farm found that from July 1, 2017 to June 30, 2018 there were 1.33 million auto accidents with large wildlife, such as deer, caribou, elk and moose. West Virginia is the worst state for deer collisions, with a 1 in 42 chance of hitting one, while Hawaii is the best for avoiding such an accident, with odds just 1 in 6,379 -- something to consider when you're buying auto insurance. If your state is at high risk for drivers hitting wildlife, comprehensive coverage will be important to have.
Poles, fences and other objects
Collision coverage pays for repairs to your own car if you hit objects. You can make a claim on your collision insurance (minus your deductible). If you don't have collision coverage, you're on your own.
If you mow down your neighbor's fence, your liability coverage will pay the damages for that fence. However, if you hit your own fence it's another story. Your personal property liability does not extend to your own items.
Potholes
If your car is damaged in a run-in with a hole, collision coverage kicks in. But once again your payment will be reduced by the amount of your deductible, so you'll have to decide if it's worth it. You can report the pothole to your local transportation agency, however, most do not pay for damages you incur due to a pothole - but perhaps it will get filled in.
Other cars
The damage you cause to others, including property damage and bodily injury, is covered by your liability policy. States set minimum car insurance requirements for liability insurance.
If you hit another car and also sustain damage to your car, you'll need collision insurance to make a claim for your own repairs. If you're injured, Personal Injury Protection or MedPay coverage, if you have them, will apply.
Really big things
Liability insurance also applies when you hit bigger things – like stores and other people's houses. You've probably seen videos of people who hit the wrong pedal and drive through a store window. This would be a good time for the added liability coverage provided by umbrella insurance as the claim may exceed your auto insurance liability limit.
Your own garage door
This is going to result in two separate claims: A collision claim for your car damage and a homeowners insurance claim for your garage door. Why? You can't make a liability claim against yourself.
Another car you own
Say you back into your other car in your driveway. Here again, you can't make a liability claim against yourself, so you'll have to turn to your collision coverage - one claim for each car. If you're lucky your insurance provider will waive one deductible, if not, you'll have to pay a deductible for each claim. There's no reimbursement for the embarrassment, though.
A pedestrian
If you hit a person, your liability coverage should kick in to pay for their medical bills, lost wages, and pain and suffering. These can add up quickly, as you can imagine, which is why it's good to have high liability limits.
There's no deductible to pay with a liability insurance claim.
If an injured pedestrian files a lawsuit against you, your liability insurance would also cover your legal defense. This is another situation where having umbrella insurance, which kicks in after you have hit your liability limits on your auto policy, would be very helpful and possibly save you from financial ruin.