Read the Spanish version: Conceptos Básicos para Inquilinos
When disaster strikes, it doesn't care if you rent or own your home. Renters face the same risks as homeowners. Your landlord or condo association may have insurance, but it only protects the building structure, not your personal items.
Imagine losing all your furniture, clothes and other belongings in a fire or other disaster. Renters insurance, like homeowners insurance, is meant to rescue you at these times of disaster. Yet only 41 percent of renters have insurance, according to the Insurance Information Institute.
See how much renters insurance costs in every state
You may be able to protect all your belongings for less than $200 a year. The average renters insurance premium is $197, according to an Insure.com rate analysis. But that will also depend on where you live.
Insure.com data show the most expensive state for renters insurance is Louisiana, where the average premium is $719. Colorado's are the lowest, at $103. Prices in South Carolina, Pennsylvania and Hawaii are about average.
Key Takeaways
Only 41% of renters have renters insurance, also known as an HO-4 policy.
A renters policy typically covers three vital items: your personal belongings (for 16 perils, including theft), liability and additional living expenses (if you're unable to live in rental due to a covered peril like a fire).
The average U.S. renters insurance premium is $197 per year for $40,000 of personal property protection and $100,000 of liability protection.
Replacement cost coverage pays to replace damaged or lost property at today's cost. Actual cash value only pays a depreciate amount.
Shopping around for renters insurance can yield savings.
Here are average renters insurance costs by state, so you have an idea what you'll pay. Enter your state in the search field to get your results. Rates are for the following coverage level:
$40,000 personal property
$1,000 deductible
$100,000 liability
| State | Average annual rate |
| --- | --- |
| Louisiana | $719 |
| Florida | $393 |
| Arkansas | $320 |
| Texas | $310 |
| Mississippi | $309 |
| Massachusetts | $283 |
| California | $268 |
| Maryland | $263 |
| Rhode Island | $261 |
| Tennessee | $260 |
| Michigan | $253 |
| West Virginia | $249 |
| Alabama | $239 |
| North Carolina | $212 |
| Missouri | $207 |
| New York | $204 |
| Hawaii | $199 |
| South Carolina | $193 |
| Pennsylvania | $192 |
| Indiana | $187 |
| Georgia | $184 |
| Delaware | $184 |
| Oklahoma | $180 |
| Ohio | $180 |
| Virginia | $166 |
| DC | $166 |
| Connecticut | $164 |
| New Mexico | $161 |
| Kentucky | $159 |
| Maine | $154 |
| New Jersey | $152 |
| Soutn Dakota | $150 |
| Idaho | $149 |
| Nebraska | $148 |
| Nevada | $143 |
| Washington | $143 |
| Arizona | $141 |
| Utah | $135 |
| Wyoming | $132 |
| Kansas | $131 |
| Oregon | $130 |
| Wisconsin | $130 |
| Montana | $125 |
| Minnesota | $123 |
| New Hampshire | $123 |
| Iowa | $121 |
| Vermont | $119 |
| Alaska | $116 |
| North Dakota | $109 |
| Colorado | $103 |
Insure.com commissioned Quadrant Information Systems to provide renters insurance rates for nearly every ZIP code in the country from up to six major insurers. The applicant profile is of a married, 35-year-old who has filed no claims in five years. Coverage includes medical payments coverage of $5,000, contents replacement and loss of use.
What renters insurance covers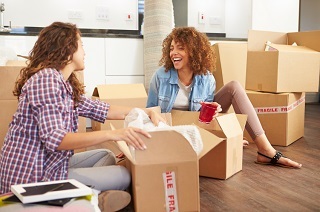 There are several types of home and renters insurance policies. A policy called the HO-4 is designed for renters and covers damage from 16 types of perils:
Fire or lightning
Windstorm or hail
Explosion
Riot or civil commotion
Damage caused by aircraft
Damage caused by vehicles
Smoke
Vandalism or malicious mischief
Theft
Volcanic eruption
Falling objects
Weight of ice, snow, or sleet
Accidental discharge or overflow of water or steam from within a plumbing, heating, air conditioning, or automatic fire-protective sprinkler system, or from a household appliance
Sudden and accidental tearing apart, cracking, burning, or bulging of a steam or hot water heating system, an air conditioning or automatic fire-protective system
Freezing of a plumbing, heating, air conditioning or automatic, fire-protective sprinkler system, or of a household appliance
Sudden and accidental damage from artificially generated electrical current (does not include loss to a tube, transistor or similar electronic component)
What renters insurance won't cover
Just as with home insurance policies, renters insurance won't cover damage from "earth movement." That movement includes earthquakes, mudslides and landslides.
Also typically excluded are:
Floods
War
Nuclear hazard
Neglect, meaning your failure to save your property at the time of loss or after.
Intentional loss, meaning your intentional destruction of your property.
Governmental action, such as seizure of your property.
In some coastal regions, you might need to buy additional coverage for hurricane-related wind damage.
Actual cash value vs. replacement cost
Knowing what types of problems are covered is a good first step to deciding on a policy. Next, consider how you want your belongings to be covered: "actual cash value" (ACV) or "replacement cost coverage."
As the name implies, ACV coverage will pay only for what your property was worth at the time it was damaged or stolen. So, if you bought a television five years ago for $500, it would be worth significantly less today. While you'd still need to spend about $500 for a new TV, your insurance company will pay only for what the old one is worth, minus your deductible.
Replacement cost coverage, on the other hand, will pay what it actually costs to replace the items you lost (minus the deductible). Replacement cost coverage will cost you more in premiums, but it will also pay out more if you ever need to file a claim. Let your agent know about any particularly valuable items you have. Jewelry, antiques and electronics might be covered only up to an amount that won't pay for their replacement.
Coverage with dollar limits
You'll likely find that your renters insurance policy states specific dollar limits are certain items. If your items have more value, you'll need to purchase riders to fully cover them. Here are examples of items that often have dollar caps on coverage, along with typical limits:
Cash – $200
Securities, passports and stamps – $1,500
Theft of jewelry, watches and furs – $1,500
Theft of firearms – $2,500
Theft of silverware, goldware, flatware: $2,500
Unauthorized charges to your credit card: $500
Without riders for these expensive items, you can't recover the full loss if it's beyond your policy limit.
Additional renters insurance benefits
Liability protection for property-damage and bodily-injury lawsuits against you is generally standard with renters insurance policies. This means if someone slips and falls in your unit and sues you, you're covered for any costs, up to your liability limit. The insurance company will also pay for your legal defense.
If your apartment or condominium becomes uninhabitable due to a fire, burst pipes or any other reason covered by your policy, your renters insurance will cover your "additional living expenses." Generally, that means paying for you to live somewhere else.
Take inventory
To ensure you're compensated for any belongings you lose from a fire, storm or other catastrophe, you should inventory all of your personal belongings. List each item, its value and serial number when possible. Photograph or videotape each room, including closets, open drawers, storage buildings and your garage. Keep receipts for major items in a fireproof place.
To make things easier, the National Association of Insurance Commissioners (NAIC) has set up the app that lets homeowners photograph and capture images, bar codes, serial numbers and descriptions and then stores them electronically for safekeeping. If you'd rather have a hard copy, the NAIC also has a printable inventory checklist you can fill out and keep somewhere safe (perhaps also take a picture of it with your phone camera to keep on you).
Saving money on renters insurance
Just like homeowners insurance policies, your renters insurance premium depends on a number of factors: where you live, your past claims, your deductible, your insurance company and whether you need any additional coverage.
Common ways to save on renters insurance include:
Increasing your deductible (the amount you pay before your coverage kicks in).
Asking for discounts for smoke and fire detectors, and security systems.
Buying your car insurance from the same company, called a bundling discount.
Paying your renters insurance bill in full rather than in installments.
Insure.com's annual customer satisfaction study can help you find the best home insurance companies.
Related Articles