When a fire is raging towards your home it's a scary situation. What is even scarier is not knowing if your home catches fire what your homeowners insurance will cover. Take the time, before a wildfire is approaching your humble abode to check over your homeowner's policy and ask your insurance company questions.
Here we'll provide an overview of what standard homeowners policies cover. The good news is that damage from fire, smoke and ash is typically covered under most home insurance policies. However, in some cases, depending on your location, there may be some exclusions for wildfires.
In California, for example, if you live within 2,500 feet of a canyon or area deemed high-risk by insurers, you may have to pay extra for coverage or you may even be denied a policy that includes wildfire coverage.
What property is protected with homeowners insurance?
Homeowners insurance covers a wide range of items, from your home to the belongings inside it.
Examples of dwelling coverage:
Examples of personal property coverage:
Furniture
Clothing
Jewelry
Electronics
Is smoke and ash damage covered?
If your home gets exposed to smoke and ash, be sure to have the house and your personal items inspected and then cleaned or treated and restored to their original state.
Your dwelling coverage, up to your policy limits, will pay to repair smoke and ash damage to your house. Meanwhile, contents coverage pays to repair and replace damaged furniture, clothing and other personal property.
Here is a checklist for how to document smoke damage that will help support your wildfire claim, according to the non-profit consumer advocacy group United Policyholders:
After documenting your damage, let your insurance company inspect your home, and be sure to take notes on the inspection and document your conversations.
Be sure to have a thorough inspection done by a qualified person. For instance, it's ideal to have the inspector be an independent contractor who does not get the majority of his or her business from your insurance company. Also, ask for credentials. That way you're sure you have trained professionals who are certified or trained in air quality and particulate assessment.
Consider paying for a qualified inspector to assess your home if your insurer is not willing to pay for an investigation into all damage, including what may be hidden behind drywall and so on. You will want to use a company that has experience testing homes exposed to wildfires that works with Certified Industrial Hygienists (CIH), who test for smoke, soot and char and other contaminants in the air and on surfaces. Field testers conduct swab testing of surfaces inside your home to determine if there are particulates, such as carbon, ash or soot. The air is also captured in a container that can detect off-gassing specific to wildfires. These results are what you would submit to your insurance company. They also determine the type of cleaning and repair methods needed to make your home clean and safe again. The cost is typically between $2,000 to $4,000 for testing, lab work and a written report.
Understanding interdependent risk from your neighbor's home
We asked Howard Kunreuther, co-director of the Wharton Risk Management and Decision Processes Center at the Wharton School, University of Pennsylvania, to comment on issues relating to wildfire and homeowners insurance. Dr. Kunreuther is author of The Ostrich Paradox: Why We Underprepare for Disasters.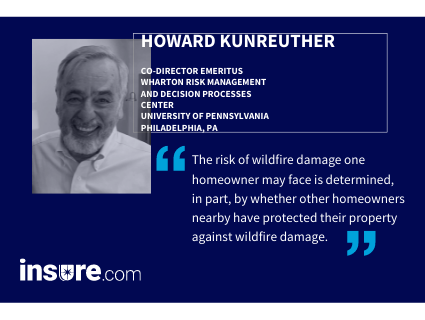 Q: Why are wildfires categorized as an interdependent risk when it comes to insurance?
A: The risk of wildfire damage one homeowner may face is determined, in part, by whether other homeowners nearby have protected their property against wildfire damage. That is what's known an "interdependent risk."

Say, for example, one homeowner does not create defensible space by removing brush and dead plants around their home. When wildfire endangers that community, embers that take flight from that house may cause a neighboring house to catch fire too.
Q: Given the interdependent nature of wildfire risk, is there any coordination required between neighboring homes when filing insurance claims?
A: It is helpful if homeowners coordinate and work together to maintain defensible space around their properties. But each neighboring homeowner will need to make independent claims on their own insurance policies. No homeowner has a claim for damages against another homeowner's insurance policy if embers from a neighbor's house caused their home to catch fire.
Tips for filing homeowners insurance claims after wildfires
Here's what to do if you have to file a homeowners insurance claim after a wildfire.
Keep an updated inventory
Have a list of your belongings prepared beforehand. That way you have a good place to start when you have to go over what property was possibly destroyed in the wildfire. This will quicken the completion of required proof of loss forms that ask for information related to the date of purchase for destroyed items and the cost to repair or replace them. Update this inventory as you accumulate or get rid of belongings.
Record damage to all property
Have a record of the destruction to your property ready by taking pictures showing obvious signs of damage. Keep all damaged belongings in case an insurance adjuster needs to visit to inspect your property and verify claims.
Get a second opinion
Even professionals with an eye for home damage can have different assessments.
File your claim as soon as possible. To expedite the approval of your claims, begin the process quickly after you discover destruction to your property by contacting your insurance provider. There is a time limit for filing claims so confirm the deadline to file claims with your insurance company before it is too late.
Check the condition of items after they are cleaned
If you believe an item is too far gone to be cleaned up, United Policyholders recommends insisting on a fair replacement value settlement for that item. Additionally, you can claim the replacement value in addition to the cleaning cost of your belongings that are not in satisfactory condition after they've been cleaned.
Home insurance covers living expenses, comprehensive auto insurance covers your car
In the event your home is rendered inhabitable because of the fire, you can also file claims for additional living expenses (ALE). For example, you may need to get a hotel room and your insurance company may reimburse you for these costs. You should contact your insurance company to verify your ALE coverages, limits and requirements to use the ALE coverage.
ALE can cover not only housing costs but food, furniture rental, relocation and storage depending on your insurance policy terms. It is crucial for an ALE claim that you keep all receipts. It's also wise to document anyone you speak to with your insurance company as well as the date, time and details of your discussions.
Other tips from the California Department of Insurance:
Policy provisions, including deductibles, vary by company. Homeowners should check with their insurer or agent as soon as possible to confirm coverage, limits and any other limitations and documentation requirements. Most renters' policies also typically include ALE coverage.
Consumer should make sure any insurance agent or public adjuster offering their services has a valid license by checking online with the Department of Insurance.
In California, public adjusters cannot solicit business for seven calendar days after the disaster.
When leaving your home, don't forget copies of insurance policies, important papers and a photo or video inventory of your possessions. Keep all receipts accrued during the evacuation. An inventory can be completed quickly and easily on your smartphone and safely stored in the Cloud.
Additionally, you have the option to have your vehicle covered for fire damage under your auto insurance policy if you carry comprehensive coverage. There is NO coverage for your car under your home policy, even if it burns while in your garage.
Beware of home repair fraud
Many homeowners, who must repair or rebuild following wildfires or other catastrophes, have become the unsuspecting victims of home repair fraud.
The industry organization Insurance Information Institute offers these tips to help homeowners avoid becoming victims of fraud.
Don't be rushed into signing a contract with any company. Instead, collect business cards and get written estimates for the proposed job to compare companies and review your options.
Beware of contractors who encourage you to spend a lot of money on temporary repairs. Payments for temporary repairs are covered as part of the total settlement. If you pay a contractor a large sum for a temporary fix, you might not have enough money for permanent repairs. Remember to keep repair receipts. Your insurer will reimburse you for these costs.
Investigate the track record of any roofer, builder or contractor you consider hiring. Look for professionals with solid reputations. Get references.
Never give anyone a deposit until after you have thoroughly researched his background.
In addition, you should beware of a common fraud scheme in which a "contractor" convinces you to shell out a large deposit before beginning work. Frequently, the job is started, but not completed. Before hiring a home repair contractor, investigate the credentials, background and testimonials of the previous work of the contractor.
Many areas require contractors to be licensed; check with your state's contractors licensing board to verify that someone is licensed before you hire him or her.
Fire protection: How to protect your home from wildfires
Homeowners who live in areas susceptible to wildfires can protect themselves from the dangers the fires present.
Here's what you can do to guard against wildfires and prevent damage to your home:
Prepare a defensible space of at least 30 feet around your home by clearing away the flammable vegetation and other combustible materials.
Replace native plants with fire-resistant landscaping. Consult your local nursery for the fire-safe plants that grow best in your region.
Space trees and shrubs at least 10 feet apart.
Remove branches within 10 feet of chimneys and roofs.
Cover the chimney with a non-flammable screen of one-half-inch or smaller mesh.
Remove dead vegetation, leaves and other debris from roofs and gutters.
Stack firewood far away from anything combustible, including fences and outbuildings.
If you have a swimming pool, be prepared to use it as a fire-fighting tool by purchasing a pool pump.
Deadwood and dying trees should be removed.
Inventory all of your belongings and store the list in a safe place away from your home in the event fire strikes.
Prepare a family evacuation plan.
According to the Insurance Information Institute, in 2020, there were around 10.1 million acres burned by wildfires. In California alone, 10,500 structures were damaged or destroyed.
Wildfires can destroy neighborhoods and homes, but by taking precautions you might be able to lessen the pain if the unthinkable happens.
If you're in the market for a homeowners policy or want to shop around, check out our best home insurance companies survey. Review the ratings set by current policyholders of the top companies. After finding what companies may work for you, shop around with at least three to see which best fits your needs and budget.
Related Articles