Homeowners insurance will step up to help cover the cost of damage to your home's structure, personal property and other structures if they are damaged or destroyed by a covered peril. While homeowners insurance covers a wide variety of perils, some are excluded from almost all standard homeowner policies.
Earthquakes, flooding, lack of maintenance and even damage from war can be excluded from coverage for homeowners protection. However, you may need additional coverage such as flood or earthquake insurance to fully protect your home.
Keep reading to learn about the most common exclusions with standard homeowners insurance.
Key Takeaways
A standard homeowners insurance policy comes with a variety of coverage exclusions, ranging from flood and earthquake damage to earth movement, government action, and war and nuclear accidents.
It may be possible to purchase a rider or additional coverage to protect your home from excluded perils. Flood and earthquake insurance are good examples.
In some cases, excluded damage may be covered if a covered peril caused the damage.
Always use well-reviewed insurers to protect your home and read your policy in full, so you know all exclusions and take appropriate action to protect your home fully.
What is not covered by homeowners insurance?
What are common exclusions for homeowners insurance? The answer will probably surprise you. While most of us know that flood damage isn't covered, you may be shocked to learn that damage from war, nuclear accidents and even a power failure may not be covered.
There are a number of perils that are excluded from a standard homeowners policy. Here is a quick list followed by more detailed explanations of these exclusions:
Ordinance or law
Earth movement
Water damage
Power failure
Neglect
War
Nuclear hazard
Intentional loss
Governmental action
Loss to property
Ordinance or law: If repairs are needed to bring your home up to current building codes after a loss, you will have to cover those additional costs out of pocket. A homeowners insurance policy will cover the cost to repair your home up to the state it was in when the loss occurred. If building codes have changed since your home was built, the additional costs to bring it up to code will fall to you. It is possible in most situations to purchase a rider for your policy that will cover these costs.
Earth movement: Standard homeowner policies almost always exclude damage that is caused by "earth movement," which includes things such as sinkholes, earthquakes, landslides, mudflows, and even volcanic eruptions. If you live in an area that is prone to earthquakes, you should consider a separate earthquake policy.
Water damage: While damage from wind and rain is covered by a standard homeowners policy, damage caused by flooding, water seeping up from the ground and sewer or sump pump backups are not covered. If your home is located in an area prone to flooding or severe storms, you should consider a separate flood insurance policy.
Power failure: Damage caused by a power outage or power surge is not covered by a homeowners insurance policy.
Neglect: If you ignore damage or don't keep up with the maintenance of your home, a claim may be denied. For example, if you don't fix a leak in your roof and it ends up damaging the structure of your home, you may have to cover repair costs on your own.
War: Homeowners insurance doesn't cover any damage caused by war, regardless of whether it is declared, undeclared or even a civil war.
Nuclear hazard: Any nuclear hazards are not covered. This can include nuclear waste leaks, reactor failures or even nuclear warheads.
Intentional loss: If you intentionally damage your home, your claim will be denied. For example, in a fit of rage, you throw a golf club through a picture window; in this case, you will be covering the cost of a new window because the damage was intentional.
Government action: Government action, both local and federal, is not covered by a standard homeowner policy. This can include items such as the destruction, confiscation, or seizure of covered property by any governmental or public authority.
Loss to property: If you experience a loss due to faulty zoning, a bad repair or quality, faulty construction materials and defective maintenance, the damage will not be covered by your homeowners policy.
Additional exclusions
The above were standard exclusions for a homeowners policy. There are other exclusions that can vary by insurance company. Check with your insurer and read your policy in full to make sure you know all exclusions. Here are a few additional exclusions that may turn up in homeowners insurance:
Dog breeds: Most homeowners policies will cover dog bites if your pooch takes a chunk out of someone, but some policies have exclusions based on the dog breed. If your pup is a Rottweiler, German Shepherd, or Pit Bull they may be excluded from coverage. Check your policy for breed exclusions.
Home-based business: If you run a business out of your home most homeowner insurance policies will not offer liability coverage to losses related to the business. Business property loss is capped around $2,500 with most homeowner policies.
Pest damage: A standard homeowner policy will exclude damage caused by pests and will not cover the cost of pest removal.
Real-life examples of common home insurance exclusions
Since policies can differ by state and insurance company, the only way to know what your exclusions are is to read your policy. If you come across something you don't understand, ask your agent or insurance company about it. Here are some scenarios related to home insurance exclusions.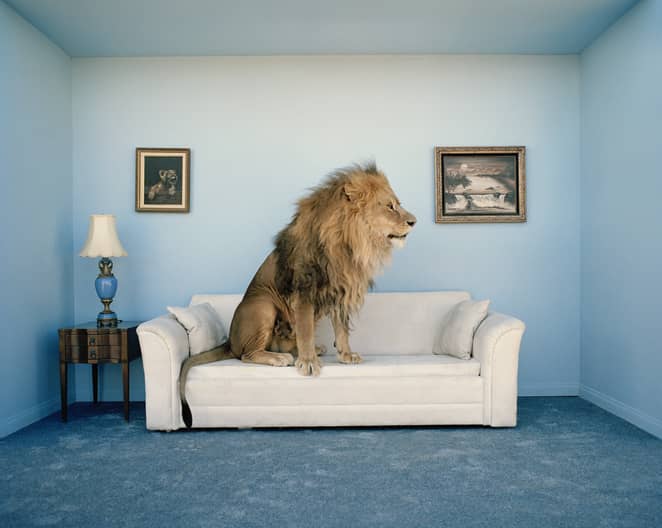 A wild animal sneaks into my home and wreaks havoc
In this case, you should be covered because, technically, the animal vandalized your home. Vandalism is covered under most standard policies.
My home needs a building code upgrade
This would not be covered. If your home suffers damage and you are required to upgrade it to meet current building codes when you repair it, you'll have to do it at your own expense.
A standard home insurance policy pays only for what you originally insured. However, some insurance companies sell a "rebuilding ordinance or law coverage" rider. This extra coverage pays a specific amount toward upgrade costs.
My basement flooded, and most of my possessions have been destroyed
Homeowners insurance always excludes flood damage. For protection against floods, you'll need flood insurance. Also, water coming into your home from backed-up sewers is typically excluded, but you can purchase optional coverage to protect yourself from this.
My home's value plummeted after the city built a prison in the area
Unfortunately, you are out of luck. This would fall under the government action exclusion. The selling cost is not insurable. Your home is insured for the amount you'll need to rebuild it and replace the contents.
Damage to my home that resulted from a power outage
A standard homeowner policy contains coverage for food loss in your refrigerator and freezer, usually up to $500. Electronics, such as your computer, are not covered under standard home insurance policies if there's a surge when the power comes back on unless the surge is due to a covered peril such as lightning.
A company dumped pollutants into a stream that runs through my property
Your homeowners insurance would not cover the clean-up or reimburse you for damage to your property. If something like this were to happen, the party responsible would be liable for your clean-up bill — probably after a lengthy court battle. But some insurance policies contain coverage to clean up oil spilled in your house by the oil company that fills your tank.
Lightning strikes a power line leading into my home.
Any damage caused by lightning — such as fire or damage to electronics from a surge is covered by a standard homeowners policy.
One of my appliances caught fire and caused my water heater to explode.
You're covered. This is an instance of what insurance companies call a "sudden and accidental loss."
I'm running a small business from my home.
If you run a business out of your home, you should be insured separately. For example, a simple home office might require only an endorsement of a home insurance policy. Still, a hair salon, daycare or construction business poses greater potential liability and requires a separate business insurance policy. See our business insurance section.
Freaky incidents and home insurance exclusions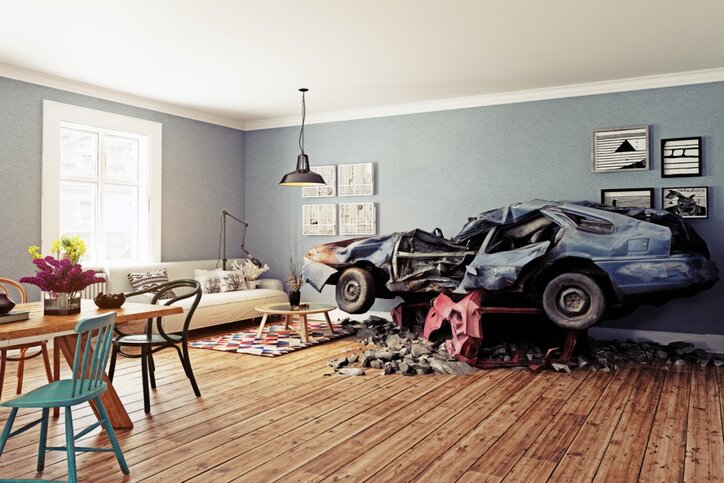 Let's have a quick look at some freaky incidents and unusual situations that may or may not be covered by your homeowners policy:
A religious phenomenon damaged my home.
You're covered. Now and then you'll hear about something unusual, such as a house where oil is pouring out of the walls for no apparent reason, and the Virgin Mary appears in the oil. If that happens to you, and you make a claim for the damage done to your walls, you're covered.
A plane, train or automobile crashed into my living room
The damage should be covered. Cars and trains fall under coverage for damage from vehicles hitting your house, while airplane damage is paid for by coverage for objects falling out of the sky.
Suppose domestic terrorists invade my neighborhood and destroy my home
If the United States government determines that it was not an act of war, you should be covered. Acts of terrorism are covered, but not acts of war.
A nuclear power plant problem irradiated my home
You are on your own when it comes to clean up and replacing your now glowing possessions. Nuclear accidents are a standard exclusion. You'd have to go to the power company that owns the nuclear plant and get it to pay up.
My house slid down a cliff
If you build or buy a house on a cliff, be aware of the risks involved. A standard home insurance policy won't pay if your house slides down because of a landslide or any other reason. That's considered "earth movement" and is excluded. Your best bet is to check with your agent about getting coverage for such an event. (If you live in California, a California Earthquake Authority policy will cover earth movement only if it is seismically induced, so if you live on a cliff overlooking the Pacific, you will need additional coverage.)
My house, which was built over an old coal mine, was swallowed by a sinkhole
This is also excluded as "earth movement." This is a problem for homeowners in Coal Belt states, including Illinois, Ohio, Pennsylvania and West Virginia, but random sinkholes have appeared all over the country. While a home insurance policy doesn't cover sinkholes due to old mines, you can purchase coverage (known as mine subsidence insurance), usually from your state's Mine Subsidence Authority. Check with your state's department of insurance or your insurance agent.
Related Articles