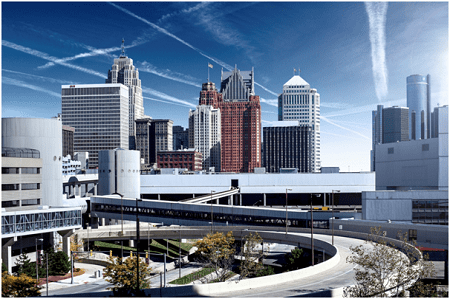 Average rate: $2,878
Average rate for the top-selling vehicle in the country first quarter of 2020 F-150: $2,245
Average rate for the top-selling SUV in the country first quarter of 2020 Toyota RAV4: $3,086
Average rate for the top-selling sedan in the country first quarter of 2020 Toyota Camry: $3.373
For seven years straight Michigan has taken the top spot for the most expensive state for car insurance.
The Wolverine's average annual premium is 9% percent higher than last year's rate. Michigan's this year premiums area whopping 90% higher than the 2020 car insurance national average of $1,517.
The reason for the very pricey auto rates in Michigan remains the same – its no-fault system. The state's one-of-a-kind no-fault auto insurance system requires drivers to carry PIP coverage that pays medical expense resulting from injuries sustained in an auto accident. There are over 15 other no-fault states, but only Michigan offers unlimited medical benefits. That is much more than the $10,000 that Floridians are required to purchase.
Michigan may be knocked out of first place next year if car insurance rates go way down as the Michigan state lawmakers hope after making sweeping changes to car insurance laws. The changes start taking effect on July 1, 2020 and allow car drivers to choose PIP coverages with lower limits and have a new medical fee schedule to rein in medical expenses that are paid out.
Also, Michigan car insurance reform made it so insurers can no longer rate based on a list of factors including: gender, marital status, home ownership, education level and occupation, postal zone and credit score.
An eye will be on Michigan to see if rates lower and if the number of uninsured drivers falls. Currently the state is in fourth place for number of uninsured drivers with over 20% driving without car insurance. With a lower number of insured motorists to pay premiums and share the risk pool, car insurance premiums spike upwards. The hope is the changes to car insurance will make it so rates will decrease and more people can afford car insurance.
The best way to get the best deal for car insurance in Michigan is to shop with a variety of companies. If you find low rates with a lesser known company, check out reviews and their A.M. Best financial strength rating before purchasing your policy.