Americans are increasingly turning to alternative heating sources in order to save money.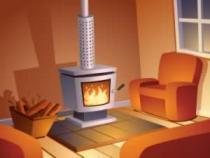 The Hearth, Patio and Barbecue Association (HPBA) estimates that you can save 20 to 40 percent on your annual heating costs by using a wood or pellet stove to heat a portion of your house. You can get a more specific estimate of savings for your own house with HPBA's Fuel Efficiency Calculator.
But alternative heating sources, such as kerosene heaters or stoves for burning wood, pellets, corn or coal, are also fire hazards, especially if they're not installed or used properly. The crux of fire problems often lies in "clearance" — the distance of the heater from combustible materials like curtains, rugs, furniture and walls.
Key Takeaways
Using a wood or pellet stove to heat your home can save 20 to 40% on your annual heating costs; however, it may cause you to pay more for home insurance.
Alternative heating sources are fire hazards if they are not installed and used properly.
Insurance companies may ask to inspect the heater or wood stove to make sure it has the proper clearance and permits.
If it fails inspection, it's possible your policy can be canceled.
But here's the good news: Generally, damage caused by an alternative heater will be covered by your home insurance because fire is a "covered peril." That means if your heating source combusts something nearby or explodes, you're covered. There are variations among insurers. For example, Allstate Insurance Co. won't pay for your fire damage if your alternative heating system was installed without the proper permits and/or inspection.
Fire-related claims from alternative heating start to flare up in October and continue through March and April.
"If I had to rank them in claims, I'd say your common wood-burning stove has more," says Terry McConnell, manager of Personal Lines Underwriting for Erie Insurance Co. "A cast-iron wood burning stove heats hotter and you have more clearance concerns about being installed properly."
Erie, like many insurance companies, asks new customers if they have heaters like wood stoves when they apply for policies, and Erie will send an agent out to see if they've been installed properly.
"People think it's always the open flame, but a lot of claims occur after the fire has been put out and people go to bed thinking they're safe."
— Terry McConnell, Erie Insurance Co.
"People think it's always the open flame, but a lot of claims occur after the fire has been put out and people go to bed thinking they're safe," says McConnell. He says the problem is what's not visible: material behind the wall or in the chimney lining that has heated to the point of combustion.
"And you see the odd things," says McConnell. "People put ashes in garbage in the garage but they smolder and start the garage on fire. Or people vacuum the ashes and the nozzle blows out hot ashes, or you fill up a sweeper bag and you've got coals inside that are smoldering."
Whether or not you'll pay additional premiums due to your alternative heating depends on your insurer. Erie doesn't charge more, nor does the nation's largest property/casualty insurer, State Farm. Allstate charges extra. (This additional premium does not apply to built-in fireplaces.)
Tips
Allstate recommends that you have your alternative heating system installed by a licensed contractor and work with your agent to secure proper coverage. The Institute for Business & Home Safety offers tips for safe heating on its site at www.disastersafety.org, including:
Always hire an installer for pellet stoves who is licensed and certified.
Pellet stove placement must allow for access to proper venting and electrical sources and meet minimum required clearances.
For wood stoves, choose a stove that has been tested by Underwriters Laboratories (UL).
Maintain at least a 36-inch clearance between a wood stove and combustible materials, or use fire-resistant materials to protect woodwork and other areas.
A wood-stove pipe should not pass through a floor, closet, concealed space or enter the chimney in the attic.
If you use a fireplace, get an annual inspection by a professional chimney sweep.
Have a removable cap installed at the top of your fireplace chimney to keep out debris and animals.
Never burn garbage, rolled newspapers, charcoal or plastic in a fireplace. Avoid using gasoline or any liquid accelerant.
Make sure a fire in a fireplace is completely extinguished before closing the damper.