Insight:
With earthquakes affecting several parts of the U.S., it is critical for homeowners, renters, and condo owners to consider how adding earthquake insurance can help secure your home and belongings should an earthquake rattle your town.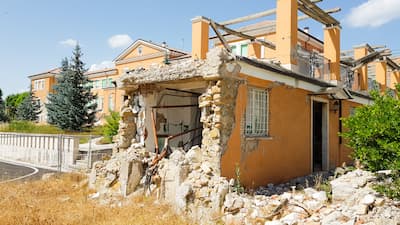 Though California is the state most known for major earthquakes, they can happen anywhere.
From Idaho to Nevada to North Carolina, nowhere is guaranteed to escape the ground-shaking, earth-shattering danger of an earthquake when it comes to your hometown.
If you don't have the right protection, you could be on the hook for any earthquake damage you incur. This is where earthquake insurance can help.
Key Takeaways
Earthquake insurance covers damages from the abrupt and hazardous shifting or movement of the ground, commonly known as earthquakes.
Standard homeowners, renters, and condominium insurance policies don't include earthquake coverage.
Instead, you need to get extra earthquake insurance coverage to protect your home and belongings in an earthquake.
Earthquake insurance isn't required for most homeowners, although it's added security that could save you thousands in the future should an earthquake strike your area.
What is earthquake insurance?
Earthquake insurance is a special type of homeowners insurance endorsement that you can purchase and add to your policy or a separate earthquake insurance policy. It covers any gaps in your standard homeowners or renters insurance coverage, providing protection for your home's physical structure, attached structures, and personal belongings when an earthquake occurs.
Types of earthquake insurance
There are two types of earthquake insurance: traditional earthquake insurance and parametric insurance.
Traditional earthquake insurance: This is the most common type of earthquake insurance, insuring what providers call "pure loss." This refers to the type of compensation you receive. Insurers assess the value of your damaged items and provide compensation based on that.
Parametric insurance: This is a newer method based on specific parameters. For example, your policy may only cover earthquakes with a minimum 5.0 magnitude or if damages reach a certain threshold.
Regardless of which kind you choose, some specific types of coverage are generally included with your earthquake insurance. A typical earthquake insurance policy from leading provider California Earthquake Authority (CEA) provides dwelling coverage, property coverage, and additional living expenses.
Dwelling coverage
Also called Coverage A, dwelling coverage provides protection should your home become damaged. It generally matches the amount of dwelling coverage provided under your homeowners insurance policy.
Personal property coverage
Also known as Coverage C, personal property coverage reimburses any damages that an earthquake causes your personal belongings, such as clothes, electronics, and furniture. Valuables and breakables may require additional coverage.
Additional living expenses (ALE)
Additional living expenses coverage is also referred to as loss of use coverage or Coverage D. It offers reimbursement for expenses like meals and lodging that you face should your home become inhabitable from earthquake-related damages.
What does earthquake insurance cover?
Before you buy a policy, it is important to know what is and is not covered with a typical earthquake insurance policy.
An earthquake is defined as an abrupt and aggressive ground movement, often signified by violent shaking. It can cause significant damages not only to the exterior of your home but the interior, too. Earthquake insurance pays for the repair or replacement of covered items damaged by an earthquake's shaking and cracking.
Here's what earthquake insurance typically covers:
Physical repairs to your home and attached structures
Personal belongings
Additional living expenses
What earthquake insurance does not cover
While earthquake insurance covers attached structures on your property like a garage or shed, not everything may be included under your policy. For example, CEA does not provide coverage for swimming pools, fences, masonry, or landscaping.
Other common exclusions to an earthquake insurance policy include:
Fire
Sinkholes or erosion
Vehicle damage
Before purchasing earthquake insurance, ask your insurer about any exclusions to your coverage.
Does a standard homeowners insurance policy cover earthquake damage?
Most homeowners insurance policies don't cover earthquakes, specifically excluding landslides or damages related to land movement.
Renters and condo insurance also typically exclude damages related to earthquakes. Instead, you must buy separate coverage or add a special endorsement to your insurance policy.
Meanwhile, any losses to your vehicle will be covered under your car insurance policy.
Who needs earthquake insurance?
California has a 99% chance of being struck by one or more serious earthquakes, with most Californians living within 30 miles of active fault lines. However, California is far from the only state affected by earthquakes.
The Insurance Information Institute (III) reports that Washington, Hawaii, Virginia, Maryland, and Washington, D.C. have all experienced some of the costliest earthquakes in U.S. history.
Chris Panteli, a finance and investment expert and the founder of LifeUpswing.com, says earthquake insurance was something that most people did not consider to be a necessity.
"However, since the frequency of earthquakes and their intensity has increased, it's now a smart decision to take out a policy," says Panteli.
Richard Villanueva, a public adjuster at The Greenspan Co./Adjusters International, says that anyone who lives in an area prone to earthquakes, has a sizeable investment in their home, and wants to have enough money to rebuild their home after an earthquake can benefit from earthquake coverage.
"Even if you do not have a lot invested in your home, earthquake insurance is necessary. Without it, if your home is destroyed in an earthquake, you may not have the money to rebuild," Villanueva says.
Online survey helps you figure out fault lines in your area
The U.S. Geological Survey provides an online survey showing fault lines. This can help you determine whether your home is at risk of earthquakes. It also provides details about the type of soil under your property, which can also affect your area's risk of earthquakes.
"In general, earthquake insurance is definitely necessary if you live in an area prone to earthquakes," Panteli says. "People that live on the West Coast and on or near the San Andreas fault line need coverage. Other people that will likely need coverage include those who have older homes that are not built to withstand earthquakes and are likely to suffer some damage."
If you live in an area near fault lines, it's probable that you will experience an earthquake and therefore should seriously consider adding earthquake insurance to your homeowners, renters, or condo insurance.
How much earthquake insurance coverage do you need?
The amount of earthquake coverage you need depends on the kind of home you live in and the value of your belongings inside. So, it's difficult to give an average cost for earthquake coverage.
Where you live also matters, with insurers using your address to determine your property's risk of an earthquake.
"If you live in an area that is seismically active enough for you to need earthquake insurance, it's best to get enough to cover your home and all your belongings. Major earthquakes can completely demolish a home, and the added risk of fire means that these can easily be total loss situations," says Carter Seuthe, CEO of Credit Summit.
Your state could also have some bearing on what coverage you need, explains Panteli. "Earthquake insurance coverage varies widely from state to state, but some states, such as California, have no statutory coverage. Other states in the western U.S., such as Nevada, have statutory 8-12% coverage," he says. "The maximum coverage for earthquake insurance is about $200,000 to $300,000."
A licensed insurance agent can help you determine how much earthquake insurance coverage you need for your home address.
When talking to your agent, Jason Claybrook of State Farm offers these expert tips on questions to ask:
Is the home built before 1985 and therefore fall exempt from today's stricter building codes?
Is the home built on a concrete slab or raised foundation?
Is it near a steep hillside?
"It's crucial that this conversation be a participatory process," Claybrook encourages.
How much does earthquake insurance cost?
The cost of insurance is different for everyone. Insurers consider specific factors like your property's soil, how much it would cost to rebuild your home, the type of construction necessary, and any specific or upgraded materials that may be required.
Policyholders generally pay more in certain situations:
Older homes
Properties with brick or masonry
Multi-story homes
Sandy soil
Homes that do not meet code
The cost of earthquake insurance is also affected by the coverage and policy limits that you choose. For example, a CEA earthquake insurance policy offers personal property coverage from $5,000 to $200,000, while additional living expenses coverage is available from $1,500 to $100,000.
Earthquake insurance rates vary based on risk
Annual earthquake insurance rates can vary from $700 to $6,000 per year, with earthquake insurance deductibles typically ranging from 10% to 15% of the coverage maximum, according to Imani Francies, a home insurance expert with Clearsurance.com.
"The amount of coverage you take out depends on your personal needs, but it usually consists of dwelling coverage, personal property coverage, and loss of use coverage," Francies says.
Homeowners with older properties may qualify for lower rates or special discounts when they retrofit their homes. Retrofitting is a way to reinforce and secure your property to decrease the risk of damages during an earthquake. CEA offers a discount of up to 20% for those with retrofitted homes.
The III reports that the California Earthquake Authority, FM Global, and Zurich Insurance Group all wrote the most earthquake insurance in 2020, but some popular home insurance companies also made the list, like State Farm, Chubb, and Travelers.
What's an earthquake deductible?
Every insurance policy includes a deductible. This is the amount you need to pay before your insurance coverage kicks in to cover a loss.
A higher deductible generally means cheaper premiums each month, but that also means that you will have to pay more out-of-pocket if you experience a loss.
An earthquake deductible is different from a standard home insurance deductible. Deductible amounts vary by insurance provider, but CEA offers deductibles in 5% increments ranging from 5% to 25%, depending on your needs.
The III reports that the average policyholder pays a deductible between 5% and 15% of the policy's limit.
Frequently Asked Questions
Does earthquake insurance cover flood damage?
Earthquake insurance does not typically cover flood damage. Instead, you can typically buy additional flood insurance from your insurance company or the National Flood Insurance Program (NFIP).
Is earthquake insurance required in California?
The California Department of Insurance reports that while earthquake insurance is not required in California, insurance companies must offer you this optional coverage every other year.
Additionally, your lender may require you to purchase earthquake insurance if you currently have a mortgage on your home.
Can Californians buy earthquake insurance from the California Earthquake Authority?
The California Earthquake Authority was the largest writer of earthquake insurance in 2020 with 19.8% market share, says the III. However, some of the best insurance companies also offer earthquake insurance policies, such as State Farm and Travelers. Similar to other insurance, it's wise to shop around and compare quotes when buying earthquake insurance coverage.
Can you get help from the federal government if your home gets damaged in an earthquake?
You may get help from the federal government but it depends.
The federal government will sometimes offer aid via the Federal Emergency Management Agency (FEMA), but these grants aren't guaranteed and are typically reserved for those who do not qualify for FEMA's disaster relief loans.
FEMA reports that its individual assistance payouts average $5,000 for eligible applicants.
Can renters get earthquake insurance?
Earthquake insurance is also available to renters. It can be added as an endorsement to your existing renters insurance policy, or you can purchase a separate policy from CEA or another insurance company.
Renters insurance only generally protects your belongings, so earthquake insurance coverage for renters should be cheaper than what homeowners pay.
Related Articles