Unless you've got some superhuman abilities, you can't stop mother nature.
Tornadoes are inevitable, especially in certain areas of the U.S. The National Severe Storms Laboratory report around 1200 tornadoes in the U.S. each year. And although there is a common misconception that tornadoes only happen in "Tornado Alley", which are notoriously tornado-prone areas, tornadoes have been reported in all 50 states.
The reality is, you can't completely "tornado-proof" your home and with the right homeowners insurance, you should have help repairing the damage or even replacing the home and belongings.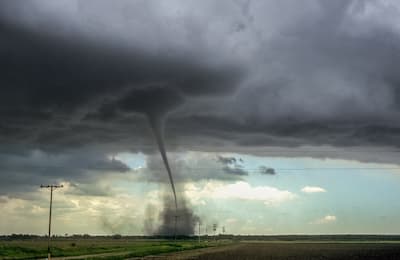 However, there are steps you can take to prepare yourself for a twister and its aftermath.
Tornado mitigation strategies
We looked to the Insurance Information Institute and the Institute for Business & Home Safety, a Tampa-based insurance industry group, for expert advice on how to incorporate wind mitigation techniques and how to reduce tornado damage.
Key Takeaways
Steps to reduce the risk of tornado damage to your home: Make an inventory of your possessions, meet building codes, install good windows, strengthen entry doors and install strong garage doors.
Roofing contractors should make sure to remove materials down to the sheathing and repair the damage from tornado before replacing the roof with materials that will resist high winds.
Meet building codes
Structures built to meet widely accepted building codes have a much better chance of surviving high winds and flying debris. An inexpensive inspection by a qualified expert will tell you if your home is up to code. The inspector should examine the windows and doors, roofing, gables and connections (roof-to-wall and wall-to-foundation). Weaknesses in these areas make your home vulnerable to significant damage.
Install good windows
There are times to go the cheapest route to cut costs. Window selection is not one of those times. Modern impact-resistant window systems, when properly installed, have a much better chance of surviving a major windstorm. Alternatively, impact-resistant shutters that close over window openings prevent flying debris from breaking windowpanes.
Strengthen entry doors
If the door is in good condition, inspect the hinges (three are recommended). Hinges, latches and dead-bolt locks should be strong enough to resist high wind pressures. Double doors need special attention. Install heavy-duty barrel bolt sliding latches at the top and bottom. Door frames must be securely anchored to house frames.
Install impact-resistant patio doors
Sliding glass doors are more vulnerable to wind damage than most other doors. If you are replacing your patio doors or planning new construction, consider installing impact-resistant door systems made of laminated glass, plastic glazing or a combination of plastic and glass.
Install strong garage doors
Because of their large size, garage doors are highly susceptible to wind damage. A garage-door installer can determine if both the door and the track system will resist high winds.
Stiffen double-wide doors
Are you seeing a trend here? Doors are important.
Double-wide doors are most vulnerable. Permanent wood stiffeners can be installed or temporary center supports that are easy to attach and remove can be designed by the door manufacturer or a local installer. Local building-code officials can provide more information.
Properly repair roofing
Your roof may have sustained enough damage from a storm to require replacement. When replacing a roof, you can take steps to ensure that both the new roof covering and the sheathing to which it attaches will resist high winds more effectively. We'll cover those steps in a bit.
Make an inventory of your possessions
If your belongings are damaged, this list will help your home insurance company facilitate the claim filing process. Make sure you store this list in a safe place away from your home, like a safety deposit box. It is also a great idea to take pictures and videos of your home and personal belongings so you have a visual record of the condition of items before any tornado damage occurred.
What should your roofing contractor do to prevent tornado damage?
Tornados, strong wind gusts, and hail from storms can have devastating effects on your home. High wind speeds can damage and remove shingles, potentially exposing your roof's sheathing and underlayment. This can leave your home vulnerable to the elements.
If you have recently experienced severe wind weather, it is important to examine your roof to detect damage. First, make certain the storm has passed and it is safe to be outside. Then check for signs of hail, wind, and water damage. If your roof has been impacted, find a professional contractor to help prevent further complications and repair your home.
"Severe weather can pose a risk to all shingle and roof types," said Gregg Hicks, vice president of Modernize Home Services. "If your roof needs to be repaired or replaced following wind damage, it is important to find a trusted contractor. If you live in an area prone to severe weather, discuss which roofing materials are best for your region and climate to help your home withstand future storms."
Here are some things your roofing contractor can to do reduce the impact of tornadoes on your roof:
Remove old coverings down to the bare wood sheathing
Remove sheathing to confirm that rafters and trusses are securely connected to the walls
Replace damaged sheathing
Refasten existing sheathing according to the proper fastening schedule outlined in your local building code
Install a roof covering that is designed to resist high winds.
Brace your gables. The end wall of a gable roof must be properly braced to resist high winds. An inspector can help determine if your gable end walls should be strengthened.
Strengthen connections. The strength at points where the roof and the foundation meet the walls of your house is extremely important if the house is to resist wind pressures and the loads they place on the structure. To help reinforce these potential weak points, you should consider metal fasteners (most easily added when a roof is being replaced). Also, when winds place stress on walls, it's important that walls be properly anchored to the foundation. An expert can determine if these joints need retrofitting, which can be done by a qualified contractor. For houses with more than one story, the connections between each level must be properly tied together.
Frequently asked questions on tornado mitigation strategies
How can you stay safe during a tornado?
According to The Weather Channel, the first thing to do is agree upon a safe place for a storm shelter in the home. Avoid windows and if possible, get underground in a basement or storm shelter. Wear shoes and if possible, a helmet. Keep your pets with you and on a leash or in a carrier. Get in the know on severe weather terms like tornado watch vs. tornado warning.
What should you not do during a tornado?
When there is a tornado warning in the area, never leave your home to try to get away from the tornado as it may shift paths. If you are on the road during a tornado, there is a common misconception that hiding under an overpass is a safe choice. Instead, get in a ditch as far away from your vehicle as possible and cover your head.
When are tornadoes most likely to occur?
When there is a tornado warning in the area, never leave your home to try to get away from the tornado as it may
There are peak seasons depending on your location. If you are in areas like Texas, Oklahoma and Kansas your peak tornado season is from May to early June. But for states like Nebraska, North Dakota, Iowa, Minnesota and South Dakota, peak season is from June to July.
The NOAA says tornadoes are most likely to occur between 4 to 9 pm.
Does homeowners insurance cover tornado damage?
Generally, yes. Tornadoes are considered windstorms and most standard homeowners policies have coverage for windstorms. If you live in a tornado-prone area, you will likely pay a higher home insurance premium. You should also always review your policy to check for any exclusions.
Related Articles