More drivers are turning to electric vehicles as a green alternative to the gas-powered car. In 2019, EVs sales grew 40% globally, outpacing regular vehicle sales.
If you're considering purchasing an electric vehicle to save on fuel, read this first.
Electric car insurance is a significant cost component of driving a Tesla or Nissan Leaf. The national average for electric vehicle insurance is $2,575 per year, while the national average for all vehicles is $1,904.
You may be able to offset the EV premium you pay after a couple of years of avoiding the gas pump, but EV insurance never goes away. Make sure you know how much to expect in car insurance premiums before you sign on the dotted line and drive one off the lot.
The most expensive and cheapest electric cars to insure
We sourced electric vehicle insurance costs for a dozen manufacturers to find which electric vehicle models are the cheapest — and most expensive to insure. Our data is based on a 40-year-old driver and is collected from all states. Here's what we found you can expect to pay on average for electric car insurance:
Most expensive electric cars to insure by model
| Rank | Year | Make | Model | Annual cost |
| --- | --- | --- | --- | --- |
| 1 | 2020 | Porsche | Taycan Turbo and Turbo S | $4,162 |
| 2 | 2020 | Tesla | Model S Performance | $3,853 |
| 3 | 2020 | Tesla | Model X Performance | $3,810 |
| 4 | 2020 | Tesla | Model Y Performance | $3,280 |
| 5 | 2020 | Jaguar | I-Pace HSE | $2,753 |
| 6 | 2020 | Honda | Clarity Electric | $2,415 |
| 7 | 2020 | Hyundai | NexoLimited | $2,359 |
| 8 | 2020 | BMW | I3S Range Extender | $2,227 |
Porsche Taycan
The Porsche Taycan is the most expensive electric vehicle to insure. The performance vehicle is costly to purchase and repair and it reflects in the insurance cost. There are three models: the Turbo, Turbo S and Turbo 4S. Although the average cost of electric car insurance for the Taycan Turbo and Turbo S is $4,162, it's higher in certain states:
West Virginia — $6,893
Michigan — $6,347
Texas — $6,213
Wyoming — $5,840
C. — $5,706
California — $5,615
Mississippi — $5,609
Rhode Island — $5,456
Connecticut — $5,156
Tennessee — $5,055
Tesla Model S, Model X and Model Y Performance models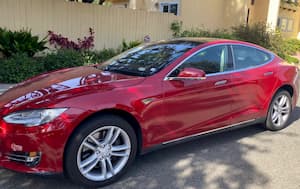 Tesla is the best-selling and best-known electric vehicle on the market. All of the manufacturer's models also make the list of most expensive EVs to insure. Part of the issue is the construction of the model. Tesla prefers a unibody frame for strength and stability. The issue is, damage to a small area means the whole panel needs to be replaced. The most expensive states for Tesla insurance, using the Model S Performance as a reference, are:
Michigan — $6,467
South Dakota — $5,508
Wyoming — $5,676
C. — $5,496
Montana — $5,131
Jaguar I-Pace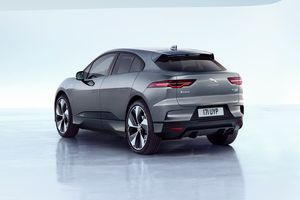 The Jaguar I-Pace is the company's flagship electric vehicle. Add the top-level trim and you're looking at an MSRP of $80,500, plus a significant EV insurance premium. The cost of insuring the Jaguar I-Pace in some states is higher because of no-fault insurance laws, state-mandated insurance coverage minimums and an increased risk of accidents and claims. Here's how the I-Pace measures up in the most expensive states:
Texas — $4,121
Wyoming — $3,621
South Dakota — $3,591
Montana — $3,892
Michigan — $5,167
Honda Clarity Electric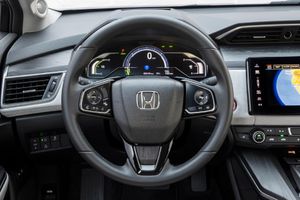 Most Hondas are affordable to insure. However, the Clarity Electric may be Honda's most expensive vehicle to insure. If you own one, you're a small minority. The vehicle wasn't popular among Honda owners or electric vehicle buyers because of the high cost and low range. Consequently, Honda announced the model is discontinued as of 2020. Here's a look at where the Honda Clarity's insurance premiums can take the biggest bite out of your budget:
Florida — $4,399
Georgia — $3,935
Texas — $3,580
Michigan — $3,519
Connecticut — $3,514
Hyundai Limited Nexo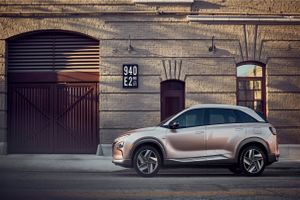 The Limited Nexo puts Hyundai, a car manufacturer known for delivering affordable vehicles, on the most expensive list. Thanks to the Kona Limited and the Limited Nexo, Hyundai makes the most expensive and least expensive list of EV car insurance. The Limited Nexo's MSRP is around $62,185, roughly the starting price of the Jaguar I-Pace. The Limited Nexo converts hydrogen into electricity to run the vehicle. With limited hydrogen refueling stations and few mechanics experienced enough to work on the model, insurance costs are higher. The most expensive states are:
West Virginia — $3,906
Texas — $3,836
Michigan — $3,610
Colorado — $3,552
Connecticut — $3,251
BMW I3 S Range Extender
BMW's I3 S Range Extender has a surprisingly high price tag when considering the model's compact size and short range of up to 200 miles. Nevertheless, commuters will appreciate the vehicle's range, which will likely get them to and from work a couple of times on one charge. The most expensive states to insure the I3 S Range Extender are:
Michigan — $3,594
C. — $3,145
Rhode Island — $3,150
Wyoming — $3,062
Texas — $3,048
Least expensive electric cars to insure by model
| Rank | Year | Make | Model | Annual cost |
| --- | --- | --- | --- | --- |
| 1 | 2020 | Hyundai | Kona Limited | $1,479 |
| 2 | 2020 | Nissan | Leaf S | $1,671 |
| 3 | 2020 | Chevy | Bolt EV LT | $1,833 |
| 4 | 2020 | Hyundai | Ionic | $1,856 |
| 5 | 2020 | Volkswagen | E-Golf SE | $1,901 |
| 6 | 2020 | Audi | E-Tron Premium | $1,912 |
| 7 | 2020 | Volvo | V60T6 Polestar | $1,991 |
| 8 | 2020 | Kia | NiroEV EX Premium | $2,043 |
Hyundai Kona Limited and Ionic
Hyundai has three electric vehicles on our ranking of most expensive and cheapest electric cars to insure. The Kona Limited model is the cheapest electric vehicle to insure, with the Ionic in fourth place. Vehicle cost is a big contributing factor — a 2020 Kona Limited starts at $41,800 and the Ionic comes in at $33,045. The least expensive states to insure a Hyundai EV based on the Kona Limited are:
Maine — $814
Idaho — $1,011
New Hampshire — $1,019
Wisconsin — $1,023
Ohio — $1,031
Nissan Leaf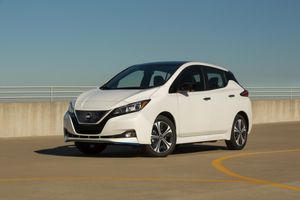 The Nissan Leaf is the first all-electric vehicle introduced in the U.S. back in 2010. It's still one of the most popular and reliable electric models around. It's a good saver all around with an MSRP of $31,600 and an average cost to insure of $1,671 per year. Here are the states where this model's EV insurance cost is even lower:
Maine — $1,062
New Hampshire — $1,158
Virginia — $1,161
Idaho — $1,207
Hawaii — $1,242
Chevy Bolt
Another permanent fixture in the American electric vehicle market is the Chevy Bolt. The MSRP for a 2020 EV model is $37,495. Car value and low repair and maintenance costs are responsible for the Bolt's low insurance premiums. The average cost of repair is $210.
Maine — $1,183
Ohio — $1,197
New Hampshire — $1,256
Wisconsin — $1,263
Idaho — $1,303
Volkswagen E-Golf
The Volkswagen Golf is one of the most popular models for the German manufacturer, especially among gas-conscious drivers. The E-Golf is Volswagen's electric vehicle model and it rounds off our list of the cheapest electric vehicles to insure. If you're a resident of the following states, you'll save even more on the average premium of $1,901 on an E-Golf SE.
Maine — $1,228
Ohio — $1,239
New Hampshire — $1,253
Wisconsin — $1,277
Idaho — $1,308
Audi E-Tron Premium
Audi is typically known as a high-end manufacturer, which comes with a high-end insurance price. But E-Tron insurance is relatively affordable. The E-Tron crash test ratings are above average. Highly-rated safety features help reduce insurance premiums. You'll save the most insuring it in:
Maine — $1,242
New Hampshire — $1,303
Volvo V-60 T6 Polestar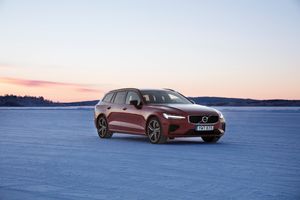 Volvo owners are known to be sensible, safety-oriented drivers. The Polestar is Volvo's jump into the luxury EV market and it comes with the manufacturer's pedigree of safety first. The MSRP is expected to be just under $60,000, which helps with the cost of insurance. The cheapest states are:
Maine — $1,188
Ohio — $1,255
Kia Niro EV EX Premium
Rounding out the list of least expensive vehicles to insure is the Kia Niro. Kias are low in cost to insure due to their reliability, long warranties and low repair bills. Although the Kia Niro EV is on the higher end of price points for a Kia, starting at $39,090, the savings in gas will likely offset insurance costs. Insuring it in Maine is only $982. The price jumps up elsewhere, with the two next-cheapest states being:
Indiana — $1,324
Illinois — $1,353
What companies offer electric car insurance?
Shopping around for the best electric vehicle insurance is your best bet to uncover savings. But not all companies provide coverage for electric vehicles. When you're ready to get EV insurance quotes to compare, add these ten carriers to your shortlist:
Why are electric vehicles more expensive to insure?
Electric vehicles are typically more expensive than their combustion-engine counterparts. One of the biggest determining factors on premium price is a car's value. A car with a value of $40,000 is probably going to be more expensive than one worth $30,000. Add the cost of repairs and unique parts such as batteries, electric motors and electronics to run all the systems — it's surprising electric vehicle insurance doesn't cost more.
Ways to save on electric car insurance
The best way to save on electric car insurance is to know the cost of car insurance for your electric vehicle model. As you can see in our findings, choosing a Hyundai Kona over a Porsche Taycan can save you over $2,500 in premiums per year. Other ways to save on electric car insurance include:
Buy multi-vehicle coverage: Most insurance companies will discount your insurance coverage as much as 25% when you insure more than one vehicle.
Bump up your deductible: If you have a small, $250 or $500 deductible, doubling it will lower your premiums. Just remember not to get carried away. You'll need to pay the deductible amount in case of an accident or claim before your insurance company covers the rest.
Do an annual audit of your coverage: Shop around to compare what other insurance companies are charging for EV insurance. The savings may be enough to switch — or negotiate a better price with your current carrier.
Ask about fuel or alternative energy discounts: As a reward for being environmentally friendly, some insurance companies, like Farmers, Travelers and Liberty Mutual, offer fuel or alternative energy discounts on electric vehicles. Ask your insurance agent if you qualify.
Tax credits: There are substantial federal tax credits for those who have purchased new battery-electric and plug-in hybrid EVs. These credits range from $2,500 to $7,500. There may also be state tax credits available, depending on your location.
How to get electric car insurance
Getting electric car insurance is a similar process to other types of vehicle insurance. Follow these steps:
Identify electric car insurance companies
Get online quotes
Research customer satisfaction ratings and reviews on the finalists
Choose the best electric vehicle insurance company based on your research
Provide your information such as name, address and Vehicle Identification Number (VIN) to your new carrier
Pay for coverage
Print out an insurance card or wait for one to arrive in the mail
Side note: If you have an electric car and are also a homeowner, it's a good idea to check with your home insurance company to make sure you're covered if you install a home charger for your electric car.
Is an electric vehicle worth the expense?
Electric cars are more expensive than the standard model. Many argue that the fuel savings aren't worth it and you'll be limited to a smaller driving range. It all depends on how much you drive and whether you're sustainably minded. For some, the investment in EV is their way to reward innovation and cleaner technology.
For others who commute long distances, an EV is a no-brainer. The fuel savings are significant and the availability of charging stations is improving. There is no clear-cut answer to whether an electric vehicle is worth the added expense. It's best to run the numbers (without forgetting to factor in EV insurance cost) and decide if going all-electric is worth it.